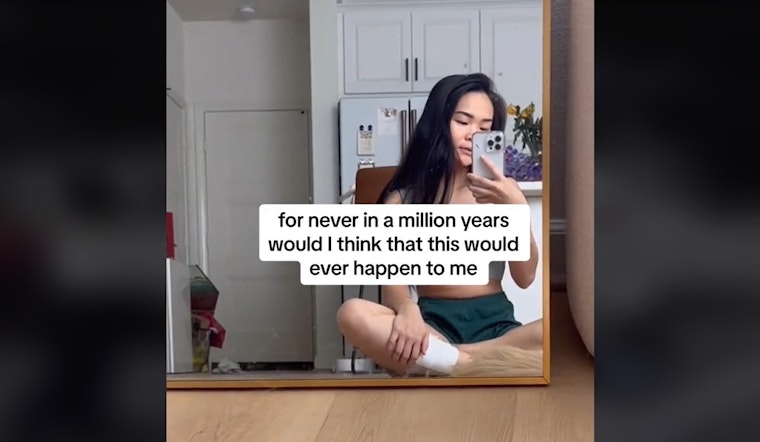 Published on June 28, 2023
Winnie Goh, a Southern Californian entrepreneur behind the dog accessory company & Mutts Co., has been attracting widespread attention on Instagram and TikTok ever since she shared her harrowing experience of being caught in a drive-by shooting in San Francisco on June 11. This terrifying incident, which Goh describes as "one of the most traumatic experiences" of her life, unfolded within a minute of her beginning to drive.
Goh was visiting her boyfriend in San Francisco and had borrowed his car to drive down Geneva Street in the Crocker-Amazon neighborhood, near McLaren Park. Goh recalls hearing multiple gunshots as she drove, then noticing a car with a gun protruding from the window as she glanced to her left. Realizing she was caught in the crossfire, she experienced a sharp pain in her leg and saw blood, only then understanding that she had been shot.
An X-ray taken after the incident revealed that the bullet had entered Goh's leg, leaving fragments dispersed throughout her body and causing a fracture. SFPD has been investigating the case, but despite a sense of urgency, no arrests have been made thus far.
While the case has yet to be resolved, one undeniable truth prevails: Goh is exceptionally fortunate to have escaped with her life. In her social media posts, she expresses her gratitude to her friends, family, and SFPD for their show of support during one of the most challenging times of her life. Encouraging positivity after the incident, Goh is giving away handcrafted first-responder dog toys from her company to doctors, nurses, EMTs, police officers, and firefighters, as well as the general public, according to Yahoo Finance.
As Goh's story continues to reverberate throughout the community, it significantly contributes to raising awareness about accessible and present dangers associated with gun violence. This gripping tale serves as a stark reminder that even everyday, innocuous actions—such as driving down a street in broad daylight—can lead to life-threatening situations. Amid the ongoing investigation, the San Francisco Police Department urges anyone with information to come forward and help bring the perpetrators to justice.
The vast majority of responses to Goh's video was an outpour of support. Instagram user @iguessitsche responded, "oh im so sorry this happened to you ❤️❤️❤️❤️❤️❤️ take good care of your mental and physical wounds. even if you feel like you dont need to keep talking about this experience you do what you need to do ❤️❤️❤️❤️."
Other's piled on the San Francisco hate. One TikTok user wrote, "SF is not what it used to be," illuminating the fact that San Francisco remains the center of much debate and scrutiny for a litany of reasons.
For now, though, Goh continues to recover and witnesses an overwhelming showing of love and support from her community. As she moves forward, she highlights the responsibility that individuals have in advocating for positive change and articulates the importance of remaining vigilant in the face of a rapidly evolving world.