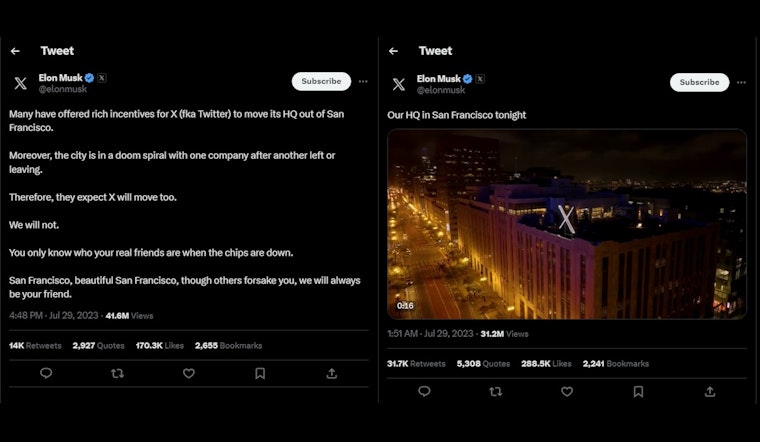 Published on July 30, 2023
In a surprising act of loyalty amidst corporate exodus from San Francisco, Elon Musk announced on his X (Previously Twitter) account that he is not moving the headquarters of X, formerly known as Twitter, from the city, despite many companies offering rich incentives for a potential relocation. The billionaire entrepreneur, who encountered some significant hurdles in the past with the city's government and regulations, stated, "San Francisco, beautiful San Francisco, though others forsake you, we will always be your friend."
Many have offered rich incentives for X (fka Twitter) to move its HQ out of San Francisco.

Moreover, the city is in a doom spiral with one company after another left or leaving.

Therefore, they expect X will move too.

We will not.

You only know who your real friends are when…

— Elon Musk (@elonmusk) July 29, 2023
This announcement from Musk may come as a surprise considering his controversial past involving the city and other businesses he runs. Previously, NBC Bay Area reported that Musk hinted at potentially moving Twitter's headquarters due to allegations of violating building codes and a dispute with the San Francisco Department of Building Inspection over alleged alterations to the headquarters. In 2021, Musk moved Tesla's headquarters from California to Texas after disagreements with Alameda County health officials about reopening a factory amidst the coronavirus pandemic. Earlier this year, it was announced that the Tesla engineering HQ would return to California, per publications like Forbes.
San Francisco has seen a decline in business presence, with many companies leaving the city in recent years. However, SFist reported that Ted Egan, the city's Chief Economist, believes doom loop talk has been overblown and the city's economy has shown positive signs of recovery. Egan highlighted improving statistics in consumer spending, which is nearing pre-pandemic levels, and increased sales tax data for the first quarter of 2023, to support his argument for the city's resilience in economic recovery.
Though the current scenario raises questions about Musk's intentions, his commitment to keeping X in San Francisco has been met with mixed reactions. On one hand, supporters argue that retaining the headquarters could help boost the city's economy, especially as the city experiences a slow recovery from the pandemic's economic downturn. Contrarily, Musk's seemingly inconsistent and, at times, controversial history with the city may still pose concerns for those who are unsure about his decision's potential impacts and its implications. Considering the correlation between corporate presence and a city's economic health, the outcome of this decision could significantly influence San Francisco's future.
Elon Musk's commitment to San Francisco has been further emphasized by a post on his X Twitter account featuring a drone video of the X logo illuminated on the former Twitter headquarters in the city. This move may signal a turning point in Musk's contentious relationship with local authorities and signals his desire to maintain a presence in San Francisco, despite the external pressures to relocate.
As the city of San Francisco continues to grapple with the ongoing debate surrounding its financial struggles and corporate exodus, Musk's decision to plant X's roots firmly within the city has generated a whirlwind of discussions and analyses. While only time will tell if this pledge of loyalty will have lasting positive effects on San Francisco's economic recovery, Musk has undoubtedly made a bold and unexpected move that has reignited conversations about the city's prospects for resurgence in the face of adversity.