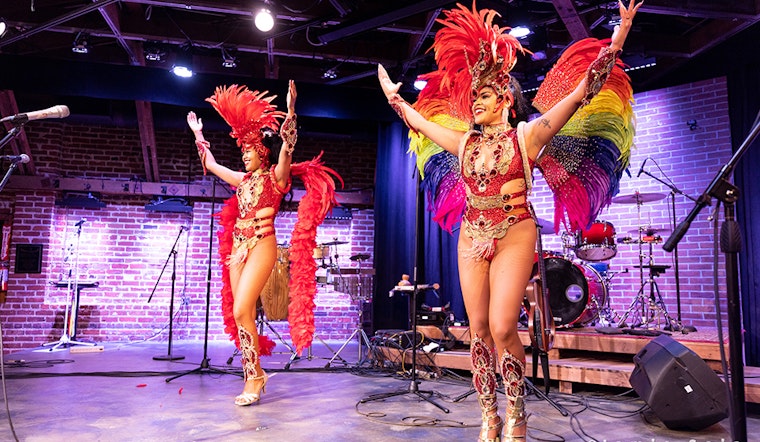 Published on July 14, 2023
Latin rhythms will be reverberating in the Mission tonight (Friday 7/14) as the live music and entertainment event Fiesta Latina brings the beats to venue Brick & Mortar Music Hall. The event, described by the organizer as a "mini festival", will present a mix of live bands, dance groups, a DJ, and even some comedy. It was conceived to celebrate Latin music, dance, culture, and more.
Renée Peñaloza is one of the organizers. She is also singer and songwriter for the band Razteria, which will be performing. She told Hoodline that the concept started as a collaboration between musicians to simply play a show together, but soon evolved.
"It just grew into something more expansive will all these different forms of art being presented," Peñaloza said, "representing different voices from across the Americas."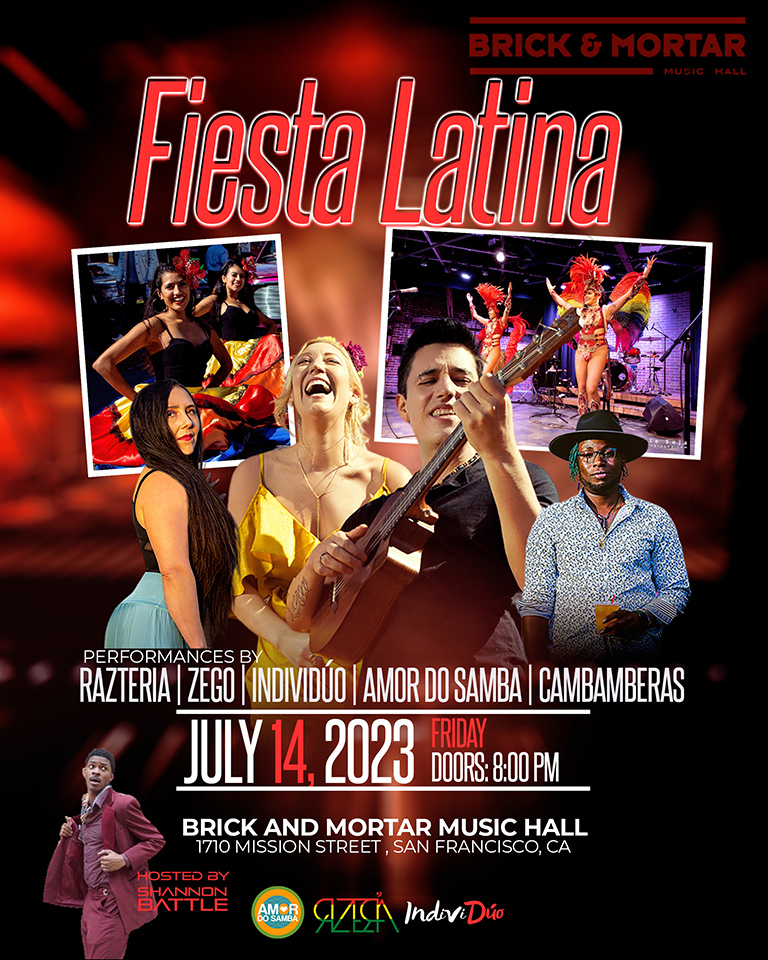 Fiesta Latina flyer. | Courtesy of Razteria
The night will also serve as a release party for Razteria's new alt-Latin album, Tocar las Estrellas (Touch the Stars). Peñaloza described the album as varying in style, with everything from acid rock to cumbia to reggaeton. It also includes some lyrics in the Quechua language in a nod to her Bolivian roots.
Peñaloza started Razteria in 2010, with its current iteration forming about two years ago. The band includes some seasoned musicians, such as co-songwriter and guitarist Dave Schul. Schul, who was a founding member of Michael Franti's Spearhead, is joined by keyboardist Raleigh Neal, another ex-member of that group. The band is rounded out by Waddell Bell (also of the Fire Squad Band) on bass, percussionist Roberto Quintana, and Ronnie Smith on drums.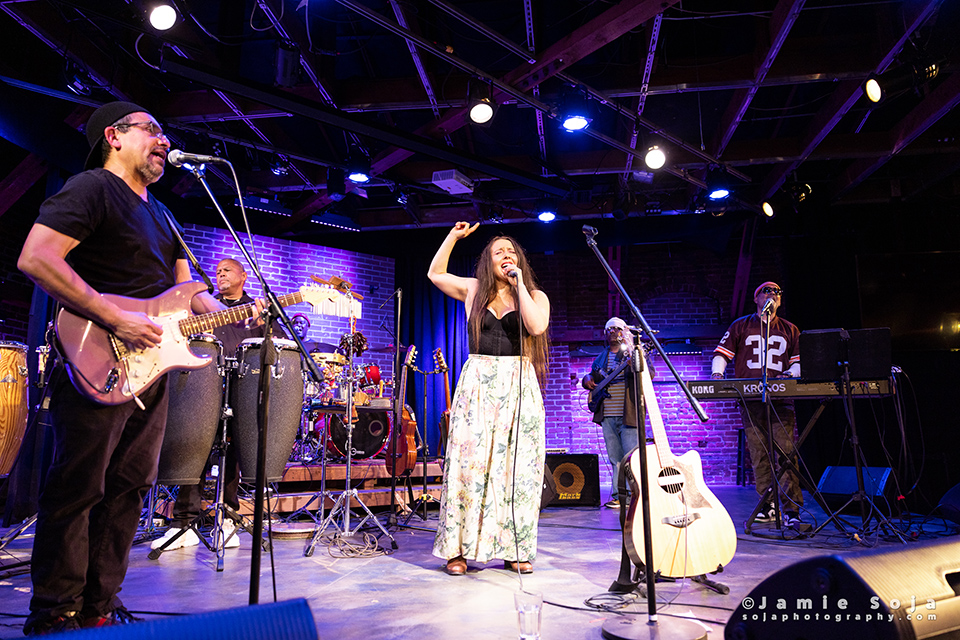 Razteria performs onstage. | Photo: Courtesy of Razteria
"Each of the musicians on their own has their own very well-established journey with music," she noted of Razteria's other members, "and I feel really blessed to be working with them."
But Razteria wanted this to be about more than simply an album release. It became about bringing together a wider representation of culture and art.
"You have to make something that calls to people," Peñaloza said, "that makes people excited … and you broaden it to be more representative of a greater purpose, a greater community." Adding more voices to the mix was an important part of the project. "And also give this platform to more talent," she explained, "Why not make something where everybody can shine?".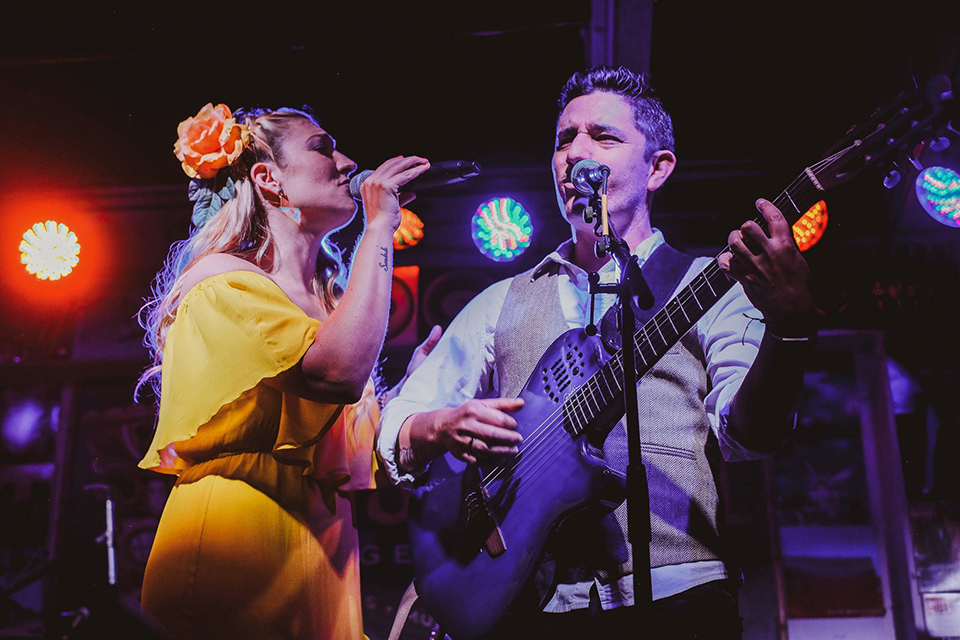 IndiviDúo performing. | Photo: Courtesy of Razteria
Among others that will shine on stage tonight are Bay Area nightlife DJ Zego, and husband and wife songwriting duo, IndiviDúo. Peñaloza described their onstage work as beautiful story-telling with a little comedic flare. Additional comedy will be provided by MC and comic Shannon Battle. Also joining both bands on stage will be samba and Colombian folklore dancers from ensembles Amor do Samba and Cambamberas.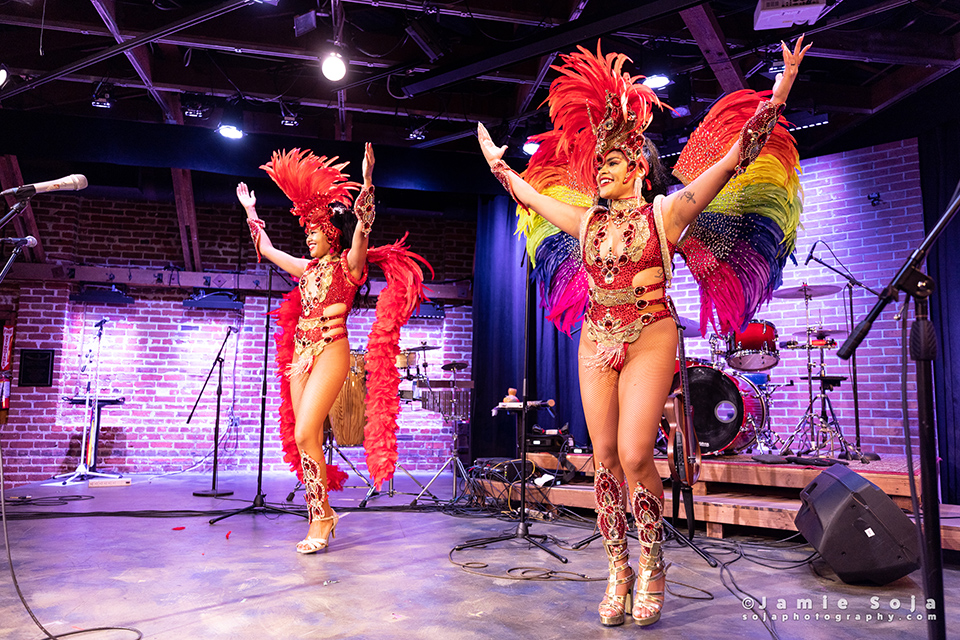 Amor do Samba dancers. | Photo: Courtesy of Razteria
This may be the first Fiesta Latina, but Peñaloza hopes it's not the last. She envisions an open-call type scenario where artists reach out to create the next show.
"It would be great to make this into something that we could [do as a] showcase," she said, "It could be that we combine it with more visual arts. We could create a repeating event."
Tonight's event at Brick & Mortar Music Hall is for those 21 and older. Doors open at 8 p.m. and entry is $12 advance and $20 at the door.