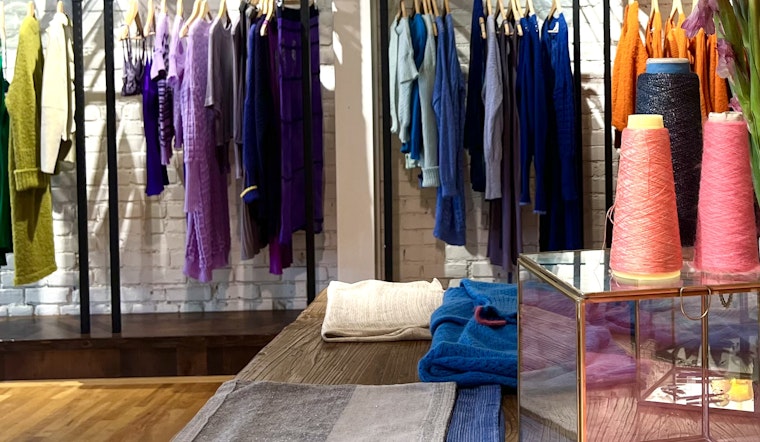 Published on July 10, 2023
Last year, sustainable knitwear designer Kenlynn Wilson enjoyed a successful run with her North Beach pop-up. At the time, she — like many small business owners forced to close their brick-and-mortar spaces during the pandemic — was trying to figure out if she should open another shop, or transition to an online store. Her four-month stint in North Beach reminded Wilson how much she thrives on connecting with her customers.
"I had a number of people tell me I should just sell online," explains the designer. "But for me, having that personal interaction and experience with my customers is super important. It's not just about making a sale."
Before the pandemic, she had a boutique in Larkspur for 16 years. But her time in San Francisco made her realize that if she was going to open another store, it wasn't going to be in Marin.
"It was really clear to me that I wanted to be in the city," says Wilson. "I love meeting people from all over — it feeds my soul."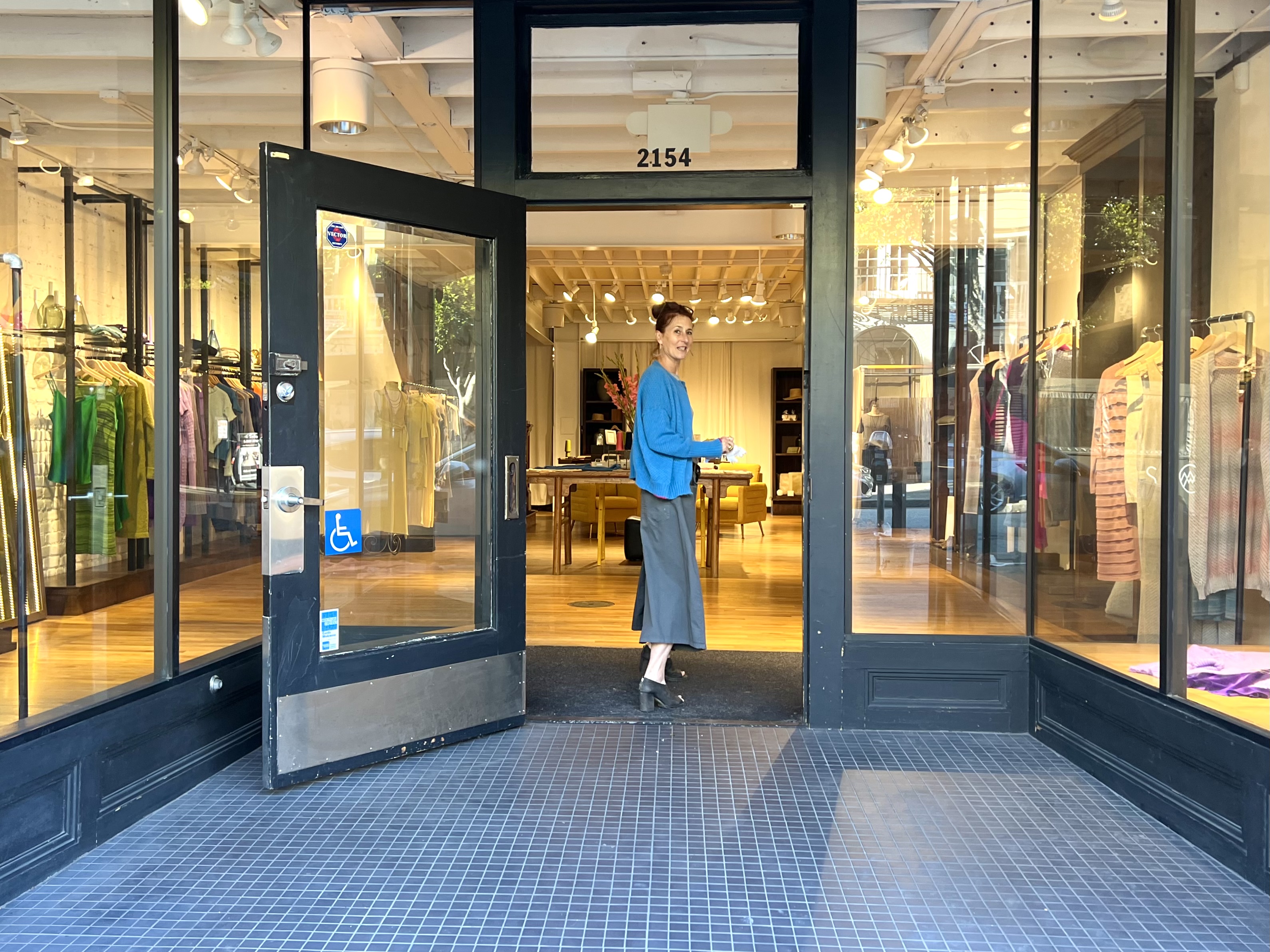 Kenlynn Wilson in front of the entrance of her new boutique. Photo credit: Dorothy O'Donnell
After scoping out spots in a few different neighborhoods, she settled on Cow Hollow and opened Kenlynn in May.
"There are a lot of amazing things happening in this neighborhood," Wilson says. "A number of small, independent stores have opened up."
As previously reported by Hoodline, she meticulously crafts each and every one of the colorful dresses, sweaters, skirts and tops she designs. She relies on a combination of knitting, sewing, and weaving with automated and manual looms.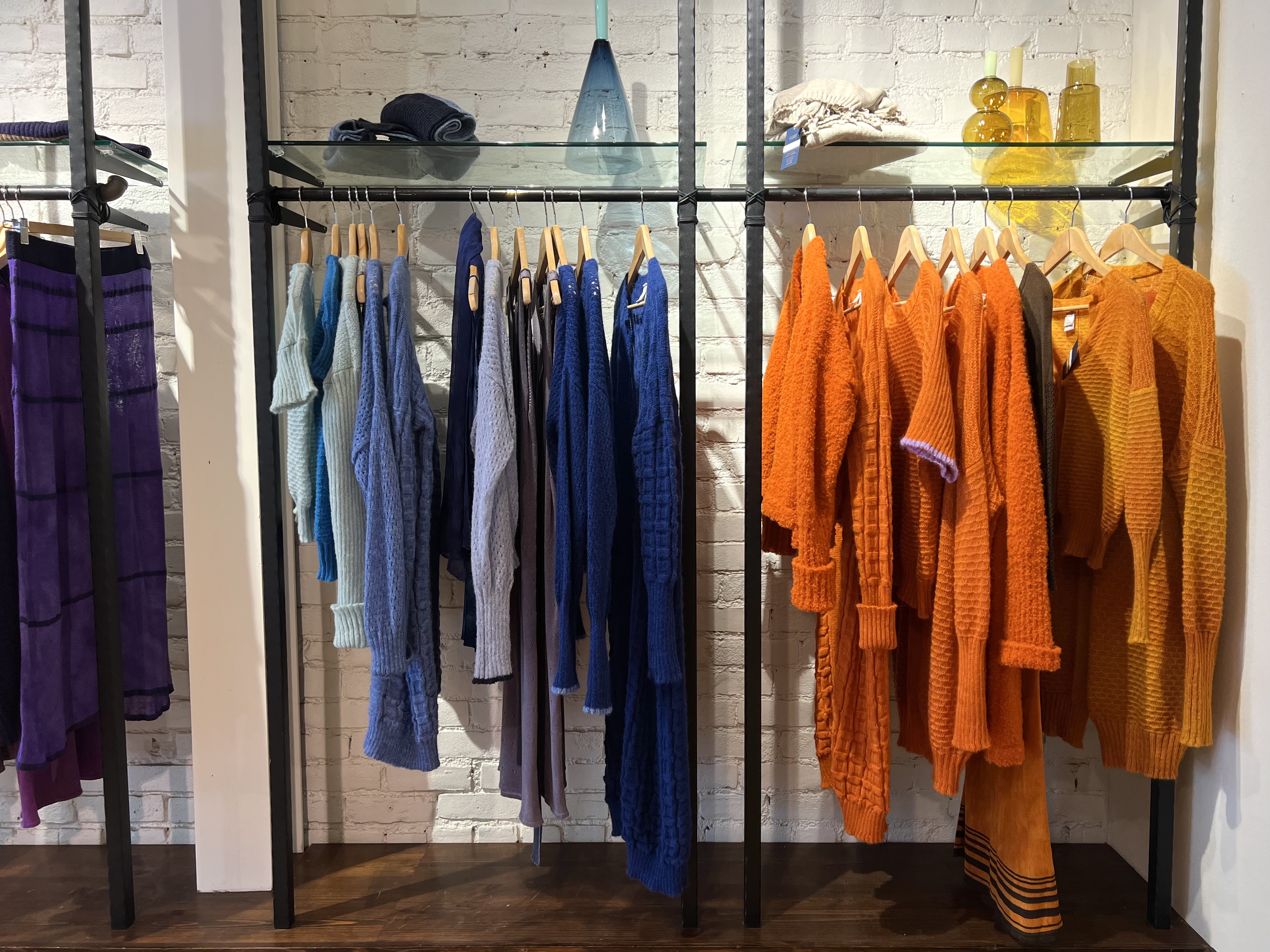 A few of Wilson's colorful creations. Photo credit: Dorothy O'Donnell
Her serene new digs exude the same relaxed yet sophisticated luxury as the clothes she makes. Behind her loom—yes, she actually weaves in the store during slow spells—a pair of sleek, citron-hued chairs invite weary shoppers to relax. Dramatic oversized mirrors lean against the walls. Shelves display shoes, accessories, and streamlined pottery.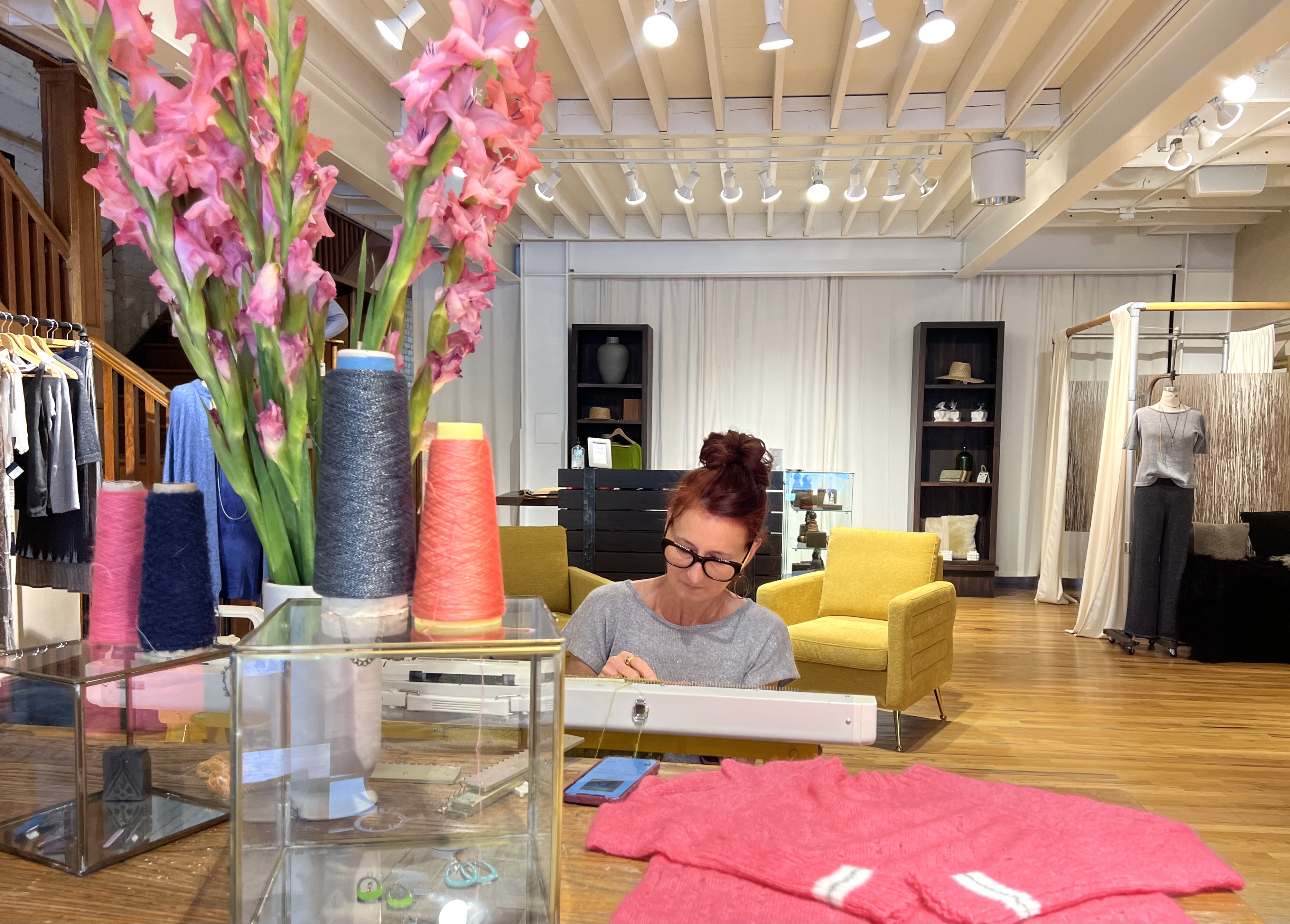 Wilson gets in some weaving on her loom. | Photo credit: Dorothy O'Donnell
Another plus of having a physical shop: customers get to feel the exceptionally soft yarns she sources from family-run mills in Italy to create her clothing.
"My stuff is all about touch and feel," says Wilson. "How do you convey the softness of a sweater if someone can't actually touch it?"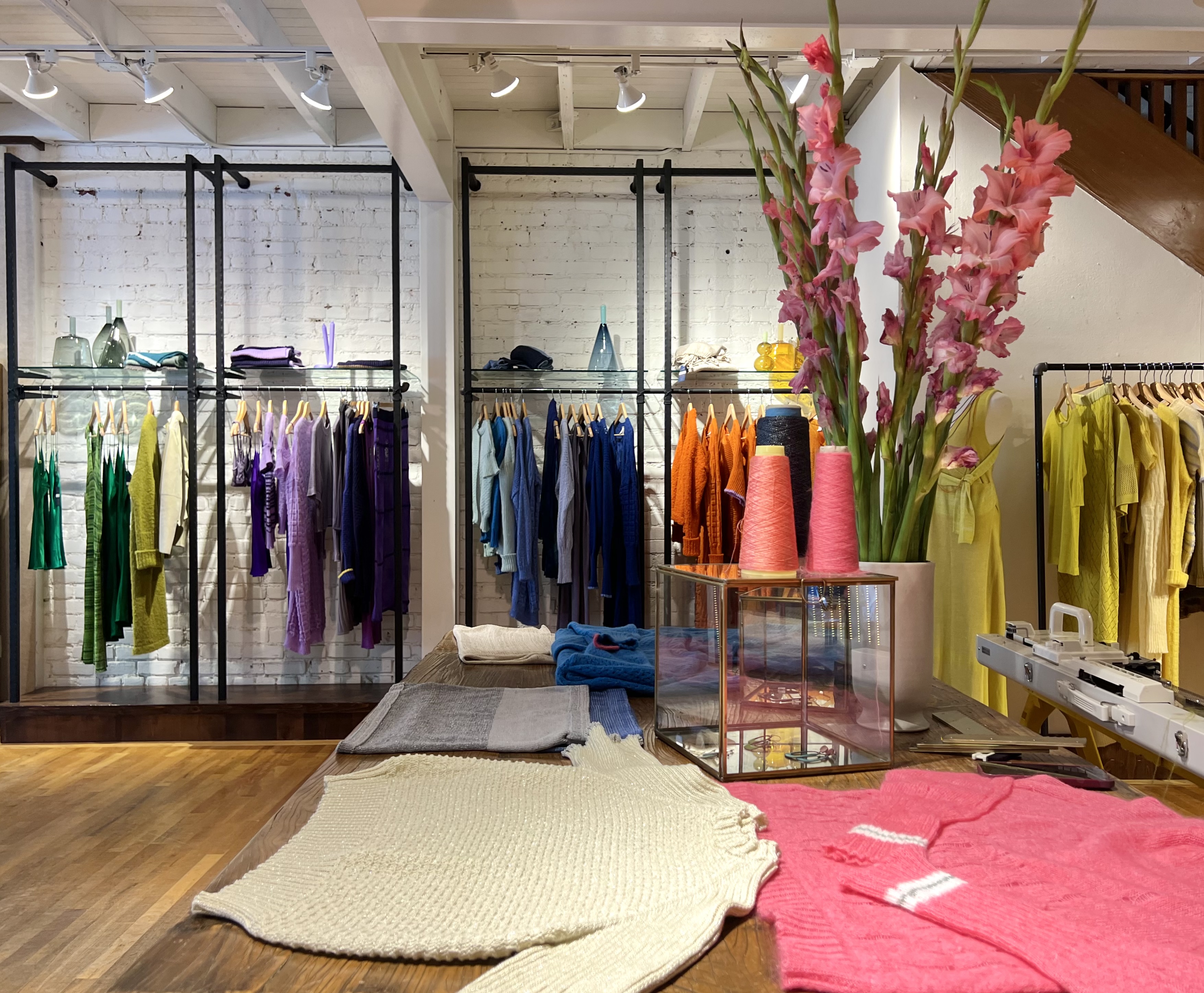 Shopping at Kenlynn's is a colorful, tactile experience. Photo credit: Dorothy O'Donnell
The vibrant colors, craftmanship and thoughtful details that make her knitwear special are also best experienced in person. Wilson loves helping her customers find just the right piece in the perfect shade. So if a woman's got her heart set on a certain dress style but wants it in blue instead of orange, or wants it to be a tad longer, Wilson's happy to create her a custom version. Because she wants each item to be as flattering as possible for the person wearing it, she also does simple, on-the-fly customizations, such as moving a cardigan snap or swapping a silver button for a gold one.
Since setting up shop in Cow Hollow, Wilson's enjoying meeting, and collaborating with, other small business owners in the neighborhood. Danielle Mawlaoui, for example, who owns the upscale boutique Danielle, recently featured a capsule collection of Wilson's designs in her store. The two also did a trunk show together.
"When you have like-minded, indie store owners who support one another, it brings people together and helps everyone," notes Wilson.
In spite of all the recent negative press targeting San Francisco as downtown offices remain empty and big-name retailers close, she's optimistic about what's happening in Cow Hollow and other neighborhoods. And believes it's proof that the city's far from dying.
"I think there are a lot of great things happening now and many neighborhoods are thriving," Wilson says. "Malls are dying all over, not just here. Maybe this is a chance for San Francisco to get back to what it used to be — a city of artists and entrepreneurs, and people who think outside the box."
Located at 2154 Union Street, Kenlynn is open Wednesday through Sunday from noon to 6 p.m. or by appointment.