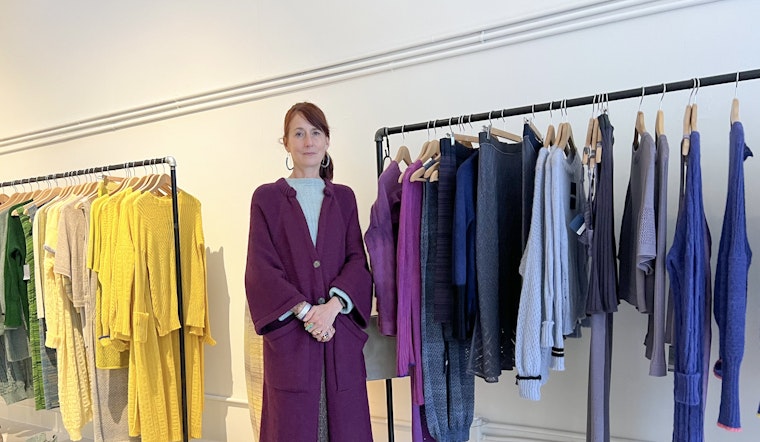 Published on November 09, 2022
Women's knitwear designer Kenlynn Wilson doesn't shy away from color. While you'll find neutral and muted-hued pieces in her new North Beach pop-up (1522 Grant Avenue), her vibrant jewel-toned creations steal the show. Think cozy dusters, cardigans, tops, and ponchos in yellow, coral and fuchsia. Or form-fitting maxi dresses in bright green and orange.
"I don't really follow trends," says Wilson, who had a store in Larkspur for 16 years until COVID and a difficult landlord forced her to close. "I make a point of not looking at what other people are doing."
Often working into the wee hours of the morning in her San Rafael home, Wilson meticulously crafts each and every piece herself, using a combination of knitting, sewing, and weaving with automated and manual looms. She sources her yarns from family-run mills in Italy and prefers working with cashmere and silk alpaca blends as they hold up better than pure cashmere.
Although she enjoyed sewing as a young girl and dabbled in knitting in college, Wilson didn't set out to be a clothing designer. But she's always been a maker. As a student at the Rhode Island School of Design, she honed her skills in a variety of crafts, including wood-making and metal arts. By 2000, she was knitting obsessively and never looked back.
"For me, knitting combines movement, texture, three-dimensional form, and color all into one expression, just from a thin piece of yarn," she explains.
Wilson thinks of her approach to creating clothing as modern technology meets Old World craftsmanship. "That idea really speaks to who I am. I want to make sure that we continue to make things by hand in this country and that we don't lose craftsmanship. I think that's so important."
A trip to Mongolia in 2011 kicked her passion for color into overdrive and inspired many of her current designs. She timed her visit for the dead of winter. Temperatures dipped to minus 40 degrees, but she wanted to see people dressed in their traditional winter garb.
"it was a very bleak environment, and so cold, but I realized that the people purposely used color to uplift their moods," Wilson tells Hoodline. "It was very palatable."
She came home determined to do something similar. These days, she takes pride in converting die-hard fans of black and other neutrals — like a recent customer — into color lovers.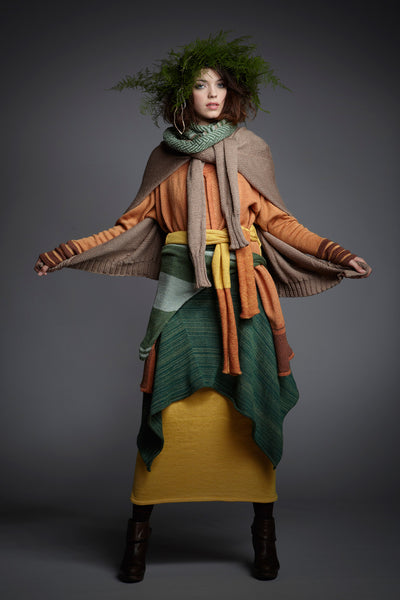 A model flaunts designs Wilson created shortly after her visit to Mongolia. | Photo credit: Kenlynn Wilson.
"This woman said she didn't do colors, but she ended up leaving with a bright orange piece," says Wilson. "She tried on a few things and got to see how color actually complements her complexion, her poise and her mood. That gave me a sense of accomplishment."
Along with her skill for designing clothes in a rainbow of colors, Wilson also has a flair for creating timeless pieces in silhouettes that flatter different body types. Looser-cut maxi-dresses, for example, nod to the flapper styles of the 1920s yet exude a hip, contemporary vibe. A-line midi skirts with subtle patterns beg you to dress them up or down with a change of shoes and accessories.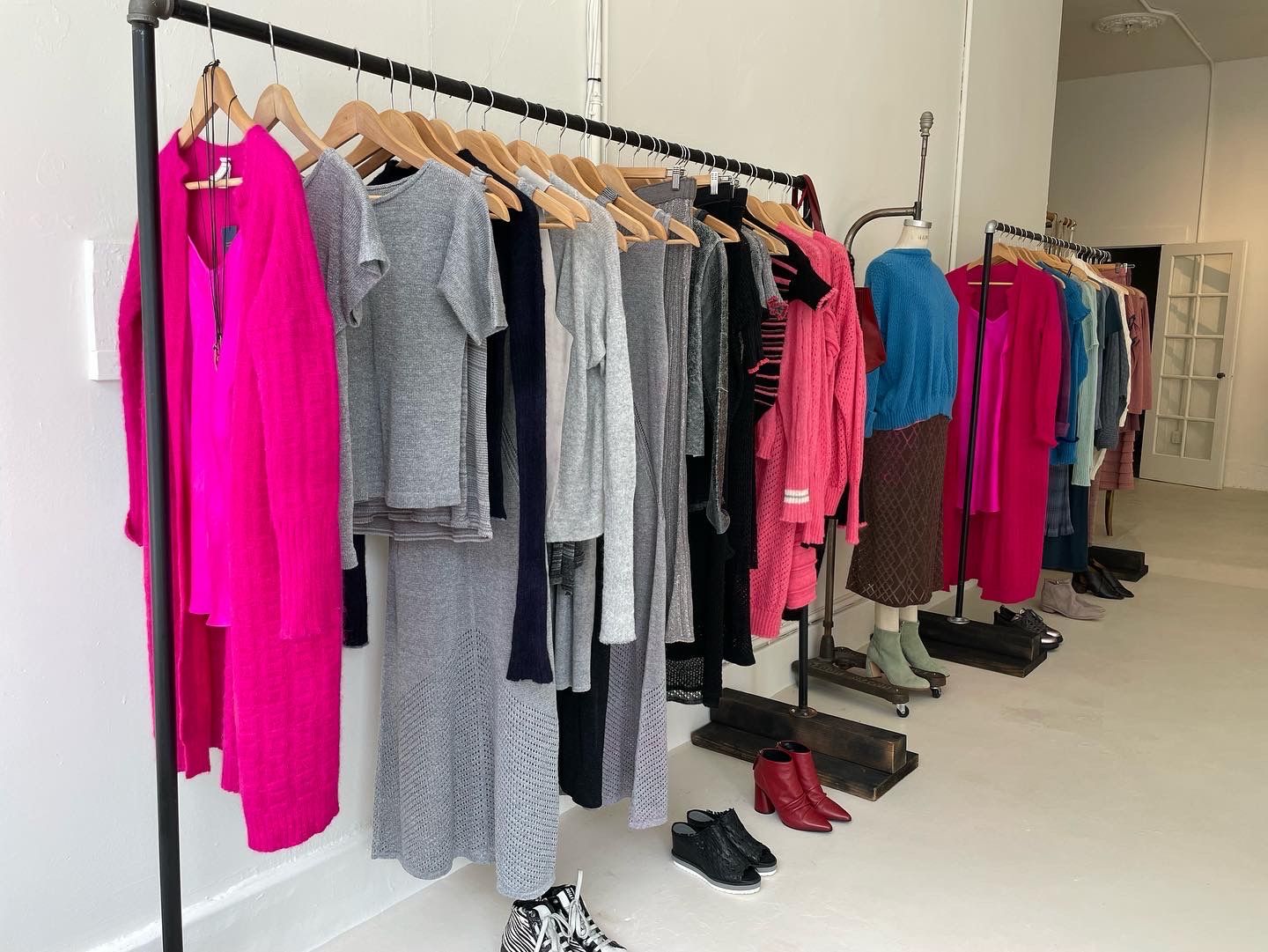 Wilson's luxurious knitwear pieces showcase her love for color and classic design with a modern spin. | Photo credit: Kenlynn Wilson
Wilson is still trying to figure out where, and if, she'll open another permanent brick-and-mortar store in addition to her existing online shop. But she's grateful to her friends, Howard Gee, owner of clothing store AB Fits—a North Beach fixture for almost 30 years—and his wife Mary for making her pop-up possible. The couple holds the lease to the storefront, which is across the street from AB Fits.
According to Wilson, they've dubbed it "AB Fits Evolving Space." The plan is to rent it to a rotating cast of makers. Wilson is their first tenant. Her shop will be open through the end of November, and possibly through December or longer.
The Kenlynn Pop-Up is located at 1522 Grant Avenue. The store is open Friday through Sunday, noon to 6 p.m.