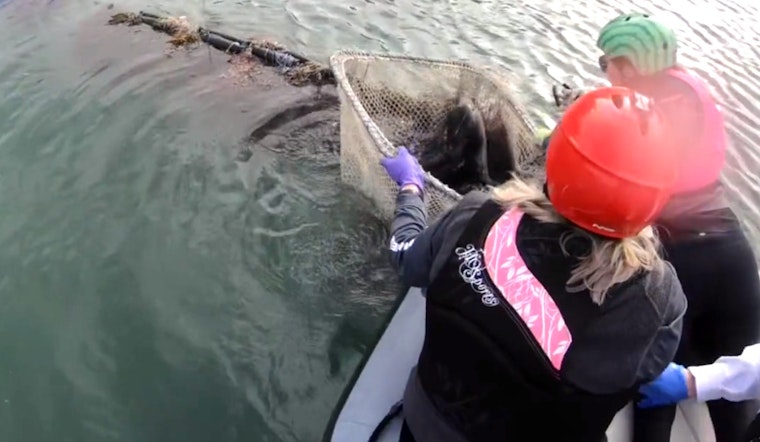 Published on July 10, 2023
San Francisco's firefighters came to the aid of a harbor seal in distress on July 9, after the animal had become entangled in some form of netting or barrier in the bay, a dangerous situation that could have led to the seal's death if not addressed in a timely manner; it was an opportunity for these brave first responders to expand their roles beyond helping the humans of their community, as they efficiently and effectively saved the life of a marine creature in need, with the support of trained marine mammal rescuers from the Marine Mammal Rescue organization, according to KTVU.
San Francisco Fire working with Marine Mammal Rescue to save a harbor seal.

Firefighters from Station 35 had the pleasure of working with volunteers who are trained in pinniped rescue.

This seal was rescued in the #SF BAY tonight (7-9-2023) and is now on its way to recovery… pic.twitter.com/2DzzX4cvr6

— SAN FRANCISCO FIRE DEPARTMENT MEDIA (@SFFDPIO) July 10, 2023
The incident took place in the San Francisco Bay, where firefighters from Station 35 worked alongside volunteers from the Marine Mammal Rescue organization, which is known for its expertise in pinniped rescue, as reported by SF Chronicle. Together, they employed a large net to capture the seal and used an inflatable boat to corral the animal towards safety, before lifting it onto a dock with the help of the net.
Following the successful rescue operation, the seal was transported to the Marine Mammal Center's veterinary facilities located in Marin County for further evaluation and care, a necessary measure that would ensure its complete recovery and guarantee it was healthy and ready to be released back into the wild, where it could continue its life free from the confines of the net entanglement, the same sources informed.
This incident serves as a reminder that marine life, such as seals and other aquatic creatures, continues to face hazardous situations due to pollution in our oceans, with plastic waste and abandoned fishing gear posing significant threats to their well-being, according to the Marine Mammal Rescue organization; the organization is dedicated to the rehabilitation, research, and education of marine mammals and relies on the support of their extensive network of over 1,300 volunteers along the California coast.