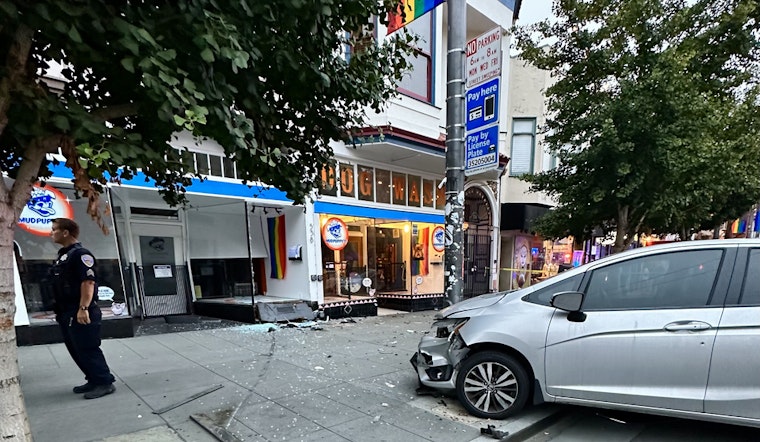 Published on August 14, 2023
On Friday evening, the driver of a vehicle crashed into an unoccupied parked car and Castro dog wash and groomer Mudpuppy's Tub & Scrub at 568 Castro Street.
According to SFPD spokesperson Officer Eve Laokwansathitaya, Mission Station officers were patrolling the 500 block of Castro Street at approximately 7:50 p.m. when they observed a vehicle driving recklessly.
"The vehicle collided into an unoccupied parked vehicle and into a building, causing damage to both," said Laokwansathitaya. "When officers attempted to contact the driver, the driver continued driving and then came to a rest on the 2300 block of Market Street, where officers detained the driver of the vehicle." Luckily no pedestrians were injured during the incident.
The driver was identified as 37-year-old Hector Ortiz of San Francisco. Ortiz and a passenger in his vehicle were treated for non-life-threatening injuries.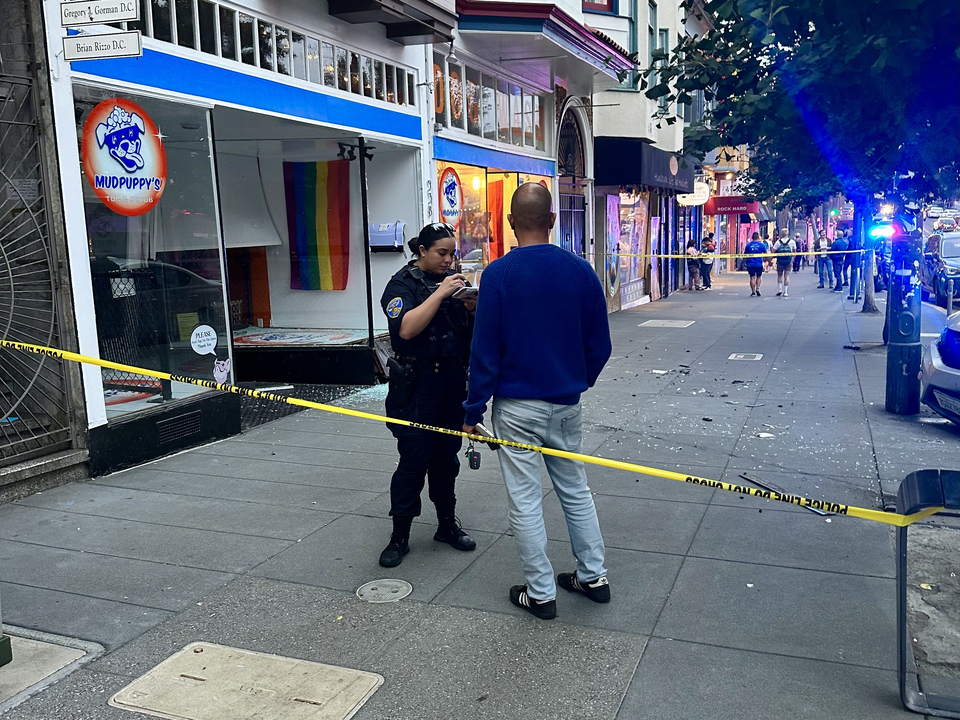 SFPD officer speaks with a witness. | Photo: Christopher V./Hoodline
"No one else was injured during the incident," said Laokwansathitaya. "Ortiz was then transported to a local hospital and the passenger was released at the scene."
The crash comes three weeks after a car spectacularly flew and crash-landed over the Sanchez St. stairs.
Public records indicate Ortiz was booked into San Francisco County Jail #1 on Sunday at 8:45 a.m. and is currently being held without bail. Charges include felony DUI with injury, misdemeanor DUI, felony hit and run, reckless driving, driving without a license, and driving left of the center.
Witnesses at the scene tell Hoodline that Ortiz was driving a Toyota Prius. The force of the crash caused damage to the front of Mudpuppy's newly expanded store and its glass window was shattered.
Mudpuppy's co-owner Daniel Bergerac tells Hoodline he was eating dinner at a nearby restaurant when the incident took place.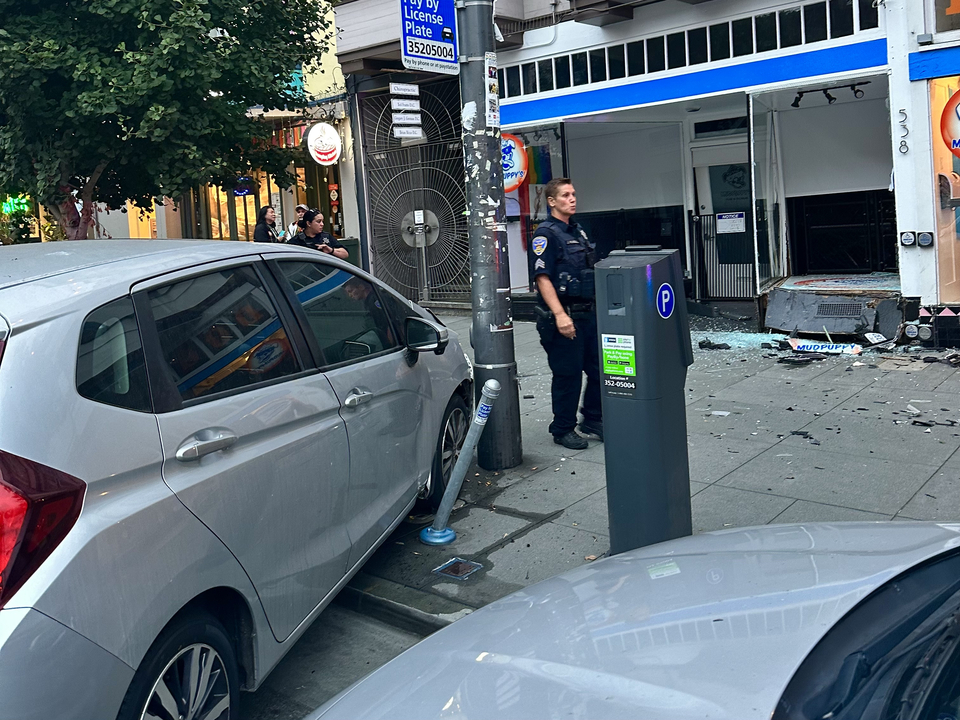 Photo: Christopher V./Hoodline
"Thank dog, no dogs or humans were injured by this incredibly irresponsible behavior," said Bergerac.
"Thankfully our building doesn't have any structural damage," explained Bergerac. "We are grateful for our property owner partner who was on site of the accident as soon as we were."
Bergerac estimated the cost of repairs at $50,000. "Getting back to where we were prior to this incident will require time and energy in dealing with contractors, the city, and insurance companies," said Bergerac. "Time better spent serving our customers."
Bergerac shared a message of caution for all drivers. "With so many safe transportation options available in the Castro, please remember 'Don't drink and drive'," added Bergerac.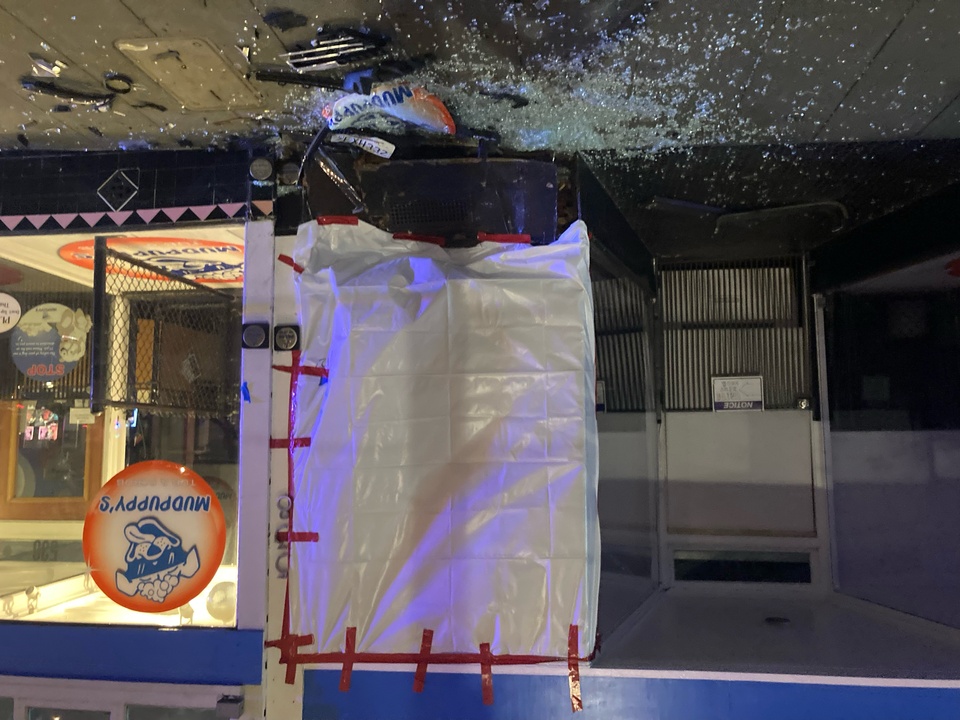 Photo courtesy of Daniel Bergerac
A leaning post, installed during the 2014 Castro Streetscape Improvement Project, was also sheared off of the sidewalk by the force of the crash. Hoodline has reached out to Public Works officials to find out if it will be repaired.
Anyone with information is asked to call the SFPD tip line at 415-575-4444 or text a tip to TIP411 and begin the text message with SFPD.
---
Thanks to Hoodline tipster Christopher V. If you've seen something new (or closing) in the neighborhood, text your tips and photos to (415) 200-3233, or email [email protected]. If we use your info in a story, we'll give you credit.