After outgrowing its current storefront, Castro dog wash and groomer MudPuppy's Tub & Scrub (536 Castro St.) has expanded into a long-vacant storefront next door.
MudPuppy's officially opened last Friday at 538 Castro St., formerly Dogo Love. Hoodline readers will recall Dogo Love closed in 2018.
Mudpuppy co-owners and long-time friends Daniel Bergerac and Todd Ahlberg tell Hoodline it was time for them to expand.
"We just needed more room, our groomers are just too packed in", said Bergerac. "Sales are up, business is good, and we've got a three-week waiting list for appointments."

MudPuppy's has expanded to 538 Castro St. | Photo: Steven Bracco/Hoodline
The additional space will allow MudPuppy's groomers some much-needed breathing room and allow it to accommodate more dogs. Ahlberg says they'll now be able to groom eight dogs at a time and see about 40-50 dogs a day.
"We've hired more groomers," said Ahlberg. "The space they were in just became too tight." Bergerac and Ahlberg said they're currently hiring groomers and assistant groomers.
By expanding into the new location, Mudpuppy's will be able to add a kitchen and a break room for its employees.
While grooming will occur at 538 Castro, customers will still drop their dogs off at 536 Castro where all washing and drying will still happen.
Passersby will also benefit from the expansion as MudPuppy's dog windows will increase from two to four. "It's always something that people love," said Ahlberg. "Even people that don't have dogs come by."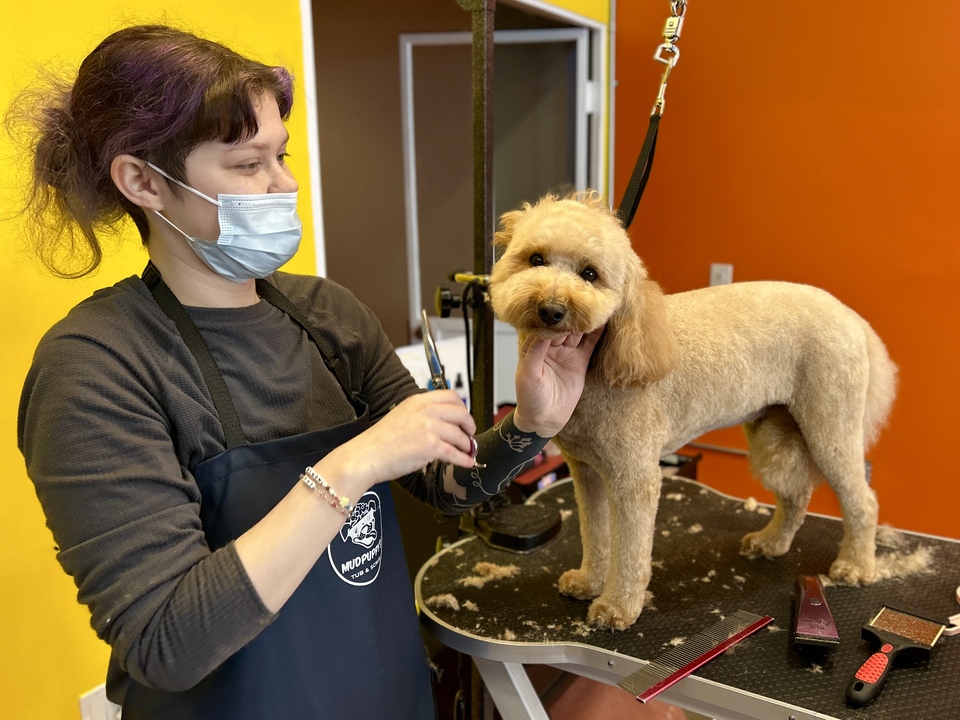 Mudpuppy's employee Katie grooming a dog. | Photo: Steven Bracco/Hoodline
Having opened MudPuppy's in the Castro in 2011, Bergerac and Ahlberg hope to be able to accommodate more customers now. "Our waitlist has gotten too long and we hate telling customers we're booked," Ahlberg.
Friends for 40 years, Bergerac and Ahlberg opened their original MudPuppy's at Pt. Isabel (Richmond) in 2000. A third location along Chestnut St. closed in 2017 after a mandatory seismic retrofit dramatically reconfigured the space.
After 12 years in the Castro, Bergerac and Ahlberg said their success is due to their great customers and amazing employees. While many small businesses struggled during the COVID-19 pandemic with being shut down, Mudpuppy's was able to reopen after having to close for three months due to the shelter-in-place restrictions.
"The day we opened we had a crowd," said Ahlberg. "It was actually pretty funny — a lot of customers learned the value of our groomers because in those three months, they tried giving their own dog a haircut."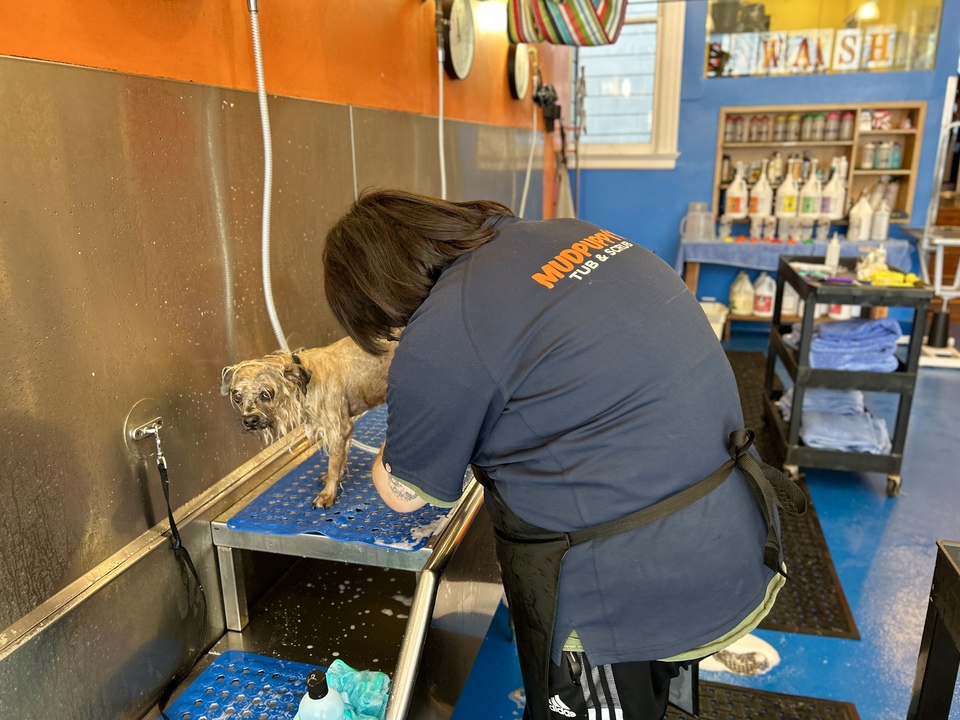 Dog being washed at MudPuppy's. | Photo: Steven Bracco/Hoodline
Ahlberg said sales jumped 50% and Mudpuppy's had the best quarter they ever had. Ahlberg attributed the increase in sales to the 'pandemic puppy'. According to an ASPCA poll, nearly one in five households acquired a cat or dog since the beginning of the COVID-19 pandemic.
"Suddenly half of our customers were puppies," said Ahlberg. "It's great from a business perspective when they try out the business."
When deciding to expand, Ahlberg and Bergerac knew they wanted to remain in the Castro. "We couldn't keep operating this, without moving out of the neighborhood and we didn't want to do that," said Ahlberg.
Having met in their twenties, Bergerac said "we grew up in the Castro and that's our home." And, he added, regarding the many vacancies in the neighborhood, "We both have faith that the Castro will reinvent itself."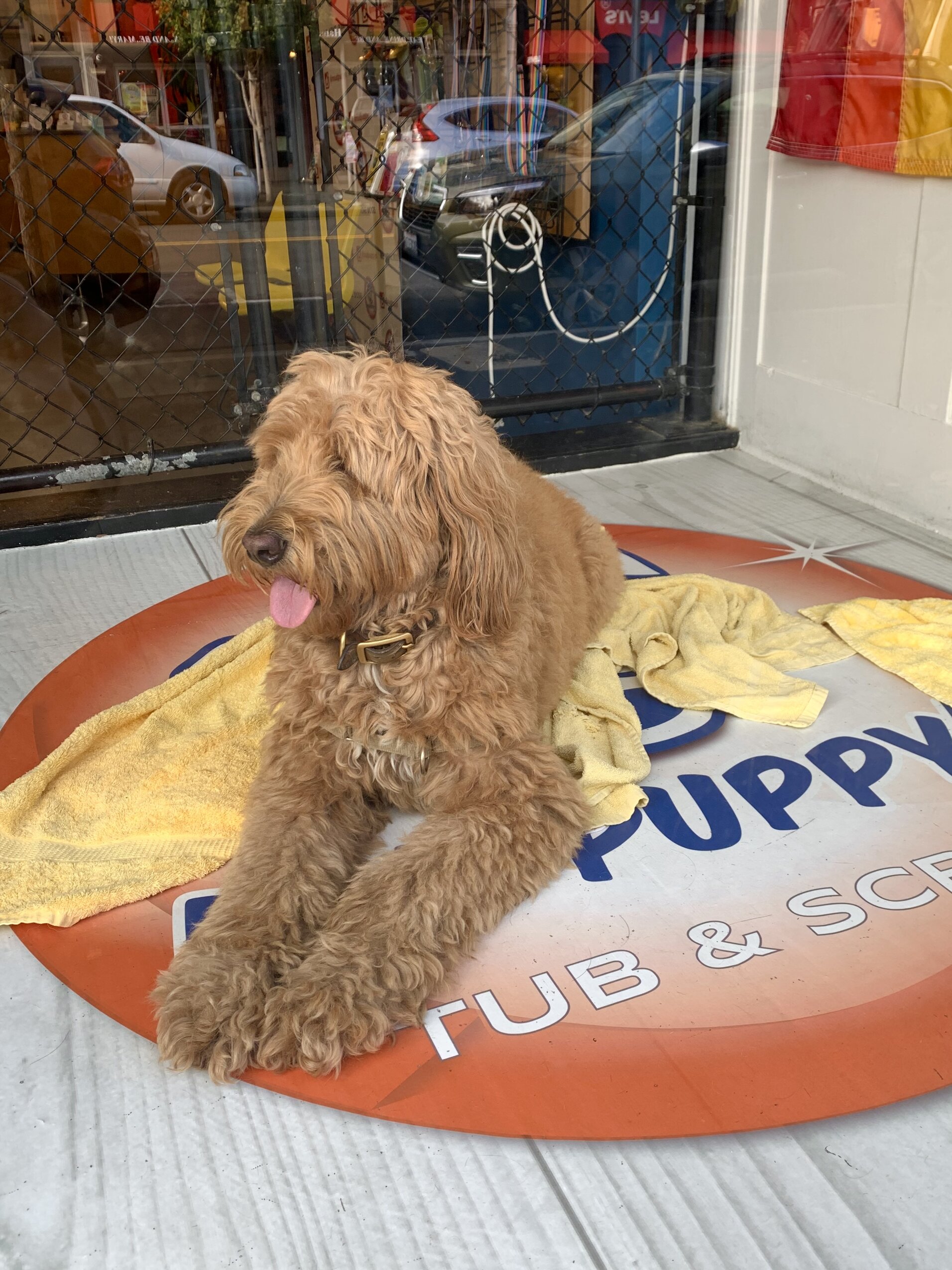 Dog in the window at MudPuppy's. (2019) | Photo: Steven Bracco/Hoodline
MudPuppy's expansion fills one of many storefront vacancies along the 500 block of Castro Street including Harvey's, Puff 'n Stuff, Earthbar, Sunglass Hut, Levi's Store, and Under One Roof.
A former Castro Merchants president, Bergerac called on city leaders to address the problems plaguing the neighborhood.
"We've gotta get some stronger leadership within city hall to really combat the street behavior and problems within the Castro," said Bergerac.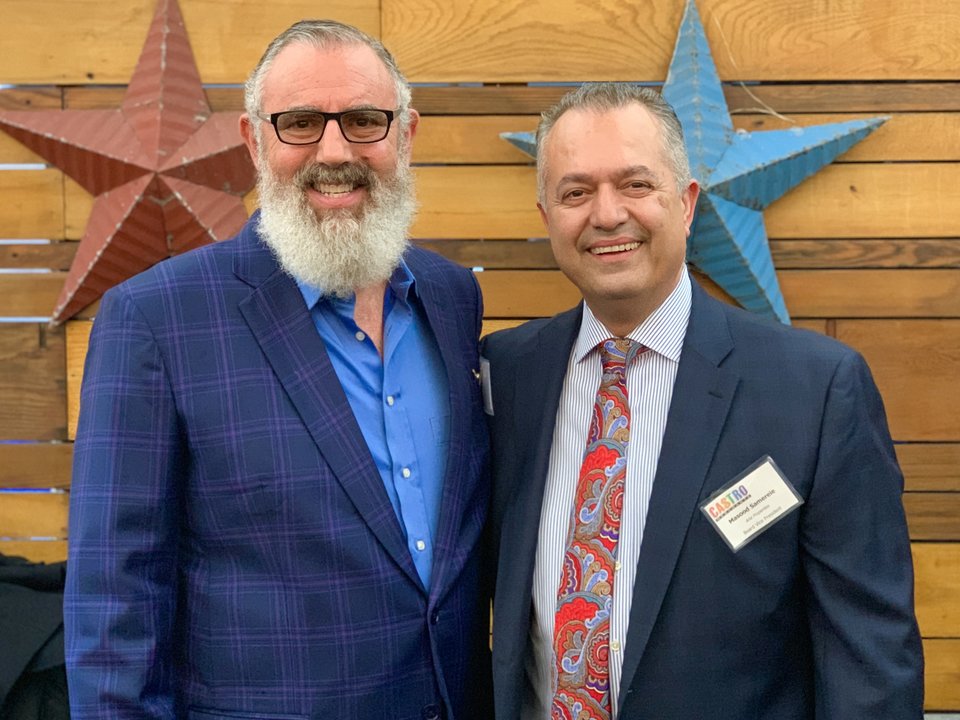 Former Castro Merchants presidents Daniel Bergerac and Masood Samereie. (2019) | Photo: Steven Bracco/Hoodline
"By and large the Castro is the heart of the city," added Bergerac. "The Castro has the best public transportation of anywhere else in the city. I think there's hope for the Castro and that people shouldn't write it off."
But, he added, "Retail has dramatically changed and we need to rethink how things are done."