After six years in the Castro, pressed juice and smoothie shop Earthbar (formerly Project Juice) has closed its location at 506 Castro Street.
Project Juice opened in 2016 in the space formerly occupied by Artis Coffee, and, before that, The Body Shop. Project Juice began its partnership with Earthbar in 2020 and transitioned all its shops' names in 2022.
Hoodline reached out to Earthbar for comment but did not receive a response.
The cold-pressed juice purveyor also offered soups, toast, "wellness elixirs," kombucha, hot and cold-brew coffee, and tea. The food menu also included salads, yogurt, granola, nuts, and other snacks to grab on the go.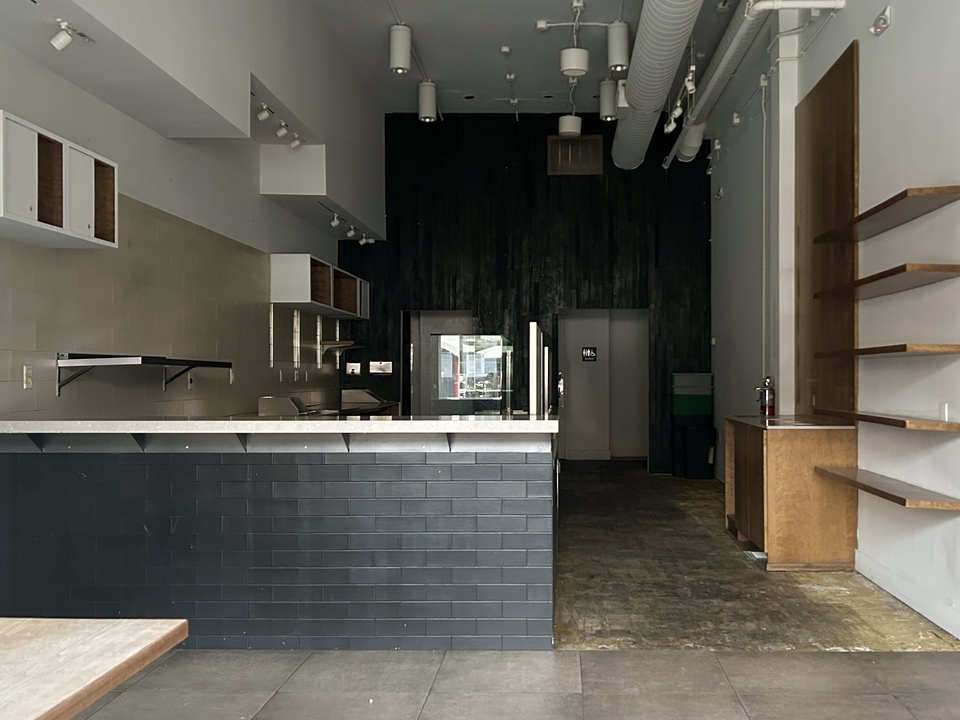 Earthbar at 506 Castro St. is now closed. | Photo: Steven Bracco/Hoodline
Earthbar locations remain open in Cow Hollow (2055A Union), East Cut (320 Mission), Financial District (301 Pine), Marina (2234 Chestnut), Mid-Market (1560 Mission), and Union Square (747 Market).
On a recent visit by a Hoodline reporter, the storefront was vacant and all of Earthbar's products had been removed.
A "notice of belief of abandonment" was posted in the window dated February 1, and it indicated that Earthbar was behind on its rent.
The letter was signed by Michael 'Misha' Langley, who's an authorized agent for landlord Paul Langley. Langley owns the entire building which includes the now-closed restaurant and bar Harvey's.
Misha Langley and Paul Langley did not respond to Hoodline's request for comment. Misha Langley is also a board member of the Castro/Upper Market Community Benefit District (Castro CBD).
"The rent of this property has been due and unpaid for the number of days necessary to declare a rent default under your lease and the lessor/landlord believes that you have abandoned the property," the note reads.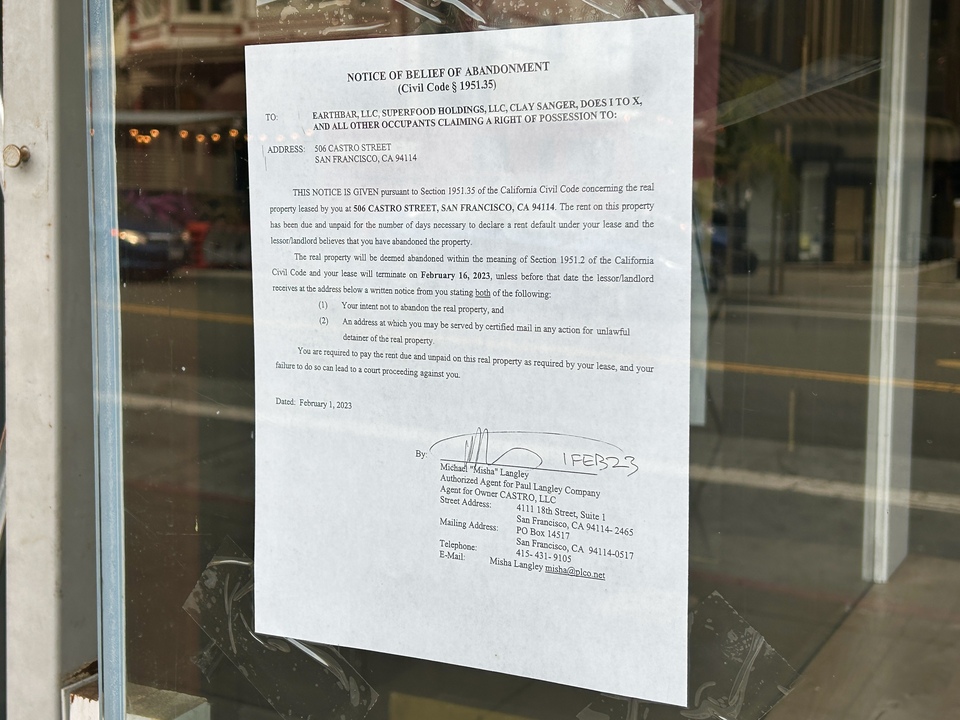 Notice from Michael 'Misha' Langley in the window at Earthbar. | Photo: Steven Bracco/Hoodline
According to the notice, the lease will terminate on February 16, 2023, unless Earthbar notifies Langley that they will not be abandoning the property.
"You are required to pay the rent due and unpaid on this real property as required by your lease, and your failure to do so can lead to a court proceeding against you," the notice ends.
News of Earthbar's closure comes a week after 27-year-old restaurant and bar Harvey's abruptly shuttered and two weeks after Mexican restaurant El Capitan permanently closed.
Earthbar's closure adds another storefront vacancy to the 500 block of Castro Street.
Ground floor retail vacancies continue to plague the Castro, and the 500 block of Castro Street alone has eight vacancies. Last year the Levi's Store (525 Castro) and Sunglass Hut (511 Castro), nursery and garden center Hortica (566 Castro) closed.
Spaces formerly occupied by Harvey's (500 Castro), Puff 'n Stuff (504 Castro), Dogo Love (541 Castro), Hamburger Mary's (531 Castro), and Under One Roof (541 Castro) remain vacant.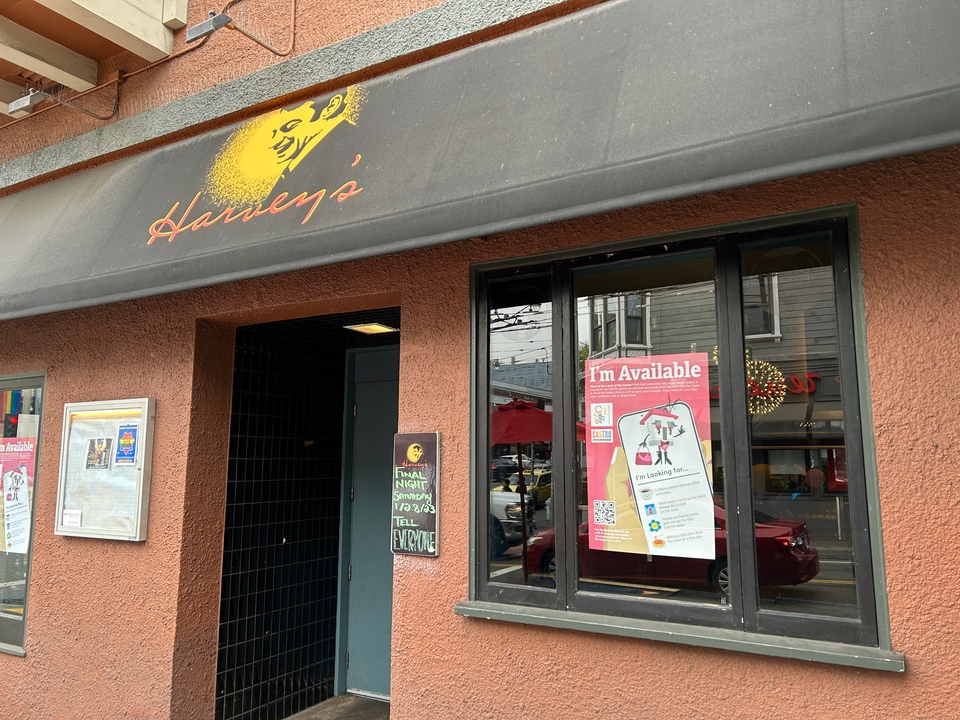 'I'm Available' campaign poster in the window at Harvey's. | Photo: Steven Bracco/Hoodline
Yesterday, in response to Castro's storefront vacancy problem, Castro Merchants president Terrance Alan and Castro/Upper Market Community Benefit District executive director Andrea Aiello launched the 'I'm Available' campaign.
Aiello and Alan are encouraging landlords with vacant properties to post 'I'm Available' signs in the storefront windows. These signs then provide information to prospective business owners about why they should open in the Castro and helpful information to new business owners.
"Just having all the information in one place is very helpful for a new entrepreneur," said Aiello. "Last week, I received a call from someone interested in opening a shop on Castro Street."