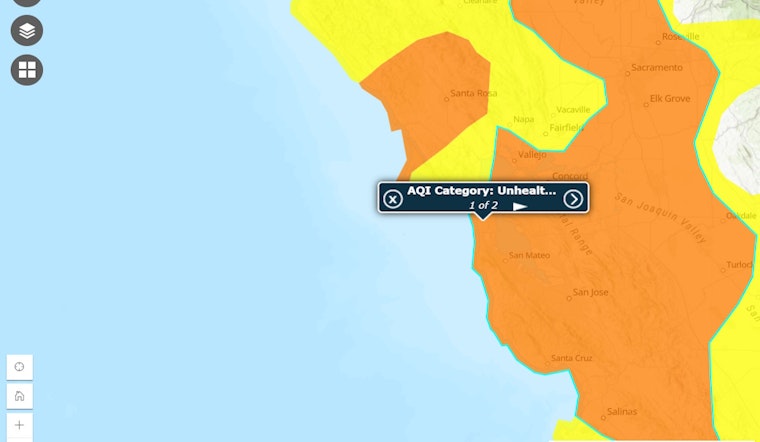 Published on September 20, 2023
San Francisco, Oakland, San Jose, and the other surrounding areas of the Greater Bay Area continue to face worsening air quality. According to the Air Quality Report published on September 20th, 2023, the city's air quality index is currently at "Unhealthy for Sensitive Groups," with PM2.5 - particle pollution - noted as the primary pollutant. These extremely small particles can harm the heart and lungs if inhaled in large quantities, but the levels are currently safe for healthy individuals to remain outdoors.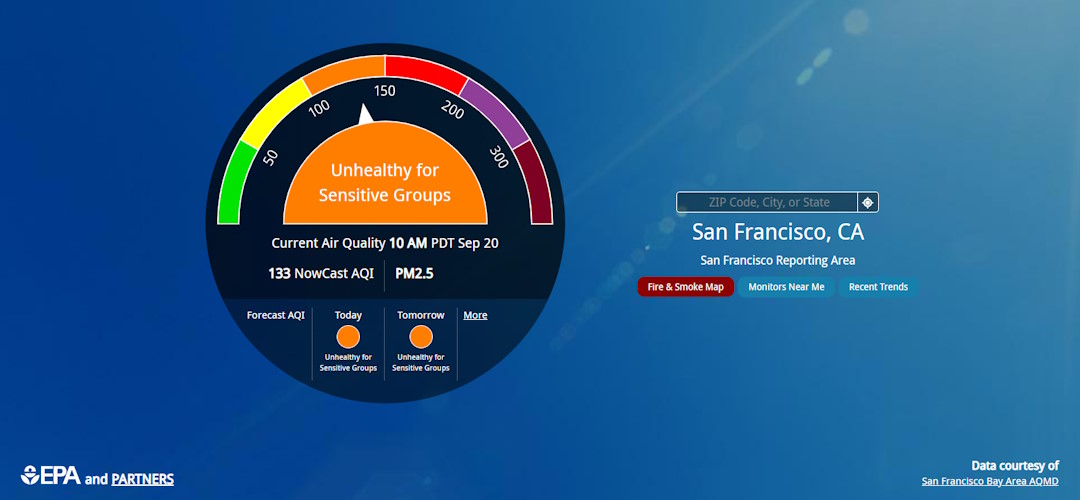 Screenshot: EPA.gov / AirNow
Moreover, the Spare The Air Twitter post dated September 20th, 2023, announced that due to the smoke from wildfires in California and Oregon, a #SparetheAir Alert is in effect through September 21st. The concerning levels of air pollution are not only impacting the city's air quality but also affecting the day-to-day lives of the people.
In an interview with ABC7 News, residents of San Francisco shared their experiences with the deteriorating air quality. They expressed concern about the visibility and the smell of smoke hanging in the air. In response to this pressing issue, experts have recommended staying indoors, keeping windows closed, or seeking out cooling centers for those in need - especially for those with underlying health concerns.
The situation is reminiscent of the past, where San Francisco faced similar problems linked to air quality. An IQAir article documented the city's struggle with air pollution primarily caused by transportation emissions and seasonally occurring wildfires. Despite the steady improvement in the city's air quality over the last three decades due to regulatory measures and the push for sustainable energy sources, wildfires remain a significant and hard-to-address concern.
These wildfires not only impact air quality but also pose considerable health risks for San Francisco residents. According to the same IQAir article, the health effects of air pollution in the city range from an increased risk of lung cancer and respiratory diseases such as chronic obstructive pulmonary disease (COPD) and asthma, to adverse effects on the development of young children and unborn babies. Pregnant women exposed to high levels of air pollution may face a higher risk of miscarriage, giving birth to babies with low birth weight, or childbirth complications and defects.
The severity of this issue has prompted health professionals, along with city authorities, to urge residents to take necessary precautions to safeguard their health. The use of high-quality masks, avoiding strenuous outdoor activities, especially during the wildfire season, and tracking air pollution levels and forecast data are some of the key measures residents can adopt to minimize exposure to harmful air pollutants.