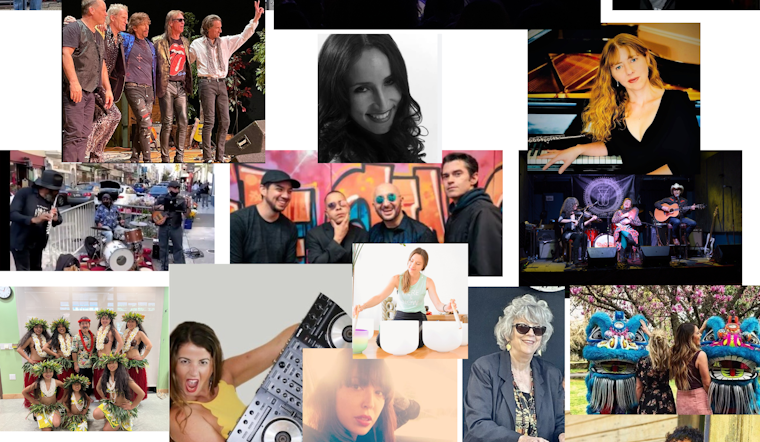 Published on September 18, 2023
This Saturday, live music fans can groove to pop, reggae, jazz, rock and other genres during North Beach's first All Day Music festival. Co-produced by nonprofits North Beach Neighbors and Next Village SF, the event will showcase 19 different artists performing at eight different venues sprinkled around North Beach. The fun starts at 10 a.m. and will continue until 11 p.m.
"North Beach has been a hub of music in the city forever," said Blair Helsing of North Beach Neighbors, lead producer of the event. "Since the pandemic, we've had all of this new art and cultural activity happening in the neighborhood. So we wanted to put the spotlight on North Beach, especially our new music venues, to help them and other businesses attract more customers who can have a good time listening to music."
Featured venues that have opened, or reopened, in the neighborhood during the past couple of years include The Lost Church, Lyon and Swan, and reimagined versions of Club Fugazi and the legendary Savoy Tivoli. Throughout the day, festival attendees can also catch performances at Piazza Pellegrini, Libreria Pino, Vesuvio Café and in Kerouac Alley.
Headliner Goodnight, Texas, who tours around the country, will bring their engaging rock meets garage roots Appalachian sound to the Lost Church to end the musical extravaganza on a high note. (If you plan to attend their show, be sure to make a reservation as seats are limited.) The festival's eclectic line-up also features a number of emerging Bay Area artists, such as Cardboard People, Richie Cunning and Kindred. Well-known performers include The Unauthorized Rolling Stones and the Brian Andres Quartet. Student musicians from the Bay School and Urban School will also perform.
"Many people I've talked to say they've never heard of some of these bands," Helsing told Hoodline. "But very early on in planning this event, we knew we wanted a combination of up-and-coming performers who are showing their mettle and established musicians. Since we booked them, some of the lesser-known acts, like Carboard People, are already starting to become San Francisco favorites. And Goodnight, Texas is having a fantastic year—I think they'll become a very big name."
In addition to live music, festival attendees can enjoy entertainment from LionDanceME, Rahiti Polynesian Dance and Leung's White Crane. Or take a soothing sound bath at Glow Yoga. In between performances, they can check out North Beach's many shops and restaurants.
Tickets for All Day Music in North Beach are $45, which goes towards paying the musicians and covering production costs. Discounts are available if you purchase three tickets and there's no charge for kids under age 11. According to Helsing, tickets have been selling at a steady clip, especially in the last couple of weeks as the big day approaches.
"We feel very fortunate to be able to bring this group of musicians and performers together, "said Helsing. "Attendees are in for a wonderful time, not only listening to music at the various venues, but also discovering North Beach and circulating around the neighborhood."
For tickets, a festival schedule and general information, visit the event website