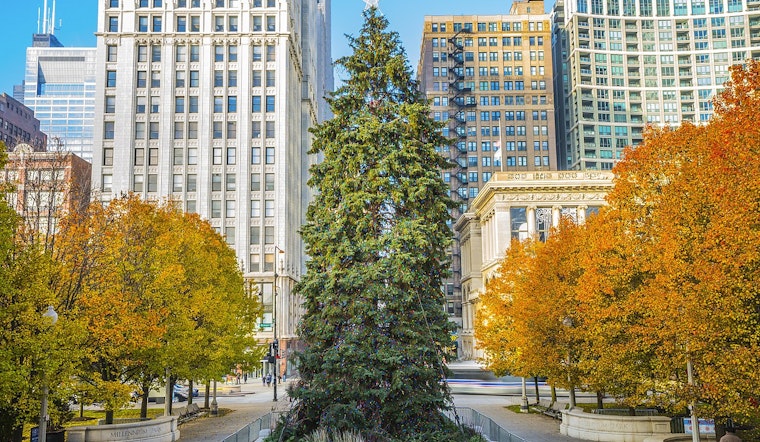 Published on September 20, 2023
As the leaves begin to turn and a chill fills the air, Chicago is gearing up for yet another festive holiday season. Mayor Brandon Johnson and the Department of Cultural Affairs and Special Events (DCASE) have officially opened nominations for the 110th annual Christmas tree, which will take center stage in Millennium Park, continuing a beloved annual tradition, according to Chicago.gov.
But this year's search for the perfect tree offers something unique: an opportunity for the people of Chicagoland to contribute to the city's holiday celebrations. If you have a tree that meets specific criteria, this could be your chance to share its beauty and splendor with the Chicago community.
So, what are the requirements for Chicago's official Christmas Tree? Nominated trees must be at least 45 feet tall, located within 50 miles of Chicago's Loop, and preferably be a Norway Spruce or Fir tree. Trees that do not meet these criteria will not be considered, as the city is quite particular about maintaining the special presence and aesthetic its annual tree brings to the festivities.
In order to nominate your tree, you need to submit the owner's name, contact information, a brief description of the tree and what makes it special, and at least two photographs to DCASE by October 12, 2023.
This year's lighting ceremony will take place on November 17, with the tree remaining illuminated through early January 2024. The ceremony serves as the centerpiece of an array of holiday traditions and activities in Millennium Park, including ice skating at McCormick Tribune Ice Rink. More information about the park's upcoming events can be found at MillenniumPark.org.
In 2022, the City of Chicago's Holiday Tree was a 55-foot Colorado Blue Spruce donated by the Glisovic family of Morton Grove as mentioned by Chicago.gov. This year, your tree could potentially light up the city and be admired by millions of Chicagoans and tourists alike.
The Tree Lighting Ceremony is just one of the free cultural programs the city has planned for the holiday season. Other events and activities will be announced in the weeks to come, promising a delightfully festive atmosphere throughout Chicago.
The Department of Cultural Affairs and Special Events (DCASE) invests in the creative economy, expands access to the arts throughout Chicago's 77 neighborhoods, and supports artists and cultural organizations. DCASE is responsible for producing some of the city's most iconic festivals, markets, events, and exhibitions at the Chicago Cultural Center, Millennium Park, and other locations across the Windy City, serving a local and global audience of 25 million people.