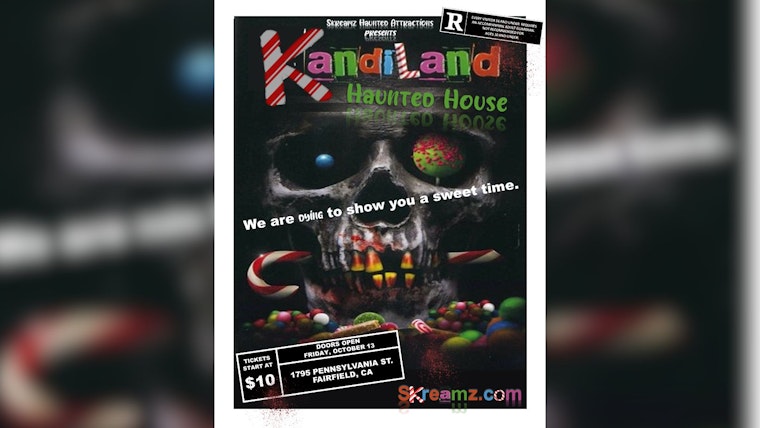 Published on September 22, 2023
Northern California's sKreamZ Haunted Attractions, one of the top five haunts in the region, presents KANDILAND this Halloween season, offering a mouth-watering journey of bone-chilling scares.
According to the Fairfield Police Department, starting on Friday, October 13, the hair-raising haunt will take place on Fridays and Saturdays throughout October, from 7:00 p.m. to 10:00 p.m. at 1795 Pennsylvania Ave, Fairfield, CA. What sets this event apart from the regular Halloween attractions is its aim to raise funds for Fairfield Police Activities League's (PAL) Career Cafe program, which assists local youth in preparing for their future careers.
With ticket prices starting at a mere $10 for students, military members, and emergency medical service personnel, and $12 for general audiences, proceeds will go towards supporting the young members of the Fairfield community.
But be prepared to face your fears as the attraction features enclosed spaces, special effects lighting, and horror effects with the intention of causing fright and even nightmares. For younger participants, anyone aged 14 and under is required to have parental guidance, and the event is not recommended for those under 10 years of age. As the situation with the ongoing pandemic unfolds, all participants will need to adhere to Solano County COVID health guidelines and sign a tour waiver before entering the premises.