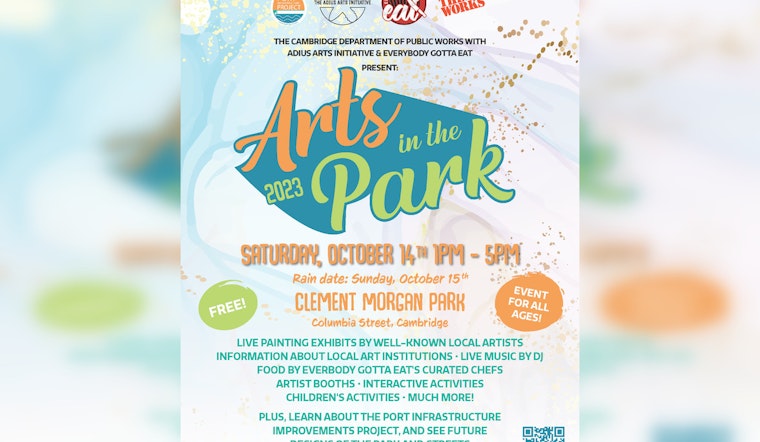 Published on October 02, 2023
The Cambridge Department of Public Works, teamed up with Adius Arts Initiative and Everybody Gotta Eat, will be hosting Arts in the Park on October 14th at Clement Morgan Park. The goal is to create an inclusive platform for local artists to present their work and to offer diverse cultural experiences to attendees of all ages.
The event features an exciting mix of live painting exhibitions, music, food, and more. Artists will showcase their skills in various mediums, and local art institutions will provide information and resources. A live DJ performance adds to the event's atmosphere; food will be prepared by Everybody Gotta Eat's local chefs. Interactive activities and children's events aim to deliver family-centric entertainment.
Additionally, Arts in the Park represents part of Cambridge's proactive Port Infrastructure Improvements Project approach. This initiative, aimed at neighborhood revitalization, invests in public facilities, open spaces, and infrastructure. The city hopes to create inclusive, vibrant public spaces with diverse projects.
Arts in the Park exemplifies these ideas, illustrating how municipal initiatives can promote cultural development and community should take. Participation is completely free and suitable for all ages. The event will run from 1 pm to 5 pm on October 14th, providing enough time to experience everything on offer. In case of poor weather, a rain date of October 15th has been scheduled.
As Cambridge strives to enhance public spaces and to support local artists, events like Arts in the Park play an essential role in connecting people together. Interested in learning more about the event or the city's ongoing infrastructure project? Visit CambridgeMA.gov/ThePort.