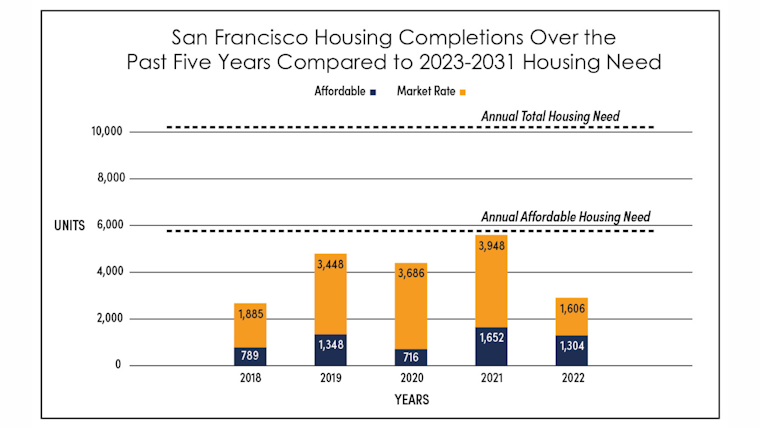 Published on October 26, 2023
Yesterday, Governor Gavin Newsom announced a comprehensive review of San Francisco's housing policy, detailing patterns that have caused costly building delays in the city over the past decades. The consequent barriers and high construction costs have intensified the city's unmet housing needs. To alleviate its affordability and overcrowding issues, the city needs to construct over 82,000 residences including 5,800 affordable houses by 2031, per the California Department of Housing & Community Development.
HCD provides SF with the steps it must take to remove these barriers and meet the housing needs of its residents at all income levels. These needed actions are data-driven, based on UC Berkeley academic research. pic.twitter.com/YTvKGURxea

— California HCD (@California_HCD) October 25, 2023
The issues with San Francisco's housing approval process were previously highlighted in research by the UC Berkeley Institute of Urban and Regional Development. In response, California's Department of Housing and Community Development's (HCD) Housing Accountability Unit (HAU), started working with UC Berkeley last year on a thorough analysis. This collaboration resulted in a Housing Policy and Practice Review, offering a detailed plan and required actions to ameliorate San Francisco's housing crisis.
According to Moira O'Neill, an Associate Research Scientist at UC Berkeley's Institute for Urban and Regional Development, the review is notable for its data-driven approach. By identifying decision-making patterns hindering housing progress, actionable strategies that align to swiftly improve the housing situation, with state requirements can be effectively implemented.
The Housing Policy and Practice Review details 18 mandatory actions with respective timeframes and an additional 10 suggested actions to aid in streamlining San Francisco's housing development. Key areas of focus include eliminating subjectivity in the planning review process, restructuring local CEQA practices, overhauling the local administrative appeals process, fast-tracking the post-entitlement permitting process, and enhancing transparency in housing approvals.
Governor Newsom indicated that city leaders will work with the state to enact these reforms, with to objective of aligning the city with state housing law and enabling a new era of affordable, plentiful housing, and new opportunities for low-income families.
Besides, under Governor Newsom's administration, over $30 billion has been invested to tackle the statewide affordable housing crisis. Numerous CEQA reforms have been implemented, and the HAU was formed to make cities and counties accountable for fair housing planning and permissions. These initiatives led to a 15-year high in California housing starts.