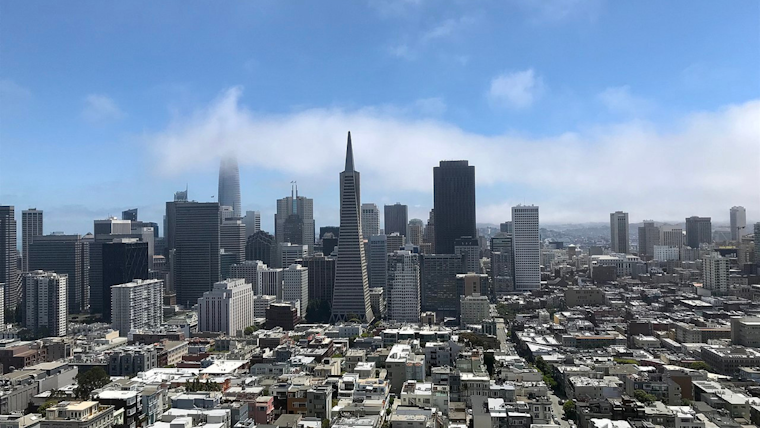 Published on October 19, 2023
For many months now, national - and even international - news has reveled in the numerous stories of San Francisco's alleged demise. Back in July, San Francisco's Chief Economist, Ted Egan, attempted to disspell the overblown assertions. At the time, commentators and detractors said that of course such a person, employed by the City, would downplay the issues facing SF's downtown area. Surely, the United States, as a whole, has been navigating its recovery from the impacts of COVID-19 and work-from-home. New statistics put forward a more hopeful picture for San Francisco's downtown area. A revised analysis by the University of Toronto states San Francisco's post-pandemic recovery rate is almost twice the previous estimates – 67% instead of the initial 34%, as reported by the San Francisco Chronicle. This places San Francisco's recovery at 38th among the United States cities analyzed in the study, beating out heralded locales like Denver, Houston, and even New York.
Several adjustments in data methodology resulted in this improved perspective. The revisions, implemented by the University of Toronto's School of Cities report included redefining the boundaries of downtown San Francisco to encompass more of its frequented locations, such as South of Market, Union Square, and sections of Chinatown, according to Karen Chapple, the School's Director. The updated data now draws exclusively from Spectus, as opposed to both Safegraph and Spectus, as per the Downtown Recovery Methodology.
Consequently, these amendments reflect a substantial rise in recovery rates for other Bay Area cities, including San Jose and Oakland. Downtown San Jose's recovery rate saw a leap from 71% to 96%, while downtown Oakland's rate was elevated from 47% to 74%. It should be noted that San Jose's recovery sits at #3 in the nation, according to this study.
"Great" rating, when it comes to recovery, goes to Las Vegas with a staggering 103% recovery rate. Other U.S. cities featured different rates of downtown recovery which can be see in the Downtown Recovery Rankings here. St. Louis finds itself at the bottom end with a recovery rate of a mere 53%.
Despite a surge in the city's office vacancy rate to 34% in September, AI firms, including OpenAI and Anthropic, are expected to be near the final stages of negotiating major leases.
The unemployment rate in San Francisco improved at a largely proportional rate to its recovery, at 3.6% in August, the second lowest in the state, outdone only by the neighboring county San Mateo.
These downtown recovery rankings are compiled based on mobile phone data samples gathered within specific time frames, according the the methodologies page of the study.