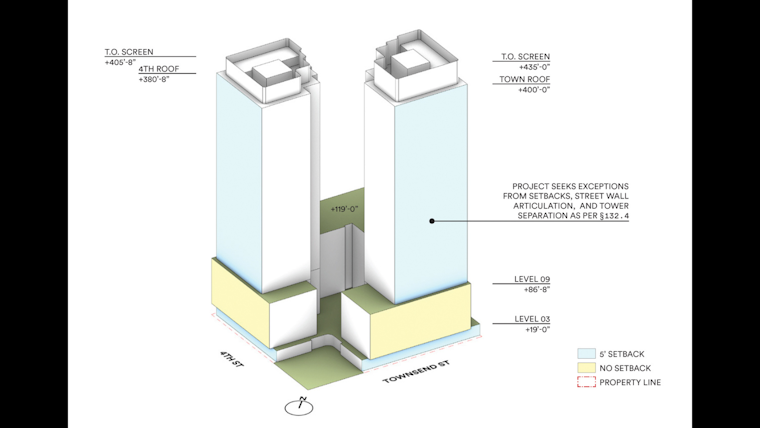 Published on October 24, 2023
Two residential towers are set to rise near San Francisco's Caltrain station if developer Tishman Speyer's proposal is approved, potentially adding more than 1,100 homes to the area.
New renderings of the project at 655 Fourth St., nestled between Townsend and Bluxome streets, were recently filed with the city, a report by The Standard notes. The towers are projected to stand over 400 feet, with the 4th Street Tower reaching 405 feet and containing 38 floors, while the Townsend Tower will extend to 435 feet with 40 floors.
The proposed towers would replace three existing buildings, seven surface parking lots, and landscaping. The site is advantageously located close to the Caltrain station and the Central Subway's 4th/Brannan station. The San Francisco Giants' Oracle Park is also within walking distance.
The proposed development would offer a mix of studio apartments, one-bedroom units, two-bedroom apartments, and three-bedroom homes, totaling 1,105 units. A total of 391 units would accommodate balconies for private open space, according to a report in The Standard.
Ground-level amenities are planned to include a public plaza, 9,745 square feet of retail space, bicycle storage, a loading dock, a vehicle drop-off, and refuse areas. A two-level, 142,580 square foot basement would provide additional parking, and house maintenance and operations equipment.
Architectural firms Solomon Cordwell Buenz and Iwamotoscott Architecture are responsible for designing the towers. Bionic, a landscape architecture firm, is slated to design a plaza featuring built-in benches around raised planters, according to SF YIMBY. The plaza is expected to serve residents and retail tenants alike, providing tree-shaded communal seating.
The proposed towers span a total of 1.04 million square feet, with nearly all of that reserved for housing and the remaining 9,920 square feet for retail. Parking provisions include spaces for 408 bicycles and 284 cars, as noted in SF YIMBY. The proposal includes communal open spaces such as a spacious third-floor terrace, setback terraces on the tenth floor, podium-top terrace on the 13th floor, and two rooftop decks.
San Francisco Planning Department Chief of Staff, Dan Sider expressed appreciation for the updated plans in an interview with The Standard. He revealed that his team will continue to work closely with the developer as the project progresses towards a Planning Commission hearing.
Formal approval for the plans by the city has to yet been granted, with the developer, Tishman Speyer, choosing not to comment on the project thus far. Cost estimates and a completion timeline have not been disclosed.