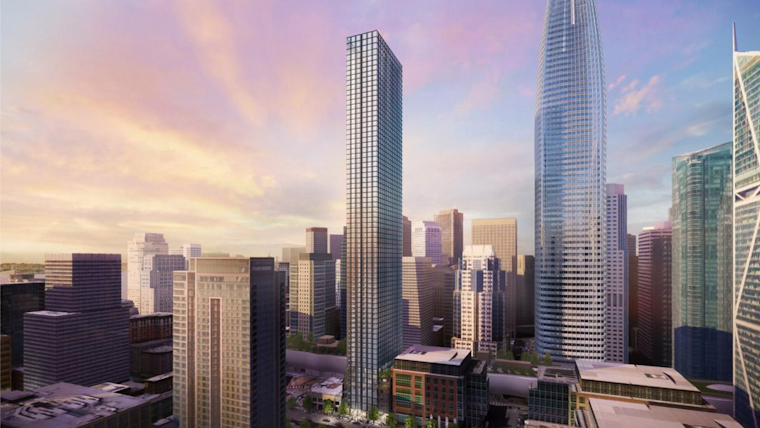 Published on November 16, 2023
Highlighting confidence in San Francisco's real estate future, Bayhill Ventures revealed plans for an impressive 71-story residential tower at 530 Howard Street in the downtown area. This development seeks to transform the currently underutilized site into a parking lot and a four-story office building. According to SF Chronicle, the tower, at a proposed 840 feet, would become the city's third-tallest structure and add 672 apartments to the housing market.
Bayhill Ventures, led by former Sobrato Organization president Rob Hollister and former Hines chief Paul Paradis, represents a new player in San Francisco's real estate field. They hope that the project will signify a "significant investment" in the city's downtown, adding to its long-term economic health. This sentiment was mirrored by Mayor London Breed, who commended the transformation from a parking lot to critically needed housing, including affordable units.
When complete, the 530 Howard Street tower will boast one- to three-bedroom apartments designed by Pickard Chilton. Approximately 10 percent of these units will be designated as affordable. Residents will enjoy nearly 30,000 square feet of amenity space and have a convenient link to Salesforce Park through a fifth-floor bridge. Despite the current challenges facing the city's office market, Bayhill CEO Paul Paradis remains positive about the development, expressing his faith in the city's ability to continually attract tech enterprises and other businesses.
Uniquely, Project 530 Howard Street will be the first significant downtown tower not requiring approvals from either the Planning Commission or the Board of Supervisors. This is made possible by Assembly Bill 2011, which permits "ministerial" approval for certain developments on commercially zoned land as reported by SF Chronicle. The design will be reviewed by San Francisco Planning Director Rich Hillis to ensure compliance with city code requirements, with building permits expected within six months.
However, all proposed developments in the city have not experienced easy progress. Hines, the developer of the neighboring Transbay Parcel F project at 550 Howard, had to abandon their plans for a mixed-use tower owing to market challenges and escalating construction costs. Therefore, they put the parcel up for sale earlier this year as SF YIMBY reported. Despite these hurdles, Hines continues to work on City Grove, a master plan designed to create the city's second-tallest skyscraper near Embarcadero.