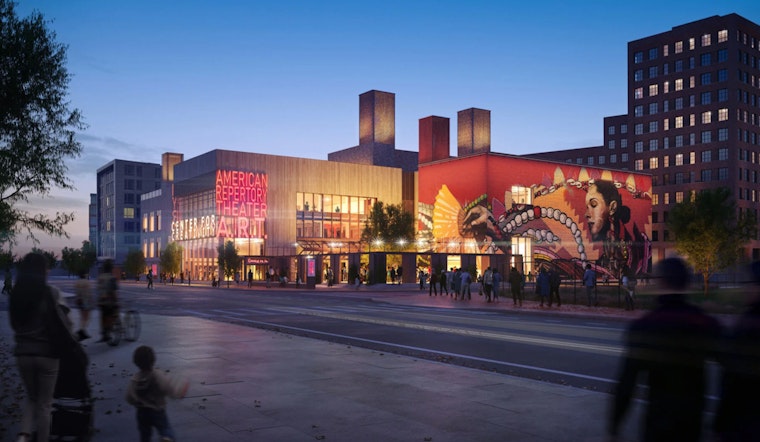 Published on November 20, 2023
On Friday, November 17, the Boston Planning and Development Agency green-lighted a novel University project in Allston. The project will birth a new home for the American Repertory Theater (A.R.T.) and bring 276 residential units amid the Greater Boston housing scarcity. The Harvard Gazette article documents that the project, christened the 70,000 square-foot David E. and Stacey L. Goel Center for Creativity and Performance, will encompass flexible performance venues, rehearsal studios, teaching spaces, a public foyer, an outdoor performance area, and a residential development.
The proposed new A.R.T. home in Allston is bound to significantly boost the burgeoning creative pulse brewing amongst the Harvard Innovation Labs, Harvard Business School, the Science Engineering Complex, and the forthcoming Enterprise Research Campus. Harvard's underlying goal is to further immerse in the unique culture of Allston's neighborhood, expressed by Executive Vice President Meredith Weenick of Harvard.
Another distinctive feature of the Goel Center for Creativity and Performance lies in its emphasis on sustainability and regenerative design philosophies. For example, aiming for the Living Building Challenge core certification from the International Living Future Institute reveals the center's commitment to artistic flexibility, collaboration, and open space while supporting sustainable objectives. This approach provides concrete insights into the future of cultural architecture and the role theaters can perform in their communities.
A.R.T., British firm Haworth Tompkins, theatrical advisor Charcoalblue, and Boston-based ARC/Architectural Resources Cambridge have collaborated to design the center. Notably, a Harvard Gazette article points out that this building is the first U.S. construction by Haworth Tompkins. The U.K.-based firm is the recipient of the revered Royal Institute of British Architects 2014 Stirling Prize for their Everyman Theatre design in Liverpool, England.
The blueprint and urban program of the center were honed over many months through collaboration between the BPDA, A.R.T., architect teams, and the Allston-Brighton community. "Through an inspiring and collaborative design process, our building aspires to extend that open invitation to Allston and the broader world, and to provide a framework that enables the burgeoning of artistic practices within drastic but straightforward architecture of adaptable space, natural tactile materials, fresh air, and light," proclaimed Roger Watts, director at Haworth Tompkins, as mentioned in the Harvard Gazette.
A new epoch awaits the acclaimed A.R.T., with a groundbreaking set for 2024 and productions commencing in late fall 2026. Diane Paulus '88, the Terrie and Bradley Bloom Artistic Director at A.R.T., expressed her excitement and said, "Our focus on students, audiences, and how we build community is now at the core of our operations. The intentional architecture of A.R.T.'s new home will be pervious and inviting and will fuel our mission to push theater boundaries for decades to come," as per the Harvard Gazette.
This revelation comes during a time when theaters and cultural institutions across the country grapple with the pandemic's impact and a growing emphasis on community engagement and accessibility. According to the Harvard Gazette, the center aims to cater to these heightened demands and democratize theater-going experiences by inviting individuals from diverse backgrounds to unite and explore shared human experiences.