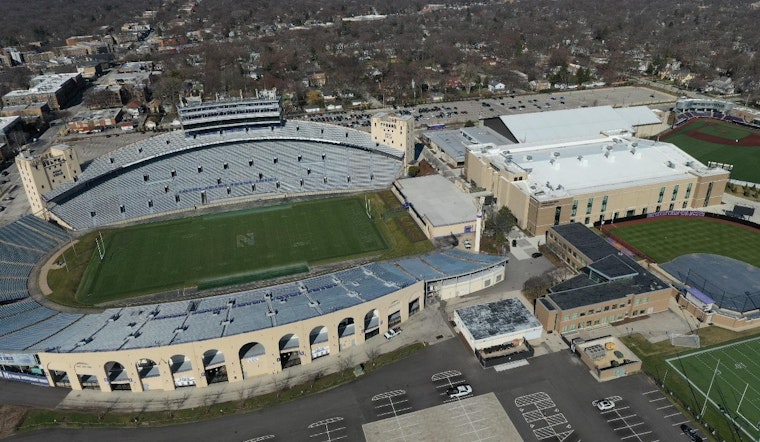 Published on November 20, 2023
Evanston City Council is expected today to vote on the fate of Northwestern's Ryan Field after a postponement in the decision-making process. The $800 million redevelopment proposal for the stadium has elicited substantial community opposition and a resulting overhaul of Northwestern University's initial plans. CBS News reports the university has currently committed to paying the city $3 million annually for 15 years to fund "Good Neighbor Fund" projects, in addition to investments in racial equity programming and local non-profits.
Still, controversy over the proposed redevelopment plans, specifically the renovated stadium's commercial use, prevails. The Better Than Biss campaign, a group formed by Evanston residents, opposes Mayor Daniel Biss, challenging his prospects in the 2025 mayoral election as mentioned by Hoodline. Hotly debated issues include the rezoning of the stadium to accommodate up to six concerts annually and 60 days of community events.
Despite having the support of the Evanston Chamber of Commerce and certain community members, the proposal's critics incessantly raise voices against noise pollution, traffic congestion, and the additional load on city services.
In answer to these concerns, Northwestern University has brought down the scale of the proposal, minimizing the number of concerts from 12 to six and presenting a 10-year, $100 million benefits package for the city. Nonetheless, Evanston saw protests as recent as November 11, with demonstrators insisting on more community involvement in the process and negotiating leverage.
While the city's Land Use Commission voted for Ryan Field's refurbishment against its commercial use in early October, the Evanston City Council finds itself at a crucial juncture in today's meeting. Independent negotiators are now assisting city attorneys in drafting a memorandum of understanding with Northwestern University. The resolution of the vote will be under sharp scrutiny by supporters and objectors of the contentious redevelopment proposal alike.