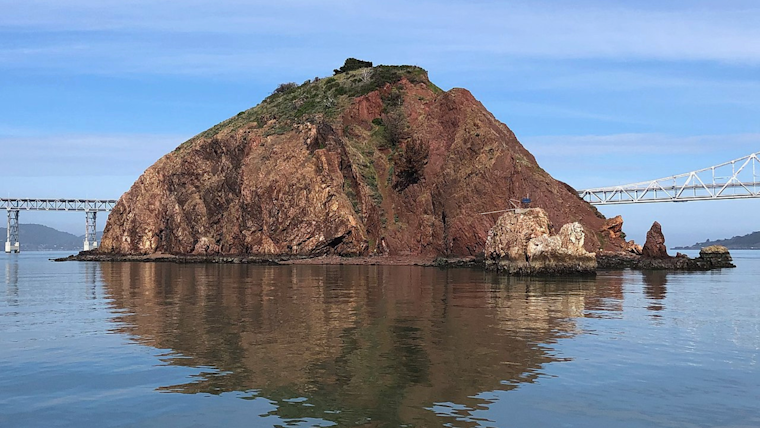 Published on November 20, 2023
San Francisco Bay's only privately owned island, Red Rock Island, is for sale for $25 million. According to the San Francisco Chronicle, the property's 5.8 acres present a unique but challenging opportunity.
Chris Lim of Christie's International Real Estate, who represents the property, discloses that the island elicited unsolicited offers in the past, including a wind farm proposal in 2010 and interest from "princes and dignitaries" for a "collectible real estate" investment. While undeveloped, the island follows a trend of desalination and solar-panel system construction on other private islands.
Owner Brock Durning, who inherited Red Rock Island from his father and lives in Alaska, hasn't visited the property in recent years, he told Christie's. He stated the selling decision was to financially help his elderly mother.
Challenges come with owning private islands, and Red Rock isn't an exception. Goals for development will encounter bureaucracy from three counties: Contra Costa, Marin, and San Francisco, which have jurisdiction over 4.1, 0.09, and 1.58 acres of the island, respectively. Residential development, furthermore, may take a significant amount of time due to the island's steep terrain as reported by SFGate.
The early settlers of Red Rock Island were Russian fur traders. It has also hosted former California Sen. Selim Woodworth in the 1850s, though his homesteading bid failed. Of interest today are the still-present mine tunnels from an era when the land was prized for its manganese-rich soil.
Red Rock Island, over the years, has never finalized any ambitious plans. Previously proposed ideas included private residences, a yacht harbor, a botanical garden, billboards, a casino, a hotel, and a 25-story tower. Although these ideas weren't realized, they resulted in the island being unofficially for sale multiple times.
The San Francisco Chronicle notes that this is its first appearance on a multiple listing service. Despite challenges in construction and access—due to no existing infrastructure or parking—Red Rock's unique location could attract buyers with future visions. In Lim's words, "I'm interested in finding a prospective buyer who realizes the exceptionally rare nature of the property, whether it is for conservation or potential development."