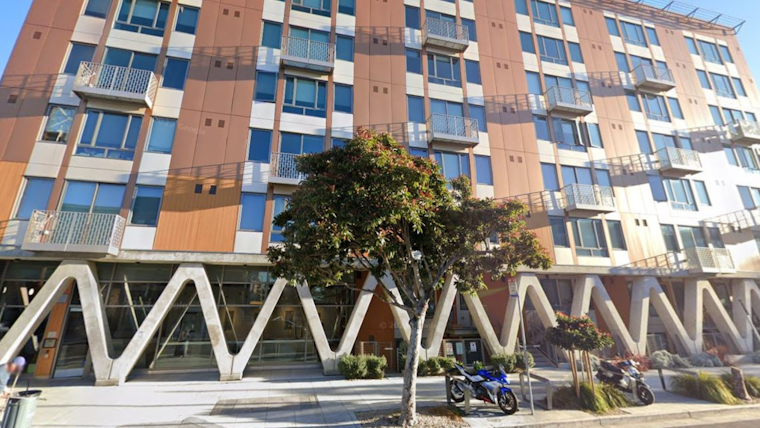 Published on November 02, 2023
Today, San Francisco Mayor London N. Breed officially opened City Gardens, the largest family permanent supportive housing project in the city. The project resides in the South of Market neighborhood. The press release by the City and County of San Francisco highlights the city's continuous efforts to resolve the homelessness crisis, with over 10,000 people exiting homelessness since 2018.
Located at 333 12th Street, City Gardens was financed by $56.7 million in State Homekey funding and around $100 million in local Our City, Our Home funds. Completed in 2021, the facility presents various opportunities, with a large lobby and a community area, resident lounges on each floor, a roof terrace, bike storage, and a landscaped courtyard. Nonprofit Abode Services, providing access to supportive services such as case management and mental health counseling, are in charge of running the operations of City Gardens.
The procurement of City Gardens, during the summer of 2022, became pivotal for implementing Mayor Breed's Homelessness Recovery Plan. This plan has led to the growth of supportive housing in San Francisco by about 3,000 units, an essential step in managing the city's homelessness situation.
The city is now sheltering and housing nearly 16,000 homeless and formerly homeless individuals per night. Over 13,000 of these people are living in city-sponsored housing programs. Mayor Breed proudly stated about San Francisco's efforts to provide long-term solutions to the residents transitioning out of homelessness; the city's investment in housing, shelter, and prevention programs is making a difference in communities and individual lives.
District 6 Supervisor Matt Dorsey stressed the project's significance, stating, "It's more than just a building; it's our commitment in action to support our neighbors in need. I'm thankful to all who contributed to this project in providing each family a safe place as they exit from homelessness."
San Francisco's Homeless Five-year Strategic Plan, known as Home by the Bay, is intending to reduce unsheltered homelessness by half in the next five years. This initiative, following the 15% decrease since 2019, will change the lives of hundreds of families exiting homelessness, according to Shireen McSpadden, Executive Director of the city's Department of Homelessness and Supportive Housing. "City Gardens offers a fresh start to families that have experienced homelessness. We appreciate the vision, partners, community support, and funding that made this project possible," shared McSpadden.
Abode's CEO, Louis Chicoine, also expressed enthusiasm for the project: "City Gardens is a valuable family project we are thrilled to participate in," he stated. Chicoine expressed his gratitude towards the City and County of San Francisco for the chance to operate and manage this significant housing project that is now welcoming many San Franciscans.