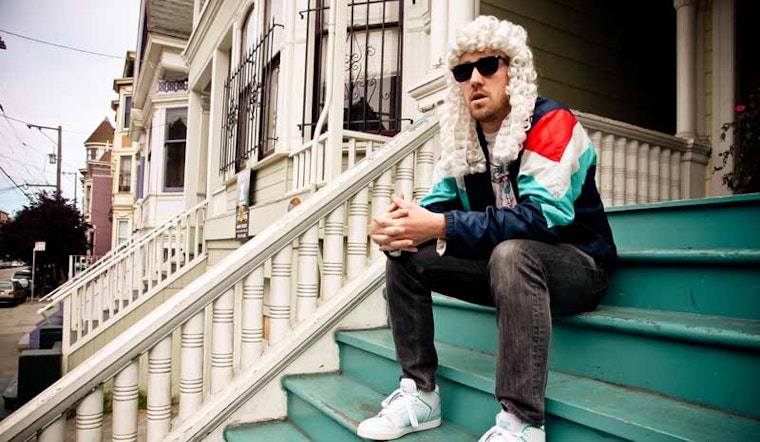 Published on October 22, 2010
If you're a regular reader of Haighteration, you're probably already familiar with the Wigg Party. They're the group that
chalks the Wiggle
,
gives away produce
at the Hayes Valley Farm, and
organizes local food picnics
in the Panhandle. But who are these folks, really, and what's their mission? We sat down with 26-year-old co-founder Morgan Fitzgibbons to find out.
How it Started
Originally from Ohio, Fitzgibbons moved to San Francisco a few years ago for work. He was helping to start a company that sought to educate people about businesses doing positive work -- "sort of a green Yelp," as he puts it. He would regularly ride along the Wiggle, the bike route that runs from Market Street to the Panhandle. Then, in the fall of 2008, inspiration struck. "The Wigg Party came from a revelation I had one day that we were creating sacred space along this path we take every day," he says. What does he mean by that, exactly? Well... let us try to explain. On the simplest level, the Wiggle is, of course, a bike path. But to Fitzgibbons, biking is a choice that reflects certain values. It's opting to forsake a car, or even public transportation, in favor of people power. In effect, everyone who uses the Wiggle is choosing to live a certain way. Thus, the Wiggle is more than just a bike path. It's a space that represents shared values. And those are values which Fitzgibbons believes are crucial to the future.
Forming the Wigg Party
It's from this realization that Fitzgibbons and some friends, including his housemate Clint Womack, started kicking around the idea for the Wigg Party. The idea was that folks with these shared values could come together and try to effect change on issues that matter to them, like sustainability and community.
Side note: the "Wigg Party" name is a reference to both the Wiggle and the Whig Party (Fitzgibbons is something of a history buff). It didn't originally have anything to do with wigs, although Fitzgibbons has taken to wearing wigs on occasion to spread brand awareness. He has found that it's a very effective ice-breaker.
In April of 2009, Fitzgibbons left his company, spent a few months in Ohio to recharge, and returned to San Francisco in July to focus full-time on the Wigg Party. (Fortunately he had saved up some money in preparation.) The Wigg Party's first project? Creating a physical "Gateway to the Wiggle" on Duboce Ave behind the Safeway. "[The Wiggle] is a symbol of our resilient, sustainable community," he says. "Our goal was to demarcate it." Unfortunately, the Wigg Party soon learned that to be successful in San Francisco, such projects require a lot of early-stage input from the community. To simply approach neighbors with a plan and request their approval was decidedly not the way to go. "We were a bit naive at first," he says. Eventually they abandoned the Gateway project, and decided to focus on more achievable goals. They also decided to get better organized.
Getting Serious
In February of 2010, they threw their first Wigg Party Party, an event for like-minded folks to both have some fun and discuss their shared goals. It's now a monthly event, open to anyone, and Fitzgibbons is surprised by how many new faces he sees at each party. They also organized into several groups, to focus on specific issues.
The Sustainable Business Group, as the name implies, works to encourage local businesses to use sustainable practices. They do this through events like Carrotmobs (more on that in a sec), and encouraging businesses to offer discounts to bicyclists.
The Local Food Group runs the Fresh Produce Share For All, in partnership with the Hayes Valley Farm.
The Reskilling Group seeks to encourage self-sufficiency by teaching people basic skills that are commonly delegated to others. Recent events have included sewing and cheese-making nights.
The Local Currency Group is exploring creating a currency similar to the successful Bernal Bucks in Bernal Heights, which uses stickers and special debit cards to ensure that money stays in the community.
The Wiggle Transformers Group is responsible for addressing issues related to the physical bike route that is the Wiggle. Fitzgibbons thinks this group is going to be increasingly important, especially as the SF Bike Coalition's Connecting the City plan moves forward.
The Wigg Party currently consists of a core group of 10 to 15 people, though through their parties and Facebook page they indirectly include many more. While a more formal membership system might help in project planning, Fitzgibbons says that, for now, they prefer the flexibility that a loose organizational structure affords them.
The Next Event
The next Wigg Party event is Saturday, October 23rd (that's tomorrow!) -- a
Carrotmob event at Matching Half Cafe
, on the corner of McAllister and Baker, from 3pm to 6pm. You may recall that we wrote about a
Carrotmob at Duboce Park Cafe
way back in April, but if not, here's the deal. A Carrotmob is an event where a local business (usually a cafe or restaurant) promises to use a portion of its proceeds from a few hours on a specified day to make their business more sustainable. In return, the organizer (in this case, the Wigg Party) floods the shop with appreciative customers. For tomorrow's event, Matching Half has promised to devote 200% of profits to projects including buying reusable storage containers, using more local food, and investing in a bike trailer which will let them shop at farmers markets without using a car. PBS will also be on location filming the event for an upcoming piece on Carrotmobs, so in addition to rewarding a local business for making sustainable decisions, you might just get on TV.
The Future
What's next for the Wigg Party? Well, becoming solvent, for starters. Right now, the group is all-volunteer, but with full-time staff like Fitzgibbons, they realize they won't be able to sustain this indefinitely. So, they're in the process of applying for grants -- "a long process," Fitzgibbons notes. They're also aiming to take November's edition of the Wigg Party Party to the next level, inviting musical guests and emphasizing the "party" aspect. And they've got some Wiggle-chalking activity coming up in the near future. "This work is essential work that needs to be done all over the world," Fitzgibbons says. Though, that doesn't mean he hopes to expand the Wigg Party beyond the reach of the Wiggle. Rather, he hopes the work the Wigg Party is doing will inspire others to do the same in their own communities. "We can't necessarily change the world," he says, "but we can definitely change our neighborhood."
---
Many thanks to Morgan Fitzgibbons for sharing his story with us. For more information on the Wigg Party, please visit
WiggParty.org
. And for more on tomorrow's Carrotmob at Matching Half Cafe, visit the event's
Facebook page
.