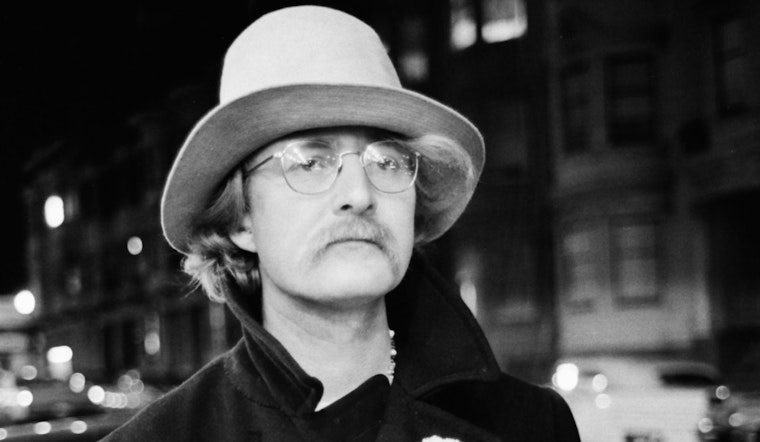 Published on August 04, 2014
Ask your favorite lit major or bookstore employee if they've heard of Richard Brautigan, and they'll probably look at you in shock. "Of course, haven't you read
Trout Fishing in America?"
Once called
"the bridge between the Beat Movement of the 1950s and the youth revolution of the 1960s," Brautigan's work is a notable footnote in the history of the American novel. Not only that, but much of his work was produced while living on—or directly off of—Divisadero Street.
Born in Tacoma, Washington in 1935, Brautigan
grew up in poverty
. Diagnosed with paranoid schizophrenia and clinical depression, he moved to San Francisco shortly after being released from a mental institution, and spent the vast majority of his life in our hilly city.
Brautigan arrived in 1956, entering San Francisco at the height of the
Beat Generation
. Immediately setting out to become a writer, he published two collections of poetry back-to-back:
The Galilee Hitch-Hiker
in 1958 and
Lay the Marble Tea
in 1959. His most famous work,
Trout Fishing in America
, was published in 1961.
In 1964, Brautigan moved to 533 Divisadero Street #4, above what is now
Herbivore
. Walking down the street to the
San Francisco Tape Music Club
, Brautigan would hold readings and schmooze with the literary minds of the time. It was there that he began working on his novel
The Abortion: A Historical Romance 1966
, set in the Presidio Public Library. It was eventually published by Simon & Schuster in 1971.
Brautigan's tenure at 533 Divisadero was brief, as he and lover Janice Meissner moved out of the apartment on Divisadero Street just one year after moving in. But they didn't go far. The pair found a new place up the street at 2830 California Street, just off Divisadero. There, they hosted elaborate Halloween parties, games of Monopoly, and entertained artists and writers, but the relationship was not meant to be. Brautigan left in 1966, moving down the road to 1652 Fell Street.
Following a short stint on Fell, his final San Francisco address was 2546 Geary Street, just across the street from what is now Best Buy.
Here's a description of his Geary Street apartment by friend Keith Abbot:
"...

a typical turn-of-the-century, high-ceilinged, San Francisco apartment. The front door was wooden, ornately carved, with a small window against which Brautigan always kept small things taped. The front room contained a brass bed, always made and covered, for a period of time, with a buffalo hide. There was a fireplace in the room but it never worked. The built-in cabinet shelves were loaded with books and a collection of intriguing items: keys, rocks, feathers, and Hell's Angels mementos; a switchblade in the shape of a dragon, stuck open and wrapped in a rosary, a small Bible covered in mink fur, and a small piece of gold lame given by Janis Joplin."
He lived there until 1974.
Brautigan ended his own life in Bolinas in 1984, at the age of 49. All told, he spent 11 years on Divisadero and in NoPa, time which doubtless influenced his writing and life. "All of us have a place in history," Brautigan once wrote. "Mine is clouds."