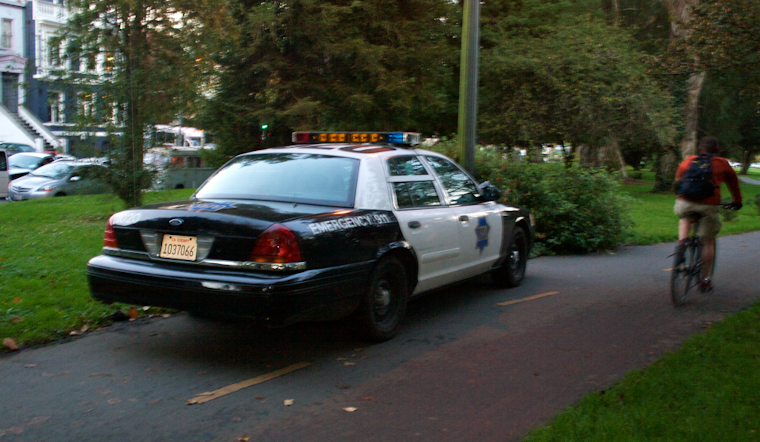 Published on October 15, 2014
As
we reported last week,
a group of bike thieves has been violently attacking cyclists after dark in the Panhandle. At the monthly SFPD Park Station community meeting last night, we learned that there have now been six incidents in the Panhandle, with the most recent just last Friday night. The dates and locations are as follows, per the SFPD:
Friday, October 3rd at 1:20am an attack occurred at Fell and Masonic streets.




Saturday, October 4th two attacks took place. One cyclist was attacked at 1:15am on Fell and Masonic streets, and two cyclists were attacked minutes later at 1:20am near Fell and Central.

Monday, October 5th an incident took place earlier in the evening, at 8:50pm near Fell and Ashbury.

Friday, October 10th there were two altercations, one battery case at Ashbury and Fell at 10:40pm and a bike theft from a cyclist at the same intersection five minutes later.
Luckily, only one cyclist has sustained serious injuries, though multiple bikes have been stolen over the course of the crime spree.
Most of the victims appear to be men in their 20s biking through the Panhandle after dark. The value of the bikes being stolen does not seem to be a factor, so if you're riding a $3k carbon frame you're not necessarily more at risk than someone on a $300 hybrid.
According to Park Station Captain Raj Vaswani, the station has deployed many officers and hours to the case. All five of their plainclothes undercover cops are being sent to patrol the Panhandle and look out for people who are eyeing bikes, loitering suspiciously, or who fit the descriptions given by victims. So far, police say the suspects are described as Hispanic males in the 18-22 age range.
One investigator has been assigned to the case full-time, and officers working the midnight shift are being sent to the Panhandle each night, as many of the attacks occurred during this time frame. That means that on any given night there are both undercover and uniformed police patrolling the area.
As for any leads, they have a few. A clearer description of what this group looks like has been compiled, and at least two of the stolen bikes have been put up for sale on Craigslist. On Monday night, police chased and detained two suspects in the Panhandle who fit the suspect descriptions and were in possession of a bike, which may help with solving the case.
What can you do to stay safe if you travel along this popular bike path? Police recommend biking in groups and staying alert. Don't bike with headphones after dark, keep an eye out for suspicious behavior, and keep your wits about you.
Stay safe out there, and we'll let you know if there are any developments.