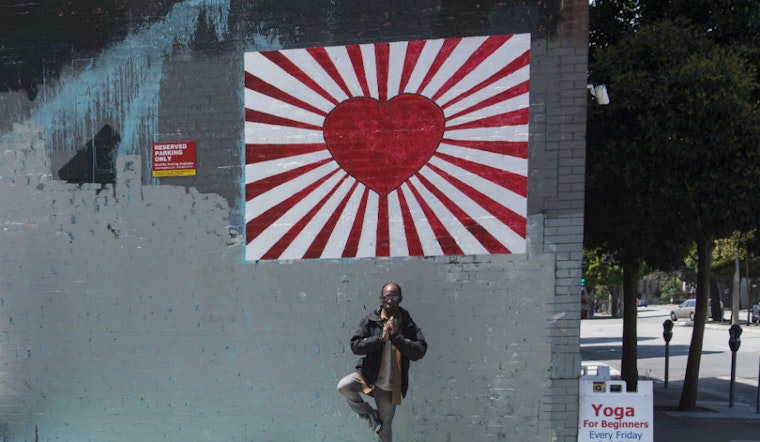 Published on October 14, 2014
If you're tired of hearing about
violent bicycle muggings
,
street construction
, and
beloved businesses shutting down
, it might be time to take a yoga class.
Yes, yoga. After an early and illustrious start during the New Age chapter of the Haight's history, yoga is here and, as we all know, here to stay. It's out there, people do it, and we hear it's good for both body and mind.
If you're trying to decide between the many options here in the Haight, we've got a handy pocket guide to get your started (but we also want to hear about your favorites):
1. Funky Door Yoga, 1749 Waller St.
Funky Door offers
Bikram
(hot) yoga with three or four classes daily.
Membership
is available on a by-class or unlimited-monthly basis starting at around $90 a month, or $29 for a beginner's first month.
2. Kundalini Yoga Center, 1309 Waller St.
Kundalini
focuses not just on yoga for physical health but also on the meditative tradition. This spot offers
yoga classes
on a $15/class basis, as well as lifestyle and workshop training courses and
Gurdwara
meditation.
3. Yoga Tree, 780 Stanyan St.
The Stanyan
Yoga Tree
offers the full course load from beginner to advanced. This spot is currently offering three beginner's classes for $20 (in-studio only); monthly memberships run from $190 for a month to $18 for the odd drop-in class. And, of course, a membership allows you to drop in at any of their other San Francisco locations.
4. Method Yoga, 755 Frederick St.
Method Yoga
is Reed Taylor's personal trainer-style approach to yoga and fitness, focused on strength, agility and flexibility. It's been around since 2009 and could be for you if you're looking for a more individual approach to yoga. Private sessions run $99/month for three months, or as a series in the six-for-$50 range.
5. Sivananda Yoga Vedanta Center, 1200 Arguello Blvd.
Relocating after 30 years in its Arguello spot, the Sivananda Yoga Vendanta Center is offering a limited program at the Cultural Integration Fellowship at 2650 Fulton while it searches for a new space. Open classes are $15 each.
6. Bend Yoga Studio, 1935 Hayes St.
Bend Yoga
, for our friends north of the Panhandle looking for a quiet group studio, is also offering beginning classes at 3-for-$20, with the full gamut of
classes
and
workshops
for every skill level from beginner to advanced.
And don't forget, you're always welcome to practice out of doors, either alone or with
Purusha Studio
at the 9th Avenue baseball field in Golden Gate Park, Sundays at 11am.
What did we miss? What's your favorite yoga resource in the neighborhood?