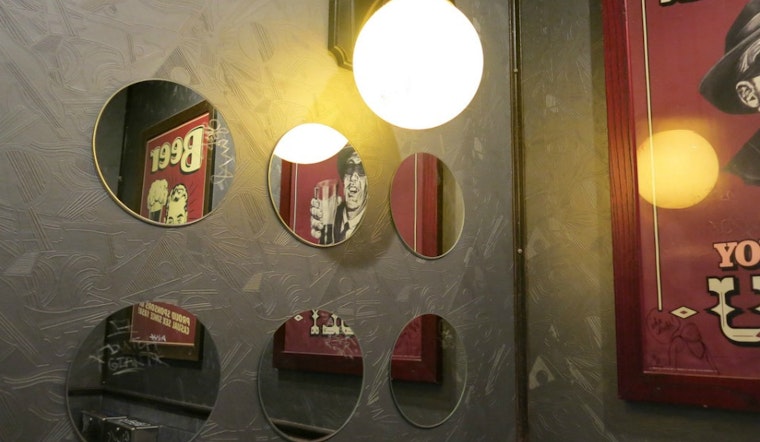 Published on February 21, 2015
Divisadero's stylish budget cocktail bar has been locked up for weeks. On any Friday night confused patrons can be seen trying the door of Bar 821, and reading a small sign posted in the window stating that the space is closed for renovations. Turns out big plans have been in the works for our little neighborhood joint.
Before we get into the details, a little history: Bar 821 was converted to a bar in 2002, and is owned and managed by Dajani Group. Although you may not be familiar with the group's name, you may recognize their businesses. Dajani owns several popular Divisadero and NoPa joints, including Nihon Whiskey Lounge, Tsunami Sushi, Corkage Sake & Wine Shop (who we've written about before), and Cafe Abir. Dajani Group also own the empty space that was inhabited by the Psychic Shop, but which is now up for rent.
But back to Bar 821. Khaled Dajan from Dajani Group shared the details of the remodel with Hoodline. The biggest and most noticeable change will be a second bar, located in the back of the space. Teaming up with the experts from Nihon Whiskey Lounge, Bar 821 will increase its spirits collection, and focus on carrying the largest selection of the herbal liqueur amaro in the city.
With Divisadero's booming restaurant scene, Bar 821's latest addition of the digestive amaro is not accidental. The addition of this drink is intentional, to cater to those who are craving a pre-dinner apertif or a post dinner digestif.
For those patrons who frequent Bar 821 as a local watering hole for a cheap pint—never fear. It'll still carry beer and non-cocktail offerings, and the dimly-lit cozy atmosphere will not be changed. One addition that may help on busy weekend nights will be the addition of more seating—though how this will be possible in the venue's small square footage has yet to be revealed.
As for when we can see all of this in person? You'll only have to wait a day or two—the bar is set to re-open on Monday February 23rd. We'll see you there, Hoodline readers.