There's a lot for marijuana consumers to celebrate tomorrow, the annual 4/20 holiday.
Legal risks that have plagued San Francisco's cannabis dispensaries for decades have finally been receding. Meanwhile, optimism about full legalization is at an all-time high.
But legalization will also create a whole new challenge for local marijuana dispensaries: competition.
We caught up with one long-time San Francisco dispensary owner, Tariq Alazarie, the chief executive of Bay Area Safe Alternatives (BASA), to see how he's responding.
Legalization
A statewide proposition to legalize and regulate marijuana in California failed in 2010, but plans are in the works to put a new initiative up for a vote in 2016. One recent poll shows a majority of Californians are ready to vote "yes."
Support for legalization is also evident by the amount of big money flooding into the industry. Firms like Emerald Ocean and Privateer Holdings are betting millions of dollars on new marijuana products and services, and San Francisco-based venture capital firm Founders Fund just invested millions into the latter. Yelp-style local search site Weedmaps, part of Emerald, has even donated $2 million to the legalization effort – the largest single contribution made so far.  (For more on the new marijuana economy, check out this set of data visuals by Bloomberg showing how some 55 public companies are building businesses on it.)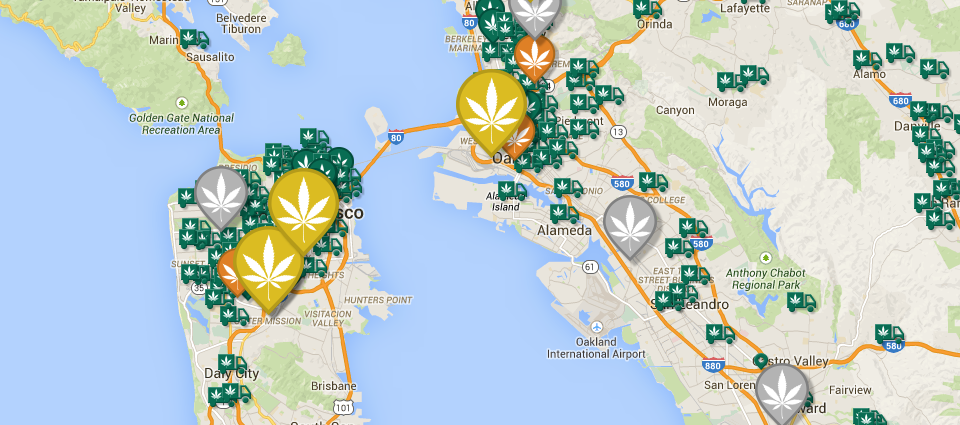 The Weedmaps interface showing Bay Area dispensaries and delivery services.
If and when it arrives, legalization is expected to bring both a flood of new customers as well as a torrent of new competitors who want a piece of the growing market, says BASA's Alazarie.
He's is one of a handful of people in the city who have been growing and distributing legally (according to city law) since the early days. The cooperative at Grove and Divisadero opened in 2006, but it's Alazarie's fourth dispensary in the city – previous ones were forced out by landlords and legal pressures.
"Overnight", he tells us "we're going to go from a business model of small, independent cooperatives to a gigantic industry that will be dominated by corporations with the financing to meet the new demand."
"If we sit still, we won't be around," he adds. "The small shops aren't going to be able to compete."
A History Of Challenges
While marijuana smoking had been a popular recreational pastime in San Francisco for decades, legal support only arrived after the AIDS epidemic of the 1980s decimated the city's gay population.
In 1990, a low-profile collective was organized by Thomas O'Malley at 194 Church St. in Duboce Triangle, because many AIDS sufferers found that consuming the plant eased symptoms. The next year, the city overwhelmingly passed Proposition P, the nation's first medical marijuana legalization bill. O'Malley died of the disease in 1992, but a group of others led by movement figurehead Dennis Peron founded the first public US dispensary, the San Francisco Cannabis Buyers Club, that year and in 1994 moved into that location.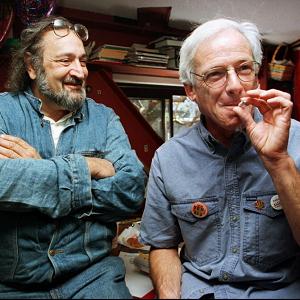 Dennis Peron (right) with fellow activist Jack Herer. Photo via The Weed Blog, source unknown.
More business were established in 1996 following state approval of Proposition 215, after Peron and many others successfully pushed for its passage. The law created the framework for regulated specialty pharmacies, where products were sold to patients with a doctor's approval.
Despite state approval of medical marijuana, federal law enforcement agencies continued to raid dispensaries, contending that their authority superseded any local laws. It wasn't until 2009 when the Obama Administration announced that dispensaries acting legally under state law would be safe from federal interference. That wasn't enough to save the beloved Vapor Room in the Lower Haight, however, which had its location shut down in 2012 after Justice Department officials made a dubious interpretation of dispensary zoning laws.
That sort of problem finally appeared to be over last December, when President Obama signed a spending bill that included language prohibiting the Department of Justice from spending money combatting medical marijuana in states where it is legal.
The Old Days Of Dispensaries
"Nobody ever said this was an easy business," says Alazarie, a former Jordanian fighter pilot who first opened a dispensary at the rear of Mason Street Cafe, an internet cafe he operated near Union Square from 2003 to 2007.
Alazarie and Dawkins at work.
"Friends kept telling me about the tremendous results people were having using cannabis" for various conditions. "I was a total skeptic," he said. When he learned there were several nearby storefronts selling cannabis to patients, "of course I had to go see for myself."
"Oh they were so depressing and negative... bars on windows, security guards at the door. I thought to myself, 'I can do better.'"
Alazarie had to close his first dispensary when the landlord objected to cannabis sales on the premises, even though it was considered legal. Alazarie also operated several other cannabis dispensaries in the city, but closed them because "we were never sure if there was going to be a raid" at any moment, he explains.
The low-key BASA location on Grove and Divisadero, with parking spaces.
He opened BASA in 2006 at a time "when crack dealers hung out on the block" and most of his customers were neighborhood residents "who were used to seeing the dealers hanging out." As parts of the Western Addition gentrified and the stretch of the city north of the Panhandle and west of Divisadero became increasingly referred to as 'NoPa,' "business increased rapidly," he said.
BASA's Way Forward
For now, Alazarie is trying a range of approaches to keep business going – keeping prices low while improving the selection, the branding, the quality, and the community.
He says his business strategy has always been "no frills" to keep prices as low as possible. In recent years, like other clubs, the shelves have been stocked with hundreds of different cookies, candies, sprays, aerosols and oils. Dozens of different strains of cannabis are offered on a rotating basis, including a dozen or so "top shelf products" grown by BASA gardeners.
To meet the needs of low income patients, BASA sells cannabis at all price ranges, with "eighth" ounce packages starting at $5. "If someone comes in with $2," he adds, "we're not going to turn them away. We'll put together a small package" for them he says. BASA also donates a weekly supply of cannabis to 50 patients who cannot afford to pay.
The main counter inside BASA.
The future of business in San Francisco will "likely follow the model" in Colorado and Washington, he believes, where a flood of companies opened businesses to meet the demands.
Alazarie hired several experienced industry experts to help guide the business through the coming transition.
Michiko Dawkins, one of the few female executives in the male dominated cannabis business in San Francisco, was recently named BASA's director of operations. Dawkins, who was a world class trampolinist, worked in investment banking before she launched a cannabis business in 2008. (She is also one of the few people working in the cannabis industry who insists she has never used cannabis.)
Dawkins' cannabis company created and packaged three "brands" of cannabis for local growers, including "Sisters in Green" for a women's medical collective.
A pre-packaged selection.
Branding, she said, "is the future" of this business. "People want to know what they're getting," she says, "and want consistency."
Without a label, the same strain of cannabis, sold by different dispensaries, may have very different qualities.
Dawkins is planning to visit Colorado and Washington to see how legalization has played out in the business marketplace. "There is no question that this is the next big industry" in the U.S., she says. "It is very exciting to be on the cutting edge," she adds.
Budtender Edith Gonzalez assembles pre-rolls for sale.
In his quest to streamline operations, Alazarie also hired Brent Saupe as "garden coordinator."
Saupe, a former Marine who worked in building trades earlier in his career, operated PotSpace, a garden cooperative South of Market from 2008 to 2012 before he formed a consulting company "to turn around underperforming gardens" for other people.
"I tune up the space and the staff," he explains. Saupe supervises more than a dozen gardeners and trimmers who work out of BASA's 8,000 square foot warehouse at an undisclosed location in the Bayview.
Saupe with gardener Amanda Owen-Walkup at the Bayview facility.
In several months, Saupe says he has improved efficiency and quality in part by "hiring the right people and treating them well." While the average trimmer earns $16 an hour in the Bay Area, Saupe set the salaries at $18 per hour and promoted those who performed well to higher paying jobs in the garden. "A happy worker is a productive worker," adds Saupe.
Someday Saupe hopes to find "a couple of acres" in the Santa Cruz mountains, where he can get back to his own garden.
Saupe getting ready to plant at the warehouse. He estimates that 30% of the warehouses in the neighborhood are grow gardens.
Another BASA employee, Ben Manton, is a full-time budtender at BASA's dispensary. "I've smoked pot every day since I was 12 years old," he said, "so I feel very comfortable discussing the pros and cons of various strains, since I have tried them all."
Manton has gotten to know many of the customers over the years. Of all the changes he's seen in the cannabis business to date, Manton says the most gratifying is the trend of people bringing in family members to shop. "When someone brings in their mom or dad and introduces them to me, I feel like we have come full circle."