If you live in the Haight, you probably start to notice the tell-tale signs around this time of year. The lines at Whole Foods and Haight Street Market are longer. Parking on weekdays becomes a 20-minute affair. You'll hear multiple languages in the span of a two-block stroll. The tourists are coming.
They descend around spring break, and their ranks don't really thin out until September, which means that there is a massive influx of people in the Haight for roughly half of the year. 
We're not the only ones. Tourism is San Francisco's largest industry, and as the economy has improved in the past few years, the amount of tourists (16.9 million in 2013, or an average of 134,000 extra people in the city on any given day), and the amount of money they spend (9.5 billion in 2013), has been consistently on the rise. 


graph via SFCED
All that foot traffic is essential for local businesses. An informal poll of the Haight Street Merchant's Association showed that the vast majority of shops in the neighborhood are busiest from about May through September. Naomi Silverman from Mendel's described the season as book-ended with Bay to Breakers on one end, and Halloween at the other. This means that summer tourist dollars are the backbone of our micro-economy, even to the exclusion of Christmas. 
For non-merchants, things can be a bit more trying.
As you well know, the bulk of the neighborhood exists between about five blocks on one street, and an estimated 21,000 people live in the greater Haight. With Golden Gate Park being the third most popular destination in the city, and most of its visitors coming by way of the Haight, it can get a little crowded during the summer months.
As you also know, the Haight has very few amenities for tourists: no public restrooms, no tourism bureau, one inadequate parking lot. This means that Haight residents have to share their neighborhood with tourists in a way other parts of the city may not. 
The increase in traffic maybe partly responsible for the changing character of the neighborhood in recent years. We've seen an influx of streetwear shops, while other business more essential to residents like dry cleaning and optometrists have been closing. Residents repeatedly call for things they would use every day (bakeries, community drop-in centers, banks, drug stores, and nightlife, to name a few), but none seem to be forthcoming.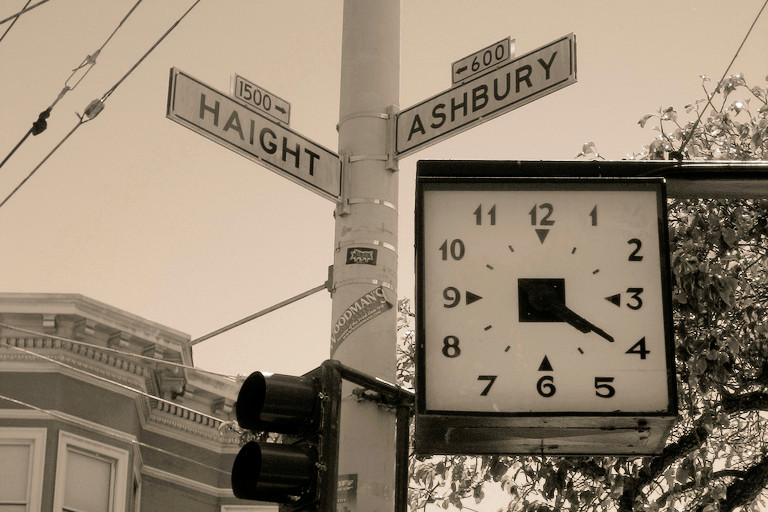 420 clock image: Melissa/ Flickr

Despite the rise in tourism, little about the neighborhood has evolved to accommodate it. Piecemeal changes are on the way. Lighting, traffic reduction measures, and way-finding signs are going to be included in the Public Realm Plan, which has yet to begin construction. Lava Mae is shooting for an early summer arrival, which will bring portable toilets to the neighborhood (although it remains to be seen whether tourists will see them as a viable option). The city is attempting to reduce private car use in the Haight, but restricting parking in the process. Until these changes come to the neighborhood, vehicle and foot traffic will continue to increase, whether we're ready or not. 
So you live in a neighborhood that gets Fisherman's Wharf-style tourism numbers, crammed into about one-third of the space, with almost no amenities whatsoever.
We want to know: How does this impact your daily life? Do you avoid certain places? Feel like a prisoner in your home on Saturday afternoons? Are you grateful for the economic boost, or do you just want a dry cleaner on the main drag? Do you think the coming changes listed earlier will help? If not, what would help? 
Take it to the comments.