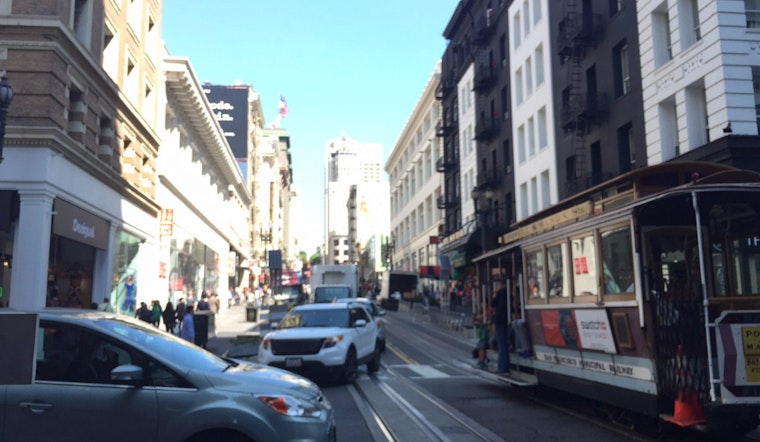 Published on August 26, 2015
SFMTA plans to close the 100 and 200 blocks of Powell Street between Geary and Ellis streets to all traffic, except for cable cars, daily between 5am and midnight, starting in November. The pilot project would be in place for 18 months, after which it'll be reconsidered by the SFMTA board for final approval.
A public hearing will take place at City Hall at 10am October 2nd, and the project is intended to go to the SFMTA Board for legislation on October 20th. The installation would begin November 1st and should be complete by November 15th, according to an SFMTA flyer outlining all of the details. Reasons for the closure include efficiency and a better walking environment; the flyer also says that heavy traffic congestion that creates stop-and-go conditions for cable cars is causing cables to fray, which could pose a safety risk.

Map: SFMTA
"Once a cable has frayed, it can be caught on the grip mechanism, and a cable car that is caught can be dragged along by the cable into vehicles or people in its path," the flyer states. "Removing vehicles from the cable car right-of-way both reduces wear on the cable and decreases the chance that a runaway cable car will injure people and cause damage." These days, cables are being replaced every 30 days on average, down from every 50 days in 2000. More than 4,000 people per hour walk on Powell Street during the peak period, often overflowing into the street.
SFMTA spokesperson Robert Lyles responded to a request for more information with an email. Here's an excerpt:
All three intersections in the project area are Vision Zero intersections, with the most common issue being vehicles turning onto or off of Powell into pedestrians crossing the street.

As well, a series of parklets currently line this section of Powell Street. For the past five years, those parklets have been maintained through generous support by auto manufacturer Audi. The maintenance contract will soon expire, so the City is exploring a permanent car-free design. This public space design would be both aesthetically appealing while balancing the needs of its primary users. SFMTA is acting first to improve safety while public funding can be identified or another private sponsor for improvements on one of San Francisco's most iconic streets can be found.

At this time, the SFMTA continues to work with the Union Square BID and Department of Public Works. Under consideration is permitting 24-hour loading access for delivery trucks. The BID staff is developing specific locations for commercial loading. We are working with DPW on long-term design review.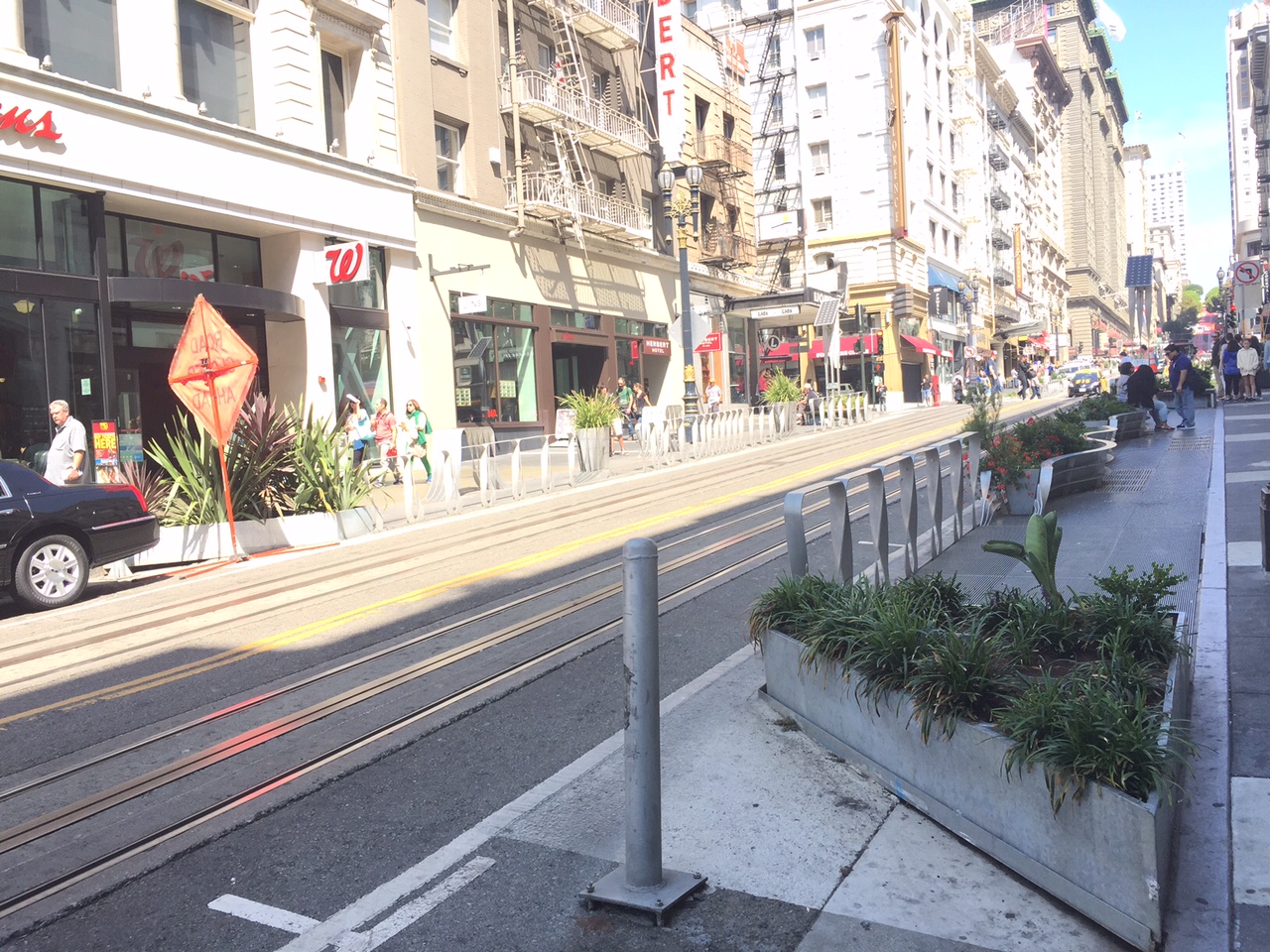 A parklet on Powell Street.
Union Square Business Improvement District (BID) executive director Karin Flood told Hoodline that the group was concerned about the SFMTA "fast-tracking" the changes without taking into account stakeholder concerns. "We're certainly open to the concept, if it's done right," she said. "We do know that there's a lot of pedestrian traffic on Powell that needs to be accommodated. If it's done right and thoughtfully, and stakeholders' concerns are considered and accommodated, we're open to it." But, she added, "It seems like the timeline is a little rushed."
Flood also said that merchants questioned the rollout at the busiest time of year, during the holiday shopping season, and other stakeholders had concerns about passenger loading and unloading at hotels on those blocks. She was also concerned about the combination of these new regulations with the Central Subway construction and closure of Ellis Street and the new changes to prohibit vehicles from turning onto Market Street, "It's like a perfect storm," she said.
In a later email, Flood told Hoodline that the BID had met with SFMTA on Monday. "We walked the street with the SFMTA, Planning and DPW," she wrote, "and they are working with us to accommodate some loading/unloading issues, at least on a temporary basis in phase one."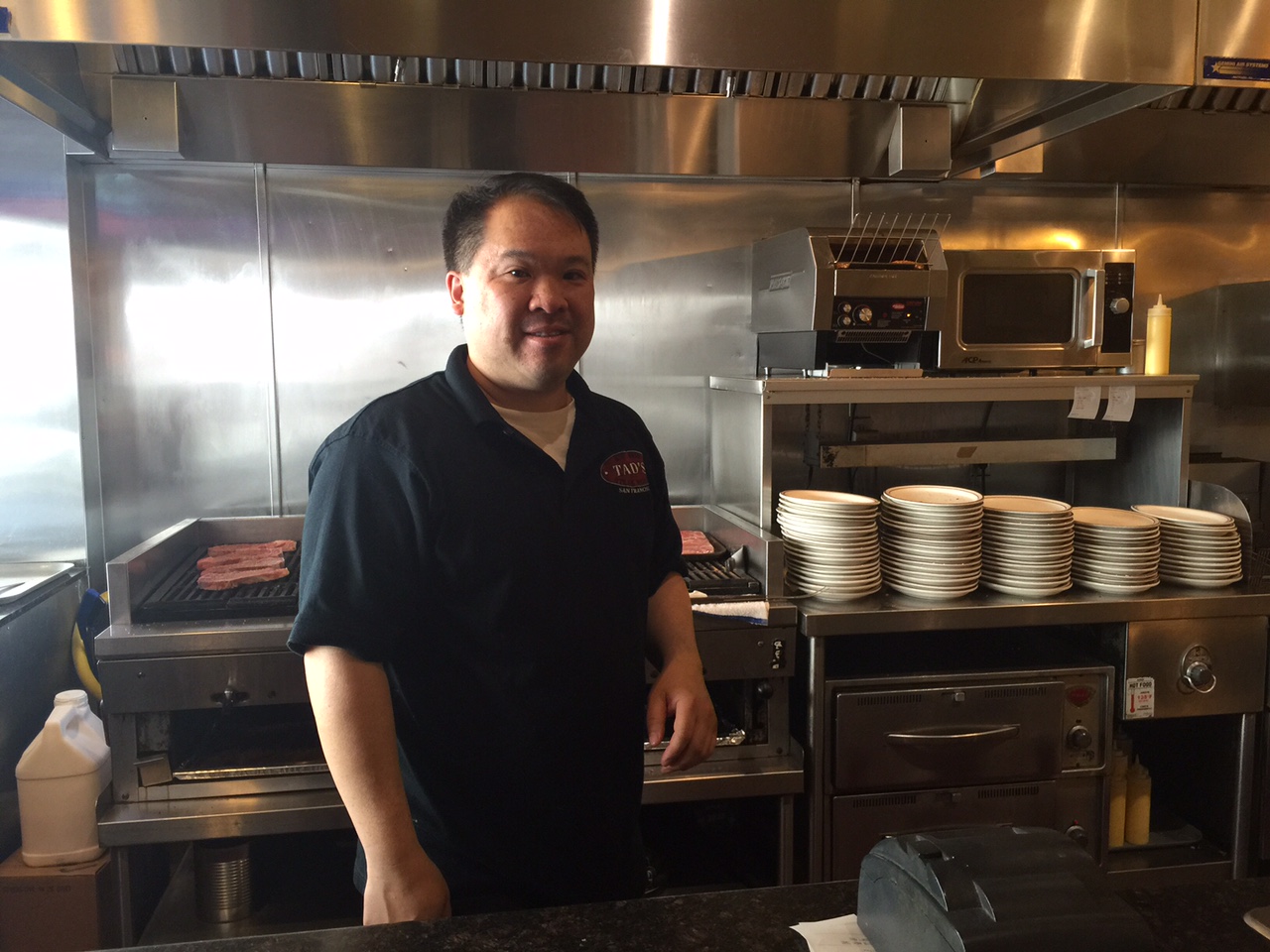 Phineas Ng, owner of Tad's Steakhouse.
Still, some area merchants think the changes going to cause problems. Phineas Ng, who's owned Tad's Steakhouse (120 Powell St.) since 2000, said, "The side streets are already congested. It's already a big mess." He said that between 4–6pm, it can take drivers half an hour to go one block from Cyril Magnin to Powell, and he's heard it takes 20 minutes just to get out of the Ellis Street garage. He said that business from locals is already way down.
Ng said SFMTA suggested opening the red zones on Ellis Street for parking for commercial deliveries, such as food. But Ng said drivers already park there, so removing parking on Powell will cause more double-parking. And, he added, closing the street caused concern regarding where disabled people will get dropped off to access hotels and businesses.