A year and a half after making its Castro debut, Réveille Coffee (4076 18th St.) has proposed a new parklet to match the patio it already has out front. 
Opened in the spring of 2014 by brothers Christopher and Tommy Newbury, who also have a location in North Beach and a coffee truck in the Financial District, Réveille has been a big hit. It gets especially busy during weekend brunch, when lines can stretch out the door and seating is at a premium, so a parklet might help alleviate the crowds.
Réveille had a sign in its window to notify neighbors of the parklet proposal (it's since been removed), and Pavement to Parks' Gina Simi confirmed to Hoodline that the project application has been submitted. However, it's currently in the very early planning stage, and no renderings or details of what the project might look like are currently available. Hoodline reached out to the Newburys for comment, but received no response and received the following background on the vision behind the parklet idea:
"We would like to create a parklet that softens up the feel of the 18th St and Castro St. and corridor.  We would build something that offers a natural aesthetic to the neighborhood that would distract from all the congested traffic and bustle of traffic that commonly use this street as their thoroughfare. Our parklet will allow neighbors and residents of the surrounding area to congregate, talk, and enjoy the outdoors.  We already have one very successfully designed and executed parklet in the North Beach area that has lived up to the neighborhoods expectations as well as ours.  We would like to take those same concepts and ideas and bring them to the Castro, enhancing the neighborhood."
This isn't Réveille's first parklet rodeo: the North Beach location debuted a parklet last summer, designed by Sagan Piechota Architecture. Given the design similarities of the two locations, it's likely that the new parklet will at least somewhat resemble the current one.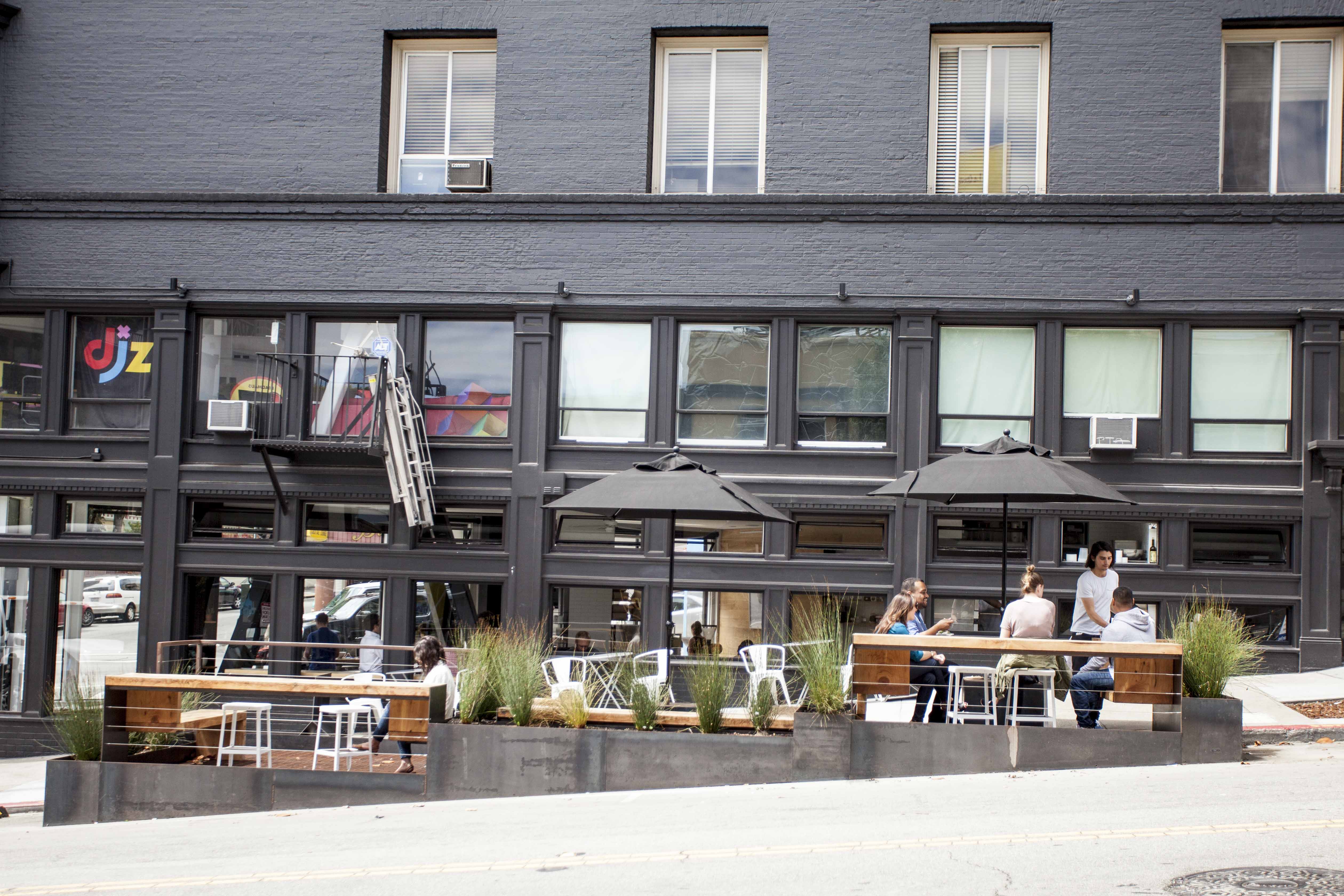 Réveille's North Beach parklet. (Photo: SF Planning)
The Castro currently has only one parklet, at the 16th Street location of Squat and Gobble; it opened in 2011. Now-closed restaurant Dante's Table also had a parklet from 2012-2014, but it was removed during the Castro Streetscape Improvement Project. Pavement to Parks is also responsible for the Castro's controversial Jane Warner Plaza, which made its debut in 2010 and is currently undergoing another redesign. 
Coffee shops have been particularly eager parklet applicants of late. In addition to Réveille, Divisadero's Repose Coffee and Bean Bag Cafe, Hayes Valley's Artis Coffee, and the Upper Haight's Flywheel Coffee have all filed to install parklets in the past few months. 
We'll keep you posted on the status of the proposed Réveille parklet, and what it might end up looking like.