By
Bo McGee
- Published on September 10, 2015.
The Lower Polk Neighbors convened for their monthly meeting last night at the First Unitarian Church, and if you missed the action, we've got a recap of what's top-of-mind for Polk's neighborhood association.
LPN President Andrew Chandler hosted the intimate meeting of approximately 15 neighbors, local business owners, and community representatives. Chris Schulman, President of the Lower Polk Community Benefits District (CBD), kicked off the meeting with the announcement that the CBD had officially hired Christian Martin—an experienced executive and community planner currently based out of New Jersey—as its Executive Director.
The Lower Polk CBD is currently set to receive over one million dollars in mitigation funds from the California Pacific Medical Center (CPMC) over the course of the next few years, and Martin will oversee the deployment of funds, which will be deployed with a focus on improving safety, cleanliness, and district identity, and will also include what Schulman calls a "very bold social component" which will address homelessness and community issues. As part of the CBD's efforts, neighbors can expect to see "community ambassadors" deployed across the Lower Polk area by mid-November. (The crooked part of Lombard Street recently got its own ambassadors, and Castro has also embraced a similar program.)
Andrew Chandler then gave an update on the pending redesign of Fern Alley, as well as the larger Polk Alley's Project. Fern, along with Austin Alley, are considered the "vanguard alleys" of the project, which ultimately hopes to reclaim seven alleyways along Polk as pedestrian spaces. 
Organizers for the Fern Alley project will host two public workshops—on October 7th and October 10th—in order to finalize designs for Fern Alley before pursuing final approvals from the city. 
The LPN is working in partnership with Pacific Eagle Holdings—the real estate firm which holds three abandoned buildings on Pine Street between Polk and Van Ness—to bring improvements to Austin Alley.  Currently plagued by petty crime, homeless encampments, and drug dealing, The LPN and Pacific Eagle Holdings hope that the alley can become a "pedestrian oasis." Plans could potentially include a patio seating area for Grubstake, as well as public seating and enhanced greenery. Pacific Eagle Holdings is working to secure $200,000 in grant money to support the project, which will also be supported with $50,000 pledged by the LPN and another $50,000 from the Lower Polk CBD.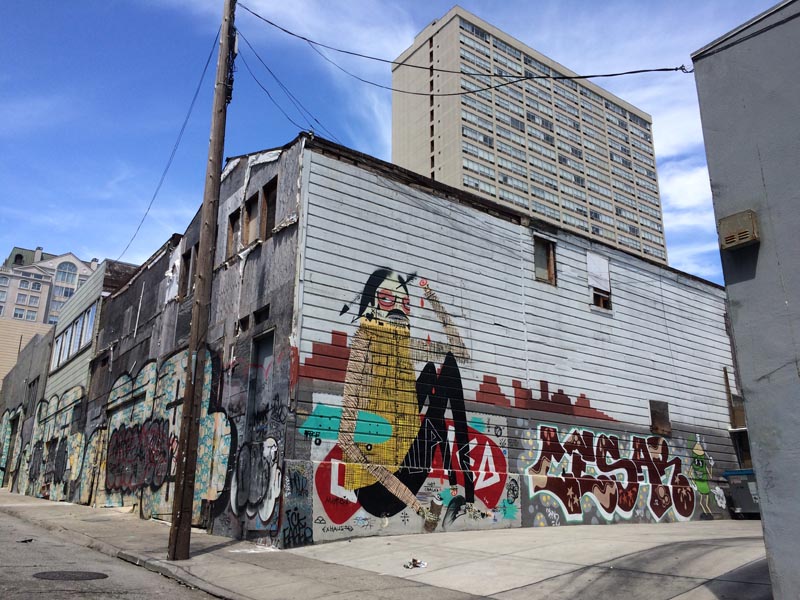 Austin Alley
The LPN is also partnering with Friends of the Urban Forest to explore replacing existing trees and adding more to Polk Street. Many of the current trees on the street were planted 10-15 years ago without a plan for long-term care. This plan is still in exploratory stages.
In other community news, the LPN will support a Halloween Party in Sgt. MaCaulay Park on Wednesday, Oct 28th. They're currently seeking support from volunteers to plan and staff the event. This will be the second annual installment of the party, which is supported by funds from an anonymous donor and is meant to increase visibility, community engagement,  and appropriate use of the playground, which is commonly seen as a go-to spot for drug users and dealers.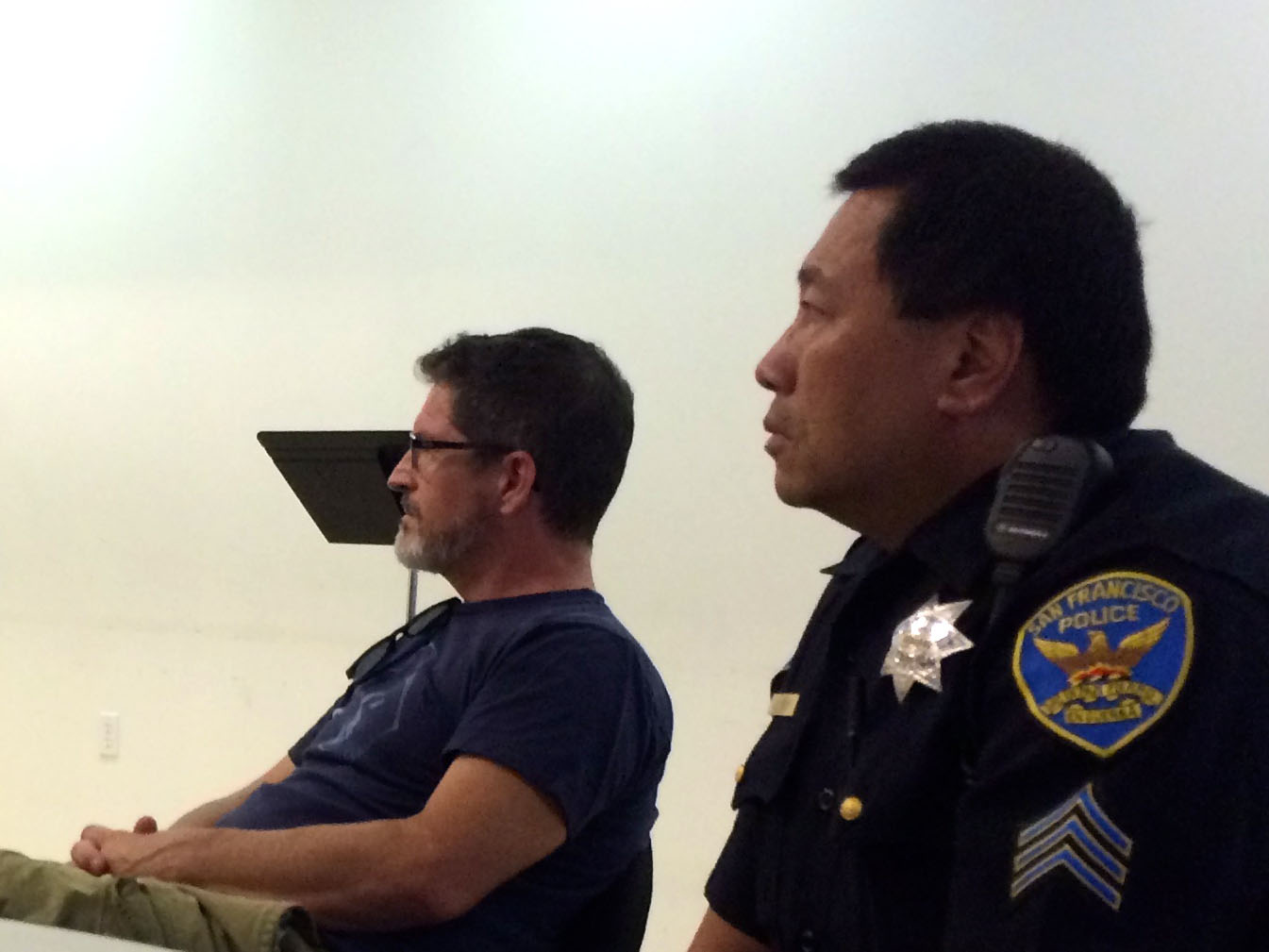 Sgt. Darren Choy of SFPD North Station also joined the meeting to discuss a variety of civil matters and take questions from the convened neighbors. Choy announced that Polk Street will once again have a "beat officer" assigned to patrol the district on foot, starting in mid-November. An assigned officer will walk Polk Street seven days a week, though their hours on duty have not yet been finalized. 
Sgt. Choy also stated there is currently "no plan" regarding how to deal with a potential migration of homeless individuals to Polk Street during the Super Bowl. Mayor Ed Lee has stated that the homeless will have to clear out of the Embarcadero and Market Street for the event, but there is no guarantee that they will connect with the services the city has in mind, including the new Navigation Center. Neighbors at last night's meeting voiced a concern that Lower Polk and the Tenderloin will act as a de facto refuge for displaced people who are lacking in options.
Neighbors also touched briefly on what a few people identified as a growing problem of late-night hot dog vendors in the area. Complaints included the fact that vendors often work without license or permit, and their presence makes it difficult for bars to disperse crowds at closing time, which can lead to noise complaints and even fights. Sgt. Choy acknowledged the difficulties in corralling the problem, as vending without a license is classified as an infraction, which only warrants a ticket. Many of the vendors, however, are day laborers who have been hired by a third party. When they get a ticket, they move to a new location and the ticket is easily lost in bureaucratic rigmarole. 
The LPN will meet again next month to follow up on the Fern Alley design, and to continue discussing improvements to Polk Street. We'll be there to keep you posted on the proceedings.