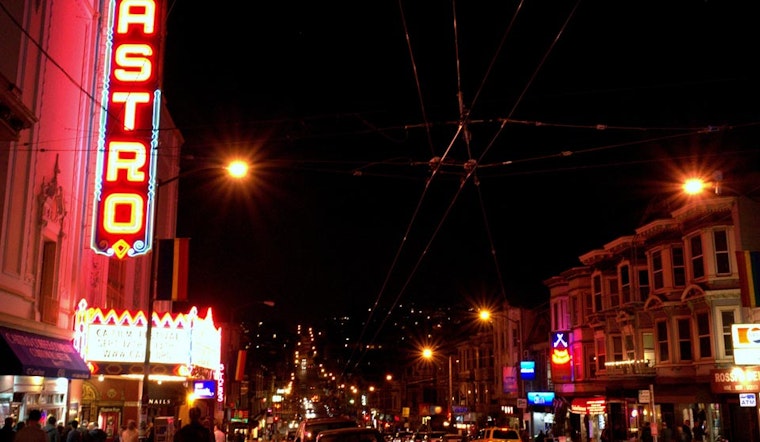 Published on December 26, 2015
Officer John Fitzinger cares. He really does.
During this holiday season, in which rain returned to the Bay Area amid unusually cold temperatures, Officer Fitzinger has been patrolling the Castro. He seeks to peacefully defuse fights and other dangerous situations before they escalate into police matters, and he offers help to the homeless.
Officer John is not a member of the SFPD. A former Deputy Sheriff in Contra Costa County, his salary is paid via the Castro Cares program, which began rolling out in December of 2014 and fully debuted in March.
"We make sure that they're aware of services," Officer John told Hoodline as he patrolled the neighborhood on a particularly cold Christmas Eve. "The programs here are extraordinary. There's no reason to be on the street unless you choose to be."
As we spoke, several homeless young men approached the officer to say hello or to bum a cigarette. One of them, Officer John said, once had an apartment and a well-paying job at a clothing store. The other was soft spoken and handsome enough to be a fashion model. They had both lost control of their lives and have been on the streets for several years due to meth addiction. Both had declined offers for shelter; they'd both also had numerous run-ins with the law.
"Thank God for the Castro Community Benefit District," John said. "They more than go out of their way to help. They're genuinely concerned for the community."
The Castro/Upper Market Community Benefit District (CBD) is the local organization behind the Castro Cares program. "Be part of the solution," says the Castro Cares brochure, which the Officer hands out.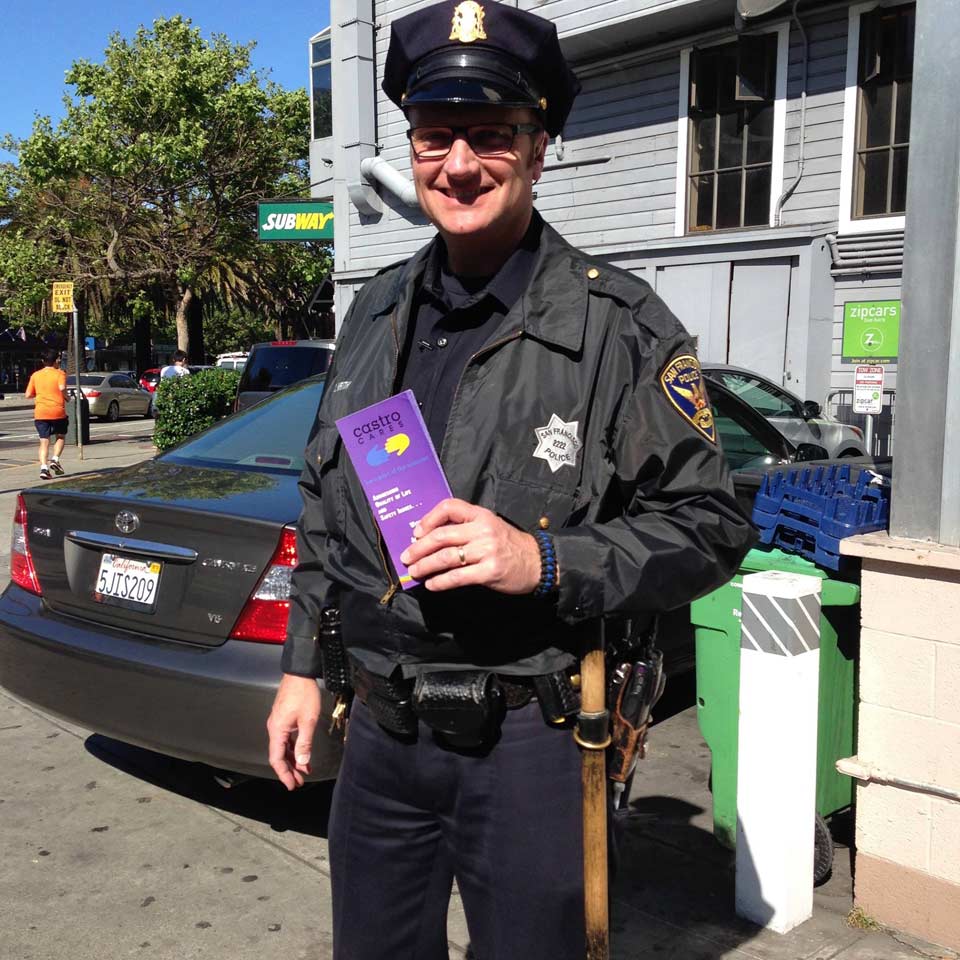 An SFPD officer holds the Castro Cares brochure. Photo: Castro/Upper Market CBD
Andrea Aiello, Executive Director of the CBD, explained the program's mission and goals to Hoodline.
"Castro Cares is a unique and innovative pilot program created by and for merchants and residents," Aiello said. "Rather than build a new, separate social service and security system, Castro Cares enhances the already-established services in the city and funds these services to provide additional coverage, dedicated to the Castro. The program is funded through a partnership with the City of San Francisco, which provides $175,000 in grants and donations from merchants, residents, property owners and neighborhood associations."
The CBD is the lead agency and fiscal agent of Castro Cares, but other organizations and local businesses are participants and contributors to the program, including Eureka Valley Neighborhood Association, Most Holy Redeemer Catholic Church, St. Francis Lutheran Church, Castro Community on Patrol, SF Homeless Outreach Program, SFPD Mission Station, and Duboce Triangle Neighborhood Association.
Aiello said that the annual budget for Castro Cares is $285,000. "Our goal this year is to raise $50,000," she said. "We launched our winter fundraising drive in early December and so far we raised a little over ten thousand dollars, as of December 21st."

Aiello noted that Apothecarium, the medical marijuana clinic at Church and Market, was the largest donor. "They donate supplies for the care packages that are distributed by our Castro Cares Homeless Outreach Team," she said, also providing specific details as to what Castro Cares offers:
In its first year, Castro Cares has already had a tremendous impact on the neighborhood – through compassionate outreach AND through creating a safer neighborhood and commercial corridor:

Castro Cares provides 20 hours a week of dedicated homeless outreach and case management services. Outreach Workers are directed to hot spots in the neighborhood to develop relationships with those living on the street and engage them in the social service system, offering practical support and services. Services to those living on the streets include linking to medical care or even bringing medical care to the Castro; reserving shelter beds, stabilization rooms, and even permanent housing; assistance with getting state identification cards, and job search assistance.
Added police presence: Castro Cares currently funds 26 hours a week of San Francisco Patrol Special Police and 20 hours a week of SFPD overtime police officers. All of these officers walk a beat, adding additional law enforcement as well as fostering relationships with merchants and residents in the entire Castro Business District, on Castro, and down Market St. to Octavia, as well as Church and Guerrero Streets. Coverage includes residential blocks one street on either side of the commercial corridor.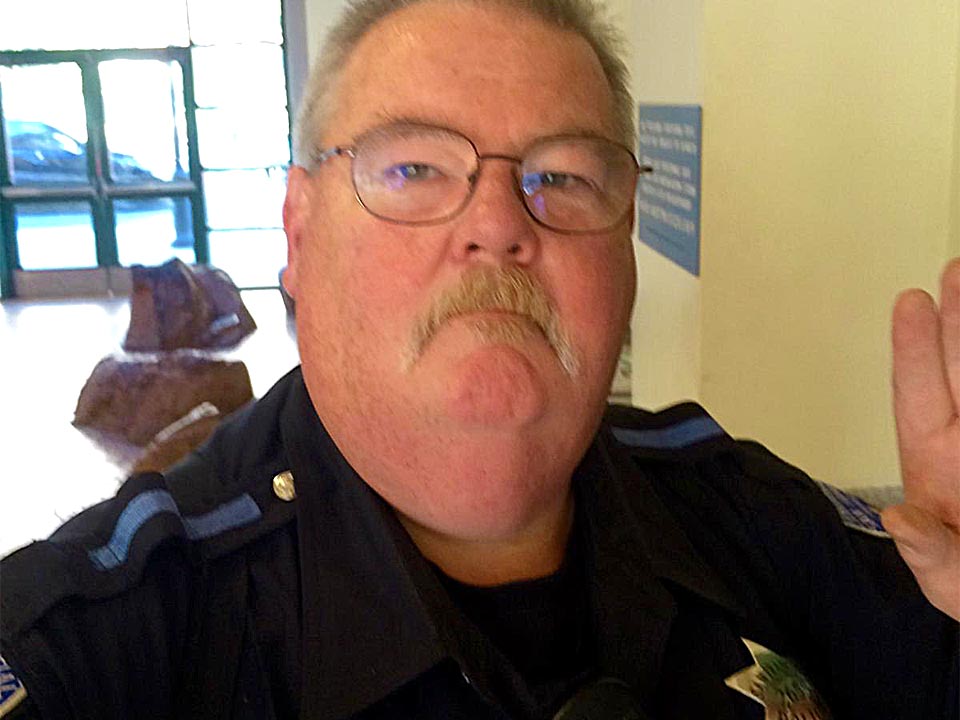 Castro Cares Patrol Officer John Fitzinger. Photo courtesy John Fitzinger.
Officer John acknowledged that there was a great deal of violence and theft in city shelters, which is why many street people were declining offers of help. The shelters, he pointed out, were not meant to be permanent, but rather a temporary arrangement that would include substance abuse treatment when needed, job training, and eventual permanent housing. He showed Hoodline a printed list of resources that he handed to people when he asked if they were in need of help.
In addition to shelters, services offered include free medical clinics, free meal programs, substance abuse programs, legal help, low income housing listings, dental clinics, veteran's assistance, storage for a person's belongings, and places to shower. Officer John hands each homeless person he speaks to a printed list of these resources, which includes addresses and phone numbers. He said that an average of two people per night accept the offers for help, which adds up to a little over 700 people per year.
"Whether they accept the help or not I give them the brochures," Officer John said. "I tell them to keep it in case they change their mind." He added that it was "rewarding" when people accepted the offer and took part in the programs that might get them off the street.
"I would like to see more shelters and SROs," he said, noting that more help is always needed.
"People can help us put together care packages," Aiello said. "We do this on a quarterly basis. People can volunteer at one of the churches or with Project Homeless Connect."
For more information on getting involved, visit the Castro Cares website.