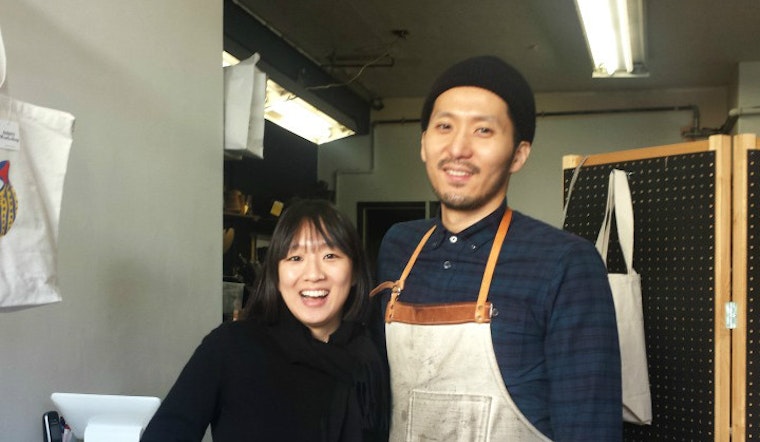 Published on January 19, 2016
In a city that always seems to pushing towards the technological future, Soojin Chae and Yina Kim are advancing old-fashioned craftsmanship. This young Korean couple are carrying on a tradition of shoe repair and handmade products at ODSY Workshop at 1417 Taraval St.

The two first got started in the art of cobbling when Kim saw an post on a Korean-language website from Paul Cho, the former owner of the shoe repair shop. Back then, it was known as Paul's Shoe Repair.
The space on Taraval Street has been a shoe repair shop for over 40 years. Cho himself had taken over the business when another cobbler, also named Paul, retired.
Like many other cobblers in the city, Cho had been looking for an apprentice for years. Kim, a freelance illustrator (whose work we had previously covered), and Chae, then a manager at My Tofu House, were originally only looking for a studio for their products, but when they saw the post, they jumped at the opportunity.

The two already had had an interest in craftsmanship and leather-working. Before taking over the business, they had started ODSY Workshop, making leather and cloth goods as a side project and participating in local craft shows like West Coast Craft and Renegade Craft Fair.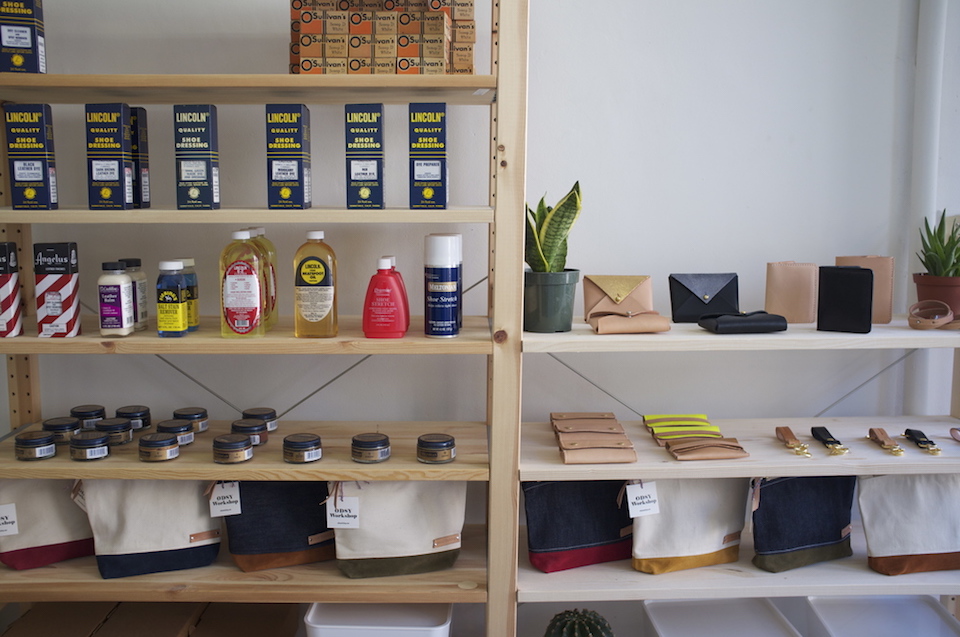 Photo: ODSY Workshop
Cho had been in the business for 27 years, and he was ready to retire. Over the course of the three-month apprenticeship, he passed on his knowledge and craft to Kim and Chae. They also drew on their own experience with making leather and cloth goods with ODSY.

"Sometimes Soojin knew more about leather than Paul, especially in baggage repair," says Kim.
Cho also considered a competing offer to take over the business from a sushi chef, but in the end, Chae and Kim won out.
"At first we were joking about it—why don't we take it over?" explains Chae. "But we saw this place and fell in love with the old machines."
"He also liked us more because we had passion for the work. He had a lot of pride in what he did. He didn't just want to sell his business," says Kim.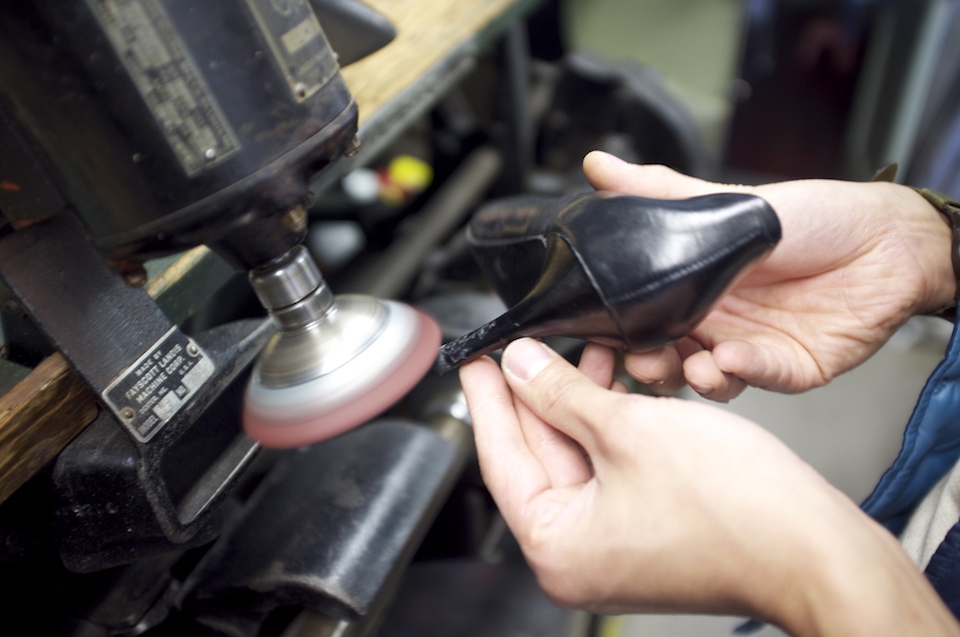 Soojin Chae repairs a high-heeled shoe (Photo: ODSY Workshop)
They opened ODSY Workshop in March 2015, offering shoe repair, general leather and soft goods repair. The shop also operates as a retail showcase for their handmade leather and cloth products, including aprons, bags, and wallets.
The two put customer service and pride in quality craftsmanship at the heart of their work at ODSY. "In the beginning, people were worried about two young kids taking over the business, but Soojin is a really skilled craftsman. A lot of people come back, I think a lot of them are return customers," said Kim. "We try to be really nice to people: they are the ones who keep the business running."
Their youth—Chae is 39 and Kim is 28—make them a rarity in a field that is rapidly dying out. As shoes become more disposable, less than 5,000 cobblers are left in the United States. Many are older men who want to retire, but these master craftsmen find it difficult to find apprentices to carry on the trade. (See our story on Carlos Lopez, Haight Street's longtime cobbler, who retired last month.)
"I think we're the only ones in the city [who are so young]. We get mails from other shoe repair stores asking if we want a second store, but we're too busy," says Kim.
Now, their cozy space on Taraval Street has a steady stream of regulars who come to have their shoes repaired or buy their handmade goods. In addition to being carried through their Etsy store, their products are carried at Lou and Grey, Ann Taylor and Loft's sister brand.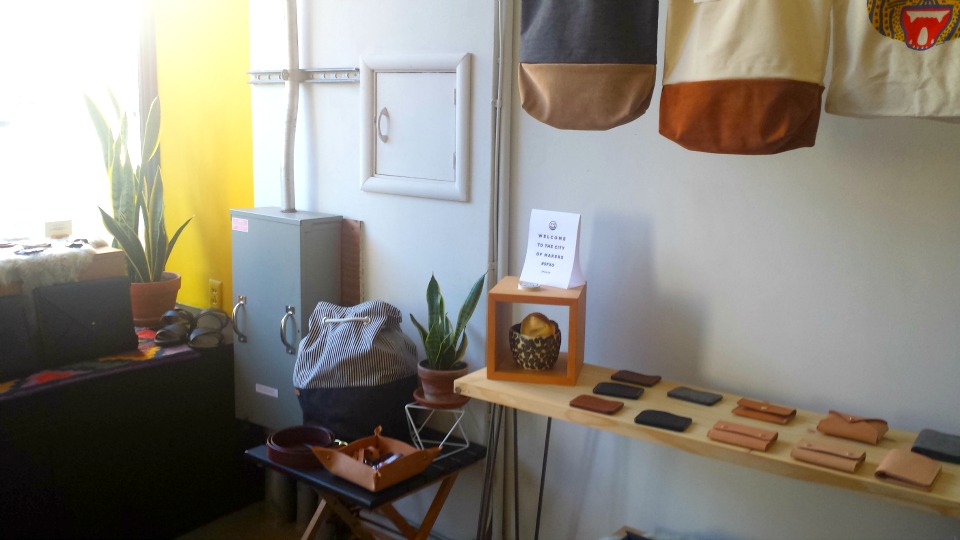 The interior of ODSY Workshop (Photo: Fiona Lee / Hoodline)
One of their biggest challenges has been the long hours required to make a small business a success, especially because ODSY has two different businesses under one roof. The pair worked through holidays, including Thanksgiving and Christmas. During the holiday season, they often worked until 3am to fulfill product orders and repair shoes.
"I was a workaholic Asian," Chae jokes.
The two make the handcrafted products for their line right in the shop. Kim describes the philosophy behind their products as "simple and functional." She hopes that they can be "something to carry for a long time, maybe something you can pass on."
They're particularly drawn to leather and denim, because the materials change colors over time with steady use. The materials themselves tell the story of the relationship between its owner and the object. They see parallels in their work with both shoe repair and in creating physical products.
"Sometimes people bring in old wallets from the '20s, we love that kind of project from customers," she explained. "We want that for our product too: something that is practical and functional."
Chae and Kim choose their suppliers with an eye towards local craftsmanship and quality. They try to source materials from within the Bay Area itself or within the United States. If materials aren't available because of changes in global manufacturing supply chains, they will try to source from an American company even if they manufacture outside of the U.S.
Even their shoe repair wholesaler is based in South San Francisco. Baltor O & Sons (also known as O Baltor & Sons) has been in the area for 98 years, with a third generation operating the business. The staff there, who also used to work with Paul Cho, have given the duo affectionate nicknames: Paul and Paula.
Over the next year, Chae and Kim have plans to hold a sandal-making workshop in the store. And hopefully, Kim will have more time to start her illustration work again. The duo recently moved from Livermore to Parkside to be much closer to their shop, resulting in a significant decrease in commuting time.
"I love this neighborhood, and I'm happy we found this space," says Kim.