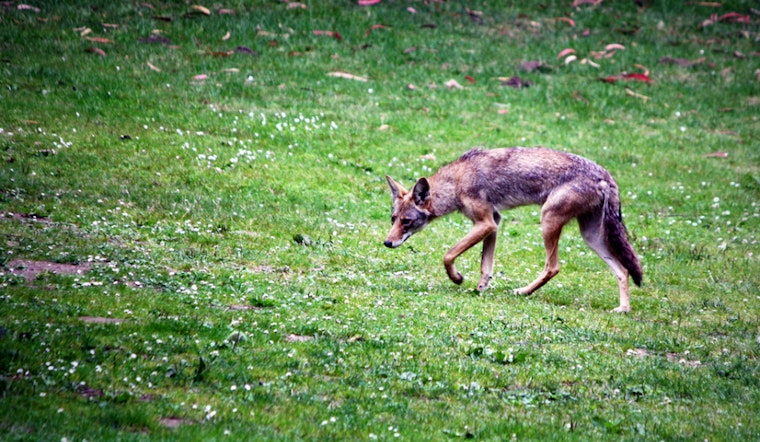 Published on January 11, 2016
Dog-walkers, beware: multiple readers have reported coyote sightings in recent days, from the Panhandle to Corona Heights to Cole Valley. 
A tweet alerted us to a sudden influx of the skittish predators, which are usually only found in the outer reaches of Golden Gate Park and are typically more active in the summer. But according to multiple social media users, they're starting to show up in Corona Heights as well. 
It was dark and I'll admit I was a little lit up but I think I saw a coyote crawling around the hillside of Corona Heights park.

— clowntraps (@clowntraps) January 9, 2016
Nextdoor users have also reported Corona Heights coyote sightings. Dana C. posted this run-in yesterday afternoon: 
As we were near the road, I feared my dog might run into the street, so I ran after him. I rounded a trail corner only to see my dog standing almost nose to nose with a HUGE grey coyote. I immediately zapped into protection mode and made myself very large and waved my arms and screamed and barked like a maniac to frighten it away. The coyote looked at me and then at Gus, as if sizing up the competition, and bared his teeth and made a yelp sound. I continued to make giant gorilla moves towards him, and he finally ran away. Of course my little dog didn't know any better and started to chase. Heart pounding, I managed to stop him and get him on leash and get the heck outta there. I was scared and my dog was confused.
Another Nextdoor user, Cheyenne D., said that her boyfriend spotted several coyotes circling Grattan Playground at about 11pm on January 7th. "This is alarming for me because I often walk my dog at night and by the playground. I guess we'll just have to walk him earlier," she wrote.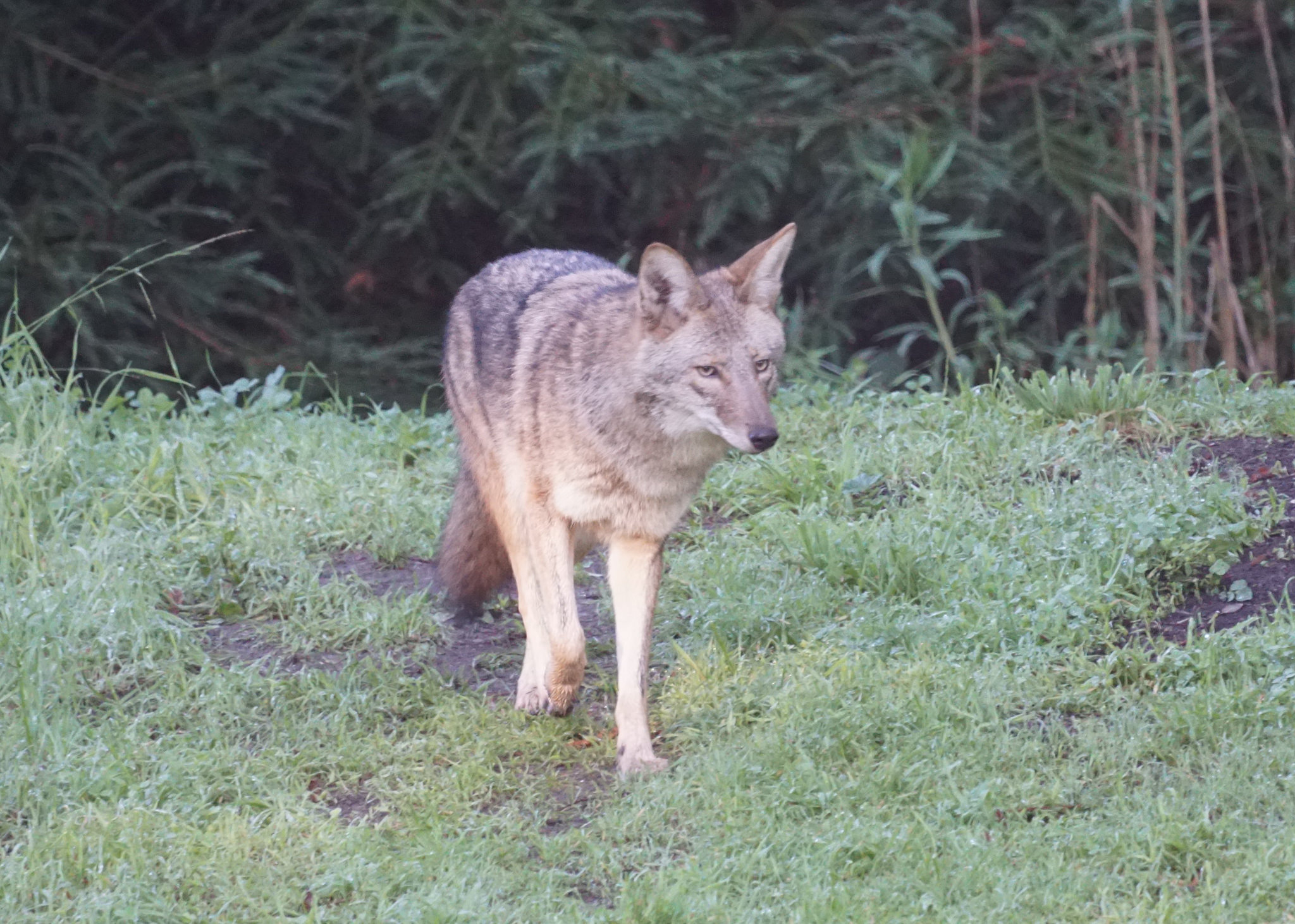 A coyote in Golden Gate Park. (Photo: pazzani/Flickr)
The Panhandle is also seeing a coyote influx. Hoodline's own Nuala Sawyer saw one there on Friday night around 11pm, running east through the park between Lyon and Baker. "I grew up in the country in New Mexico, so even though it was dark, I'd recognize that low-hanging tail and trotting gait anywhere," she said. "Luckily, I had my dog on a leash!" She said the coyote was smaller than others she'd seen in Golden Gate Park, and might be a female or an adolescent. 
Nextdoor user Virginia Rathke said she ran into a coyote in the Panhandle near the Lyon Street intersection early today, and Twitter user @kyleaj also saw one near there this morning:
@LightExposures it was in the panhandle again this morning. Last saw crossing Fell going north on Lyon. Cc: @SF311

— Kyle (@kyleaj) January 11, 2016
If you spot a coyote, here are some important tips from the folks at Project Coyote: 

Keep your dog on a leash.
Coyotes are more active in the early mornings and in the evenings. 
If one gets near you, don't run! Wave your arms and try to be "big, bad, and loud." This teaches them to remain "wild and wary."
Pick up trash, secure garbage, and keep pet food inside. If they don't have food, they won't hang around. 
This video from San Francisco Animal Care and Control stresses these points: 
If you do spot a coyote, you can help SF Animal Care and Control by filling out an observation report online or calling their hotline at (415) 554-9400.