The biggest menace to San Francisco's Victorian housing stock in the early 1970s was the city's own ambition. "Urban renewal" development projects displaced thousands of people and bulldozed huge swaths of the iconic structures, particularly in the Western Addition.
Through the rubble of buildings waded a few resourceful dumpster-divers, squirreling away bits and pieces for re-use. 
Some of these ad-hoc preservationists came together to form the Victorian Alliance, a nonprofit group that promotes preservation, restoration, education, and community around San Francisco's heritage housing.
The all-volunteer Alliance today holds monthly public meetings and big annual house tours, makes grants large and small to support restoration projects, and wants to continue welcoming younger and newer residents into its friendly community.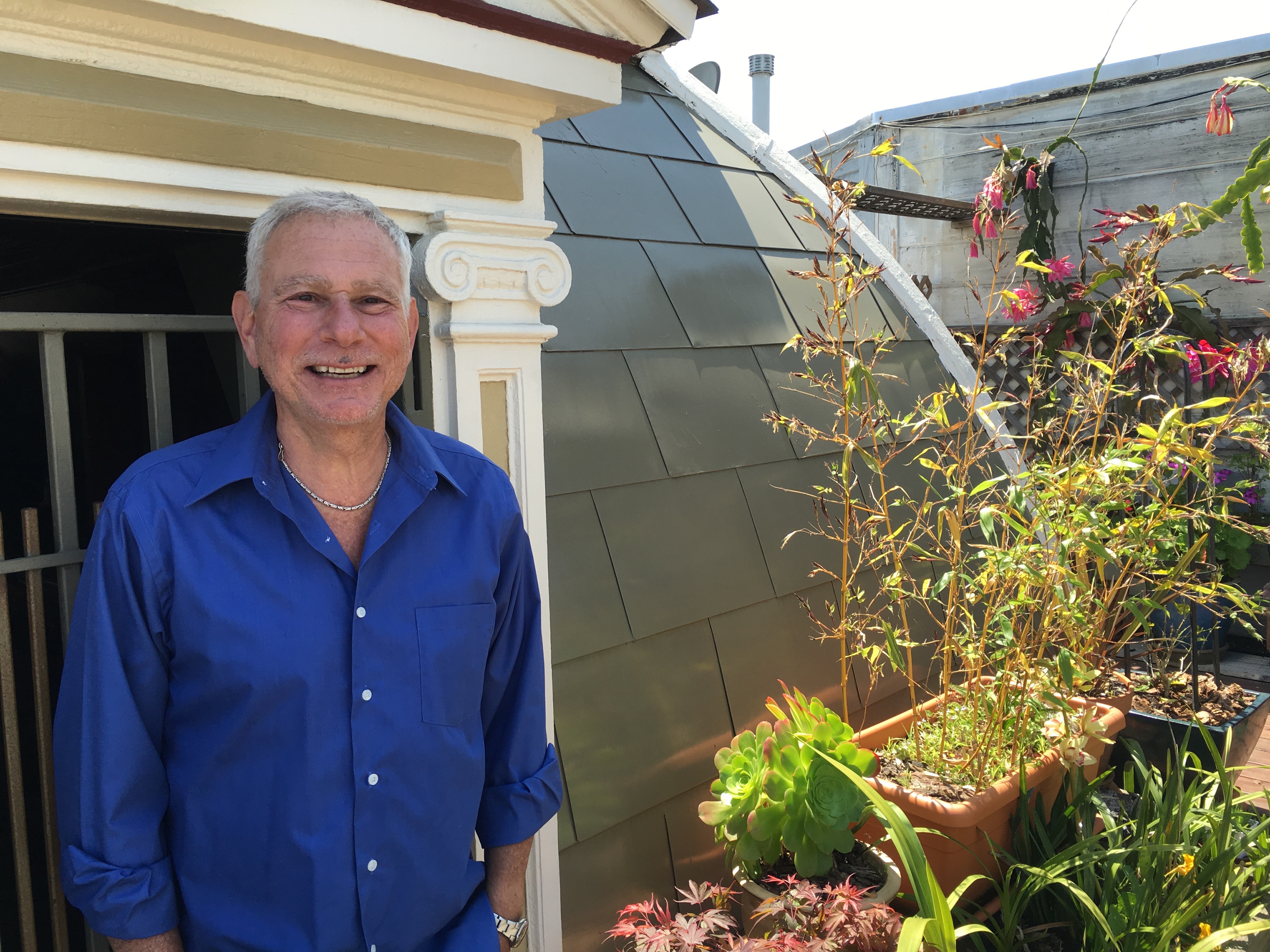 Jim Warshell of the Victorian Alliance

Jim Warshell is the current president of the Alliance. Warshell and his wife own and inhabit the spectacular Fisk house at Hayes and Buchanan, an 1884 mansard-roofed beauty that they've spent over a decade carefully restoring. Their own project has seen a flurry of recent coverage in both local and national media. 
Since the Alliance's founding in 1973, the front lines of preservation have shifted. The city now boasts historic protections through its Planning Department. But Warshell says that "interiors are relatively unprotected in San Francisco. So we take it as our mission to really try to educate people about why you should care, and why it's to your benefit to take care of these things."  
"If you happen to love filling it with old Victorian stuff, we'll love you even more", he laughs, but says that even when you furnish completely modern, "We'll still love you! You didn't hurt the place! It's all good!"
A deep belief in stewardship runs through the conversation with Warshell and other officers of the Alliance. "Think before you tear out stuff in the interiors.... These things have survived a hundred, a hundred thirty, hundred and fifty years. And there's craftsmanship and beauty in the materials."  
It's not even really about the Victorian era (technically, 1837–1901) or its specific architecture and design (really 1860 to 1900). It's about valuing and using the earliest built environments in the city. "Here we are in San Francisco, and your opportunities to do more with historic properties will be doing things with Victorians."
The Alliance's membership includes all manner of speciality craftspeople and other historically minded folks; it's a forum for institutional knowledge and connecting people around a shared enthusiasm. 
"We really do have the feeling that when you are lucky enough to be able to live in one of these places, A, you should share it, and B, realize that you're a custodian of it for however long that you're lucky enough to do it. And you should keep it in the best shape you can, doing no harm, so the next people will have everything that you had, and it's all there.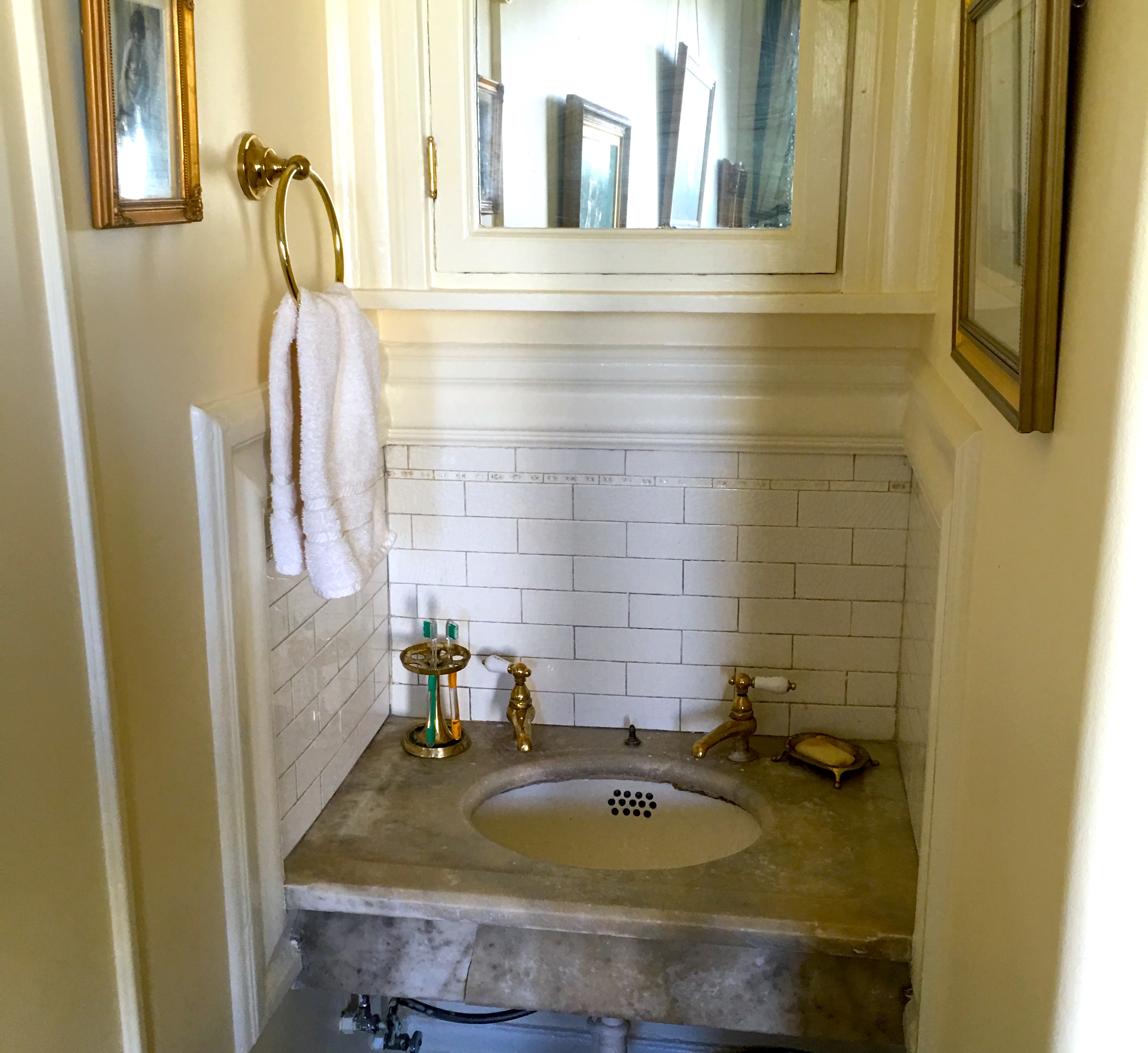 Intact bedroom vanity sink in a 1904 flat

Alliance member Michael Powell is raising two children in a carefully-maintained Edwardian flat. He's conscious of the family's existence on a historical thread that reaches into the past and the future. "My kids are always interested in where they fit into the timeline," he says. "They like knowing about their ancestors, and they like understanding where things fall in history. They often ask if something happened before our house was built, or after. I think they, like myself, take comfort in the idea that things existed before us, and will continue after us."
Seen in this light, the careful preservation of our historic homes and their high-quality craftwork seems uncontroversial — even imperative. But aren't older houses less convenient to actually inhabit?  Alliance members reject that conventional wisdom: they describe the more traditional layouts in their homes as being at least as livable as a contemporary one. "The Victorians got it right," declares membership secretary Anita Denz. 
The classic floor plans can initially appear unintuitive to modern expectations. But multiple room types and split bathrooms can allow groups of people to live together flexibly in overall smaller spaces (especially when some of those people are children, or roommates).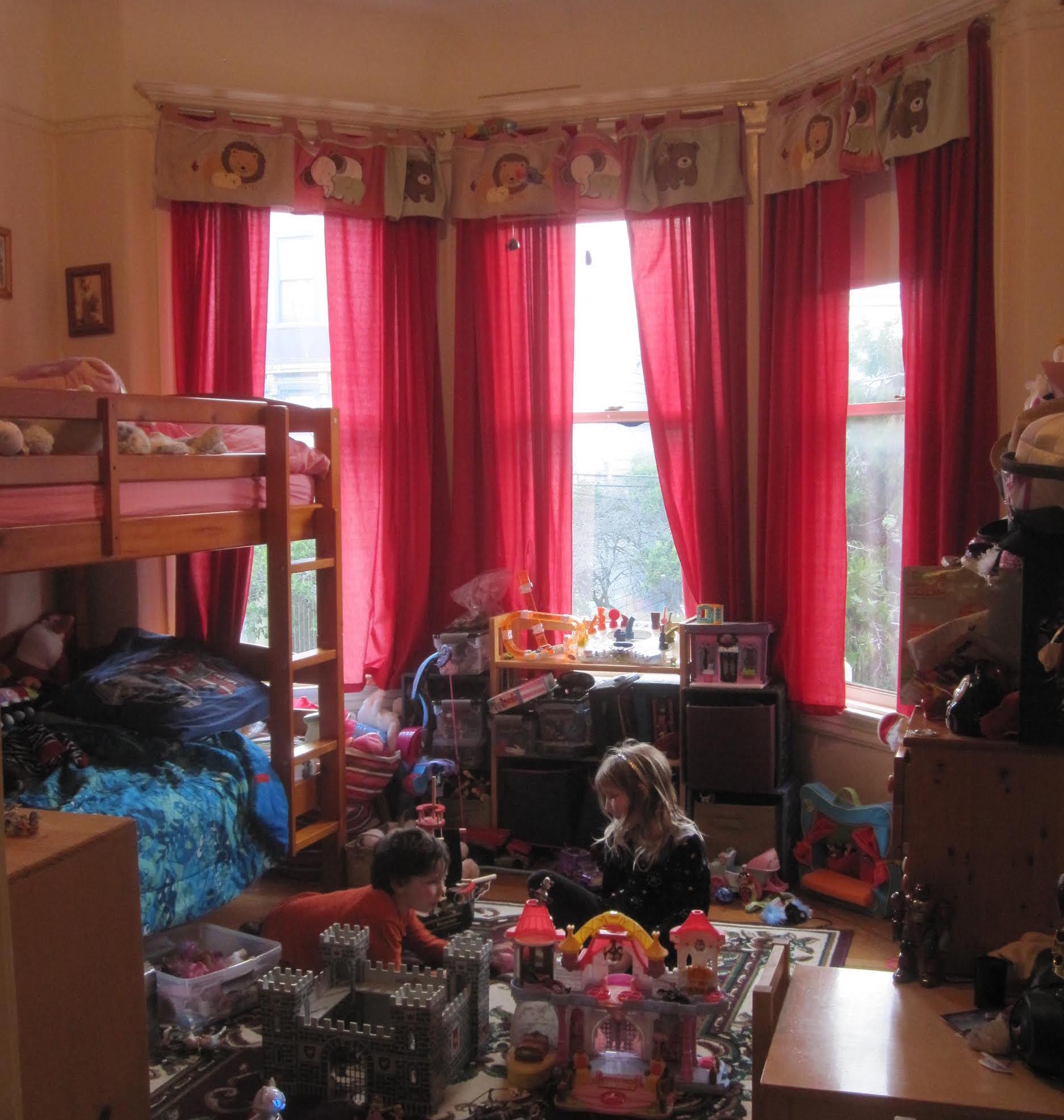 Contemporary children enjoy their own sturdy space. (Photo: Courtesy Michael Powell)

In addition to versatile spatial configuration, the Alliance suggests additional benefits: higher curved ceilings for good airflow. Double-hung windows have an original design goal of opening at the top and bottom for passive air cooling. Interior transom windows project natural light down the length of a flat even when doors are closed. 
"The economy and the ecology of doing things this way is very persuasive," Warshell says of embracing the existing structures and materials. He concedes that not every aspect of nineteenth-century-era home design fits perfectly with contemporary living. Kitchens, in particular, can be hard to work with in their original configurations and are usually modernized.
The "sharing" component of the Alliance's spirit takes several forms. Their marquee event (and biggest fundraiser) has long been an annual house tour during which a neighborhood cluster of restored and cared-for private homes open up to the public. Alamo Square got the spotlight in 2015, including one "painted lady" on the park, and Warshell's own house. Preparations for this year's tour are already underway; it will take place October 16th and likely center on the Duboce Park Historic District.
The tour is coordinated in part by Denz, who also organizes a few educational "field trips" every year to Victoriana destinations as near as the Castro Theater and as far as Monterey. These are offered at-cost to members.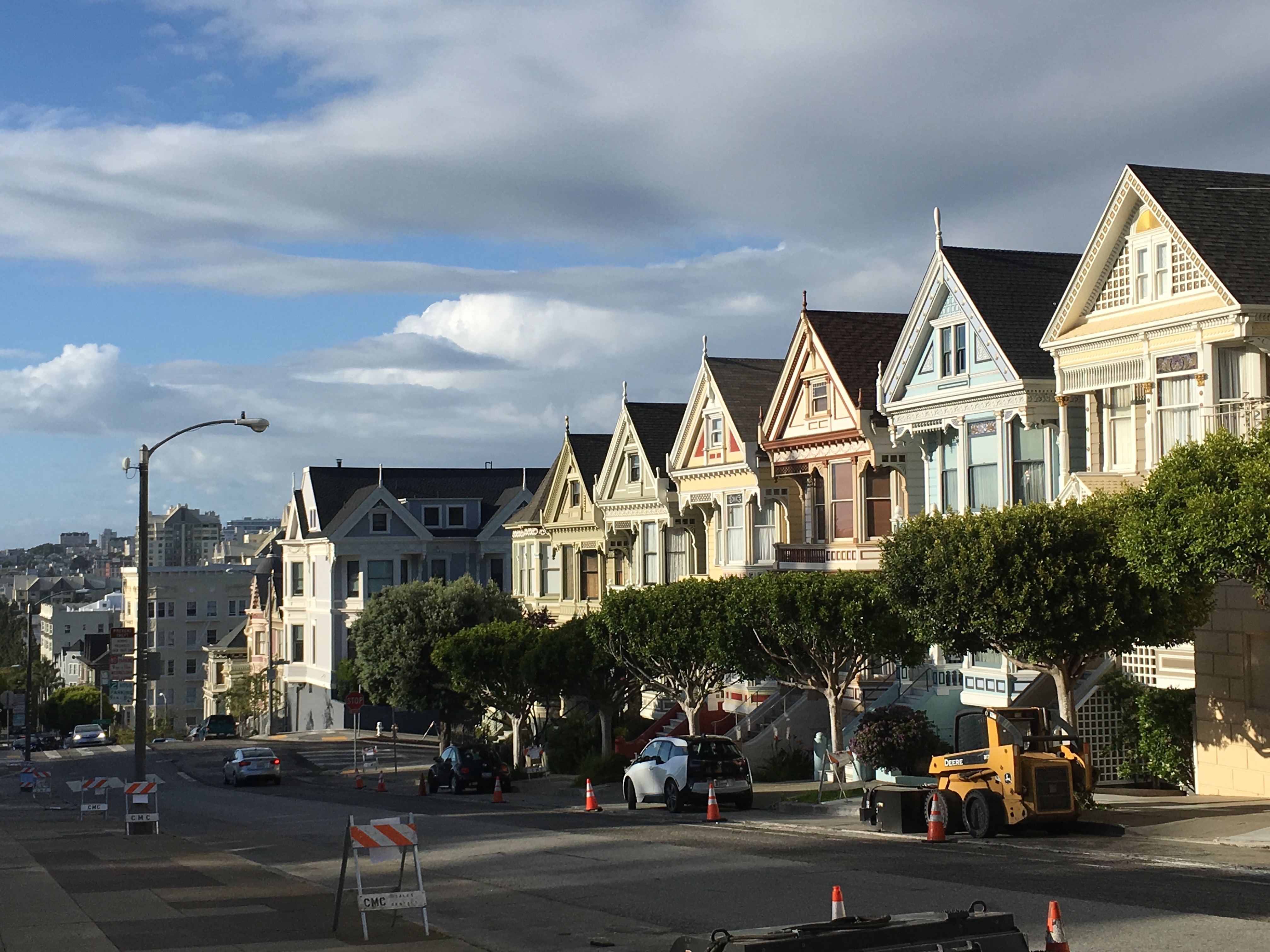 Victorians on Alamo Square

The revenue raised by house tours and memberships is used to fund the Alliance's grant program, which "offers financial support for projects focusing on the restoration and preservation of historic buildings, landscapes, and artifacts located primarily in San Francisco." The Alliance has awarded almost $350,000 since its founding, including significant support of a recent Palace of Fine Arts restoration. Warshell says "We can't write huge grants. We're not huge. But we do want to encourage people who have really tangible preservation projects to go over our application and talk [to us].... sometimes we'll partially fund something or fund the whole thing." 
Annual membership starts at $25, a small price to pay for enthusiasts to connect with others with whom they can learn and even collaborate. "A lot of what we want to do is first make people aware of what our members have and are willing to share. We meet in historic public spaces or historic homes every month, so it's a great way to get to know and see all these beautiful things.... Everybody is using the homes. They're alive." The monthly meetings are open to the public and all are welcome. "Just show up!" says Warshell.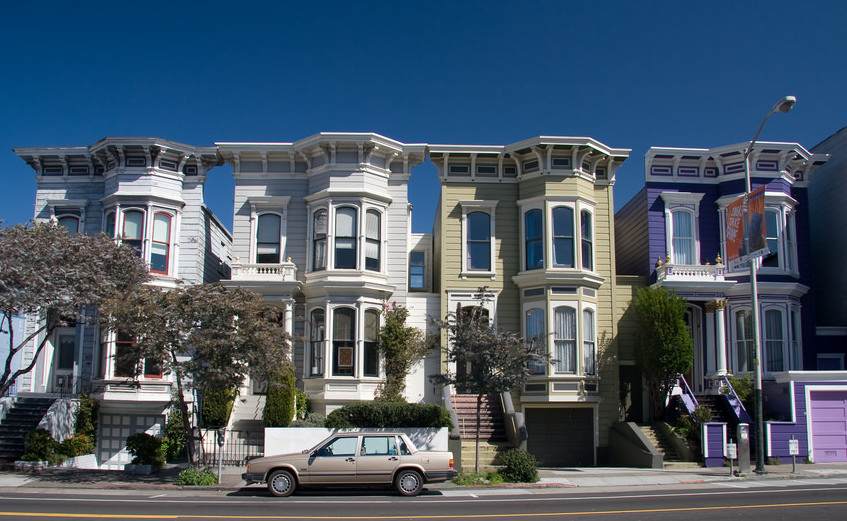 Rowhouses in the Mission district (Photo:"4 funny houses standing in a row" by Tim Lucas/Flickr CC BY 2.0)

The group opens its arms to interested San Franciscans, and it's not just about homeowners, either. A sizable portion of the city's rental housing stock is in some form of Victorian-era or Edwardian-era buildings. Denz, for example, sees the protections of rent control as a stability that has justified putting tens of thousands of dollars into her own apartment. She's rented for decades in Pacific Heights, and is willing to contribute to the preservation and maintenance of the home. Even though she has a landlord, in one sense this is simply another form of ownership and stewardship.
"We love these places, and we do our best to be good custodians," says Warshell. Part of that means outreach to the next generation of residents and enthusiasts, so they "feel welcome and empowered and supported by us.... We want the historic preservation message to be really heartfelt and adopted by the newer generation." 
He also mentions that the Victorian Alliance throws a "killer Christmas Party. Worth the membership fee."
You can learn more about the Alliance at their web site, and also at their frequently updated Facebook page. Public meetings are monthly; all are welcome. For more information including the next meeting time and location, just send a note to Anita Denz at [email protected].