Earlier in July, a Chinese woman in her 60s was robbed and assaulted near 35th Avenue and Ulloa in Parkside. Now, her family (who wishes to remain anonymous) is sharing the word about her attack and asking for help from the public to find her assailant.
The incident happened around 6:45pm on the evening of July 6th. The woman was walking home on Taraval Street after visiting her own mother, who also lives in the Sunset District.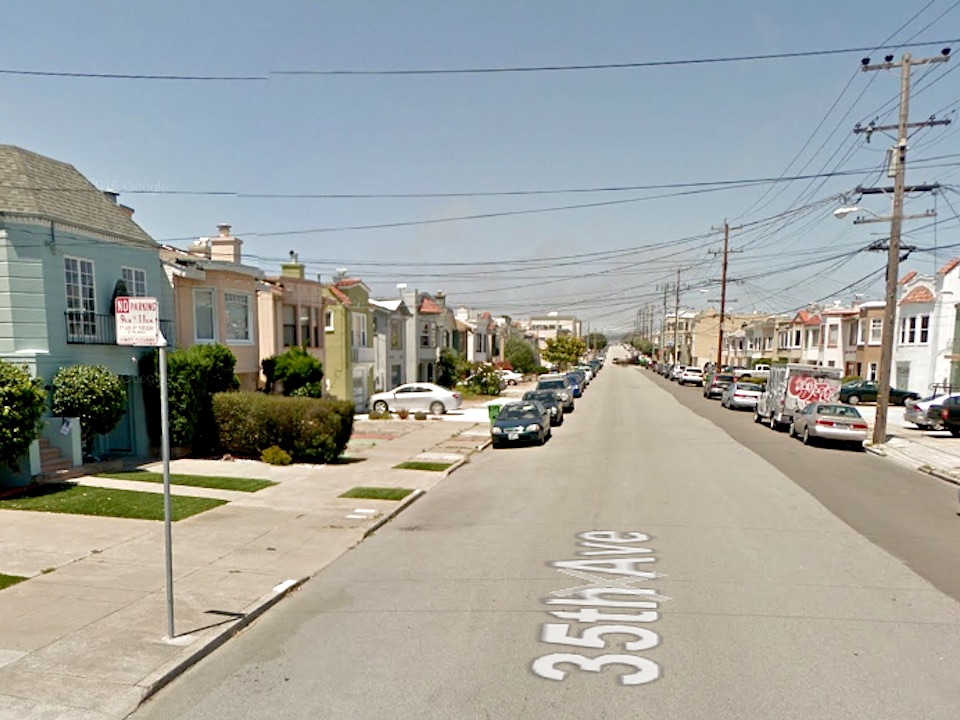 "The whole time she was walking, she was talking on the phone to her sister," the woman's daughter told us. "We think that someone saw her on Taraval talking on the phone and distracted, and maybe pulled up in a car. She was walking on 35th, and someone pulled her purse. That was it."
The woman doesn't remember much about the attack, because she was hit in the head by the assailant. Not only was she robbed of her purse and cellphone, the attack left the woman unconscious.
Luckily, she was discovered by a good Samaritan, who saw her collapsed on the sidewalk and called 911. Doctors said that she had multiple injuries, including bruises, cuts, and a fractured elbow. The worst was a fractured skull, with bleeding in the brain. 
The elderly sexagenarian victim is now recuperating at home after a stay in a local hospital. 
Without many leads so far, one particular tip that police are currently following up on is the use of the victim's credit cards, presumably by her attackers. One charge was for a parking garage in downtown San Francisco; others were for online retailers.
Shaken by the incident, the family decided to spread the word to the community in hopes of finding the assailant(s) and warning the community. A cousin wrote up notices in both Chinese and English, and other family members spread the word by posting the signs around the neighborhood and online.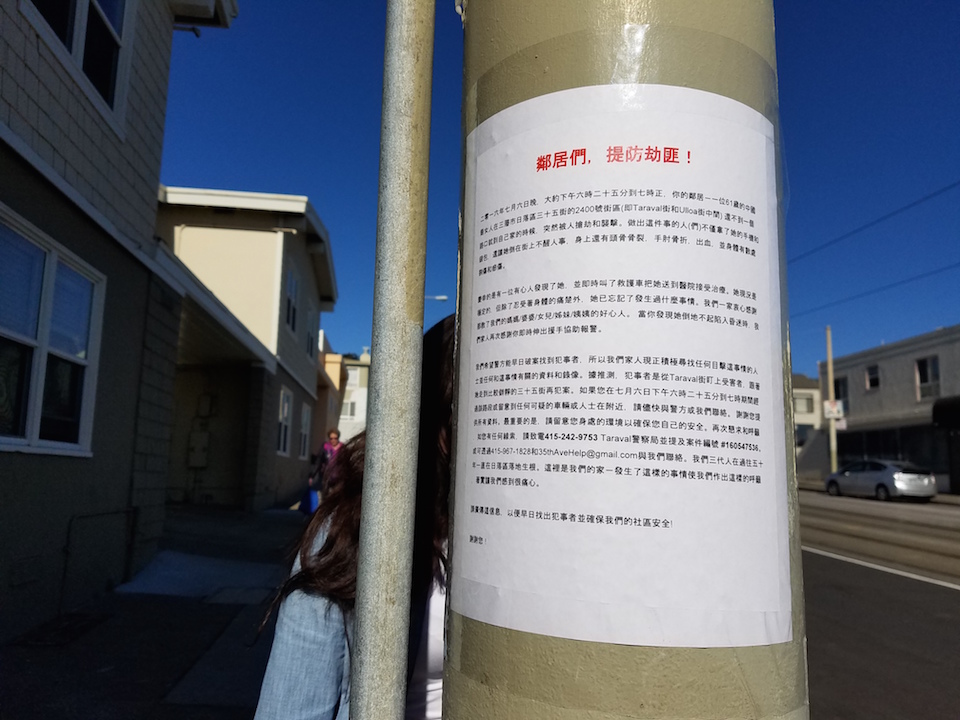 "I don't know what the chances are of the criminal actually be caught. My main concern is that my mom gets better and that this doesn't happen to someone else too," the woman's daughter said. 
The community has rallied around the woman and her family, which has seen an outpouring of support in response to the notices they have posted.

Of particular note is the good Samaritan who stopped when he saw the woman on the sidewalk.
"My entire family is extremely grateful for his help," says the woman's daughter. "Especially now, when the world seems to be going nuts, it is people like him and our supportive community who remind me that there is still very much good in the world."
If you have any information regarding this incident, you can contact the family at [email protected] or at (415) 967-1828, or contact Taraval District Station at (415) 242-9753, Case #160547536.