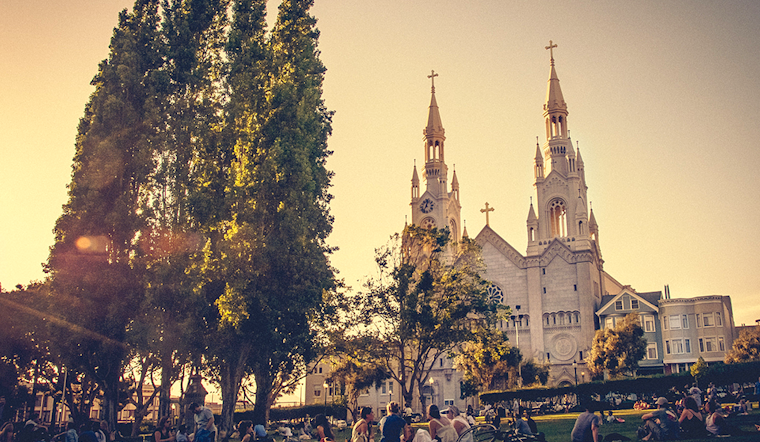 Published on August 11, 2016
There's plenty of music and entertainment options in the days ahead to help get you through the dog days of the San Francisco "summer."
Tonight is the final Floating Films of the summer at the Hyde Street Pier (2905 Hyde St.), and they're ending on a high note with John Huston's 1956 film Moby Dick. Open seating kicks off at 6:30pm, and tickets can be purchased online. If you're lucky, maybe a few marine friends will pop by to sneak a peek too.
On Saturday, the annual Chinatown Music Festival returns to Portsmouth Square (Kearny and Washington) from 11am to 5pm. The festival will feature "Building Our Town," a series of arts initiatives to help build community throughout Chinatown and San Francisco. This year's festival also includes a first-ever interactive design exhibition that allows visitors to interact with both video games and digital drawings. Best part of all: it's free. Call 415-986-1822 or visit www.c-c-c.org for more information.
Sassone's painting North Beach 1987 traveled from SF to Paris, LA, NY and Rome. Now in a private collection in TO. pic.twitter.com/lc0WPJz0Y2

— Emilia Ianeva (@berensonart) July 25, 2016
Around the area this week, SF Gate has the behind the scenes story on how Lombard's crooked section came to be, and the SFist broke down the story of a cab ride gone wrong last weekend on Broadway. Also, the Big Think featured a handy historical map of all the Gold Rush-era ship wrecks you're probably walking over as you navigate our modern-day Embarcadero, Financial District and North Beach areas. 
Now, on to our editor's picks for the days ahead. For a full list of what's going on around town this weekend and beyond, don't forget to check our hoodline.com/events. If you see a local event missing and want to get in on the fun, submit it for free for the chance to see it featured in our next events roundup.
Thursday, August 11th


Friday, August 12th




Saturday, August 13th






Sunday, August 14th


Tuesday, August 16th
This Week In North Beach News