"I'm so appreciative," said Rich, one of Whatever Store's co-owners. "Being the holidays, it gives you faith in mankind that people are willing to help, even strangers that don't know you."
In light of last week's news that Rich's Whatever Store—which has been a Castro destination for "fabulous comic geeks" for more than a decade—would be forced to close if it didn't raise $8,000 in five days, the owner was both humbled and in good spirits when we spoke with him yesterday.
The store surpassed it's GoFundMe goal of $8,000, bringing in nearly $9,500 in donations. However, factoring in the five percent that GoFundMe will keep, the total raised is roughly $9,000.
"[The money] is going to keep the store open," said Rich, and go directly to paying the store's rent and bills.
If you recall, Whatever made a similar request for donations in 2014 during the Castro Streetscape Improvement Project.
When asked how he plans to keep his store afloat in the months to come and to avoid another community bailout, Rich said that the answer is tied to increasing foot traffic along Castro Street.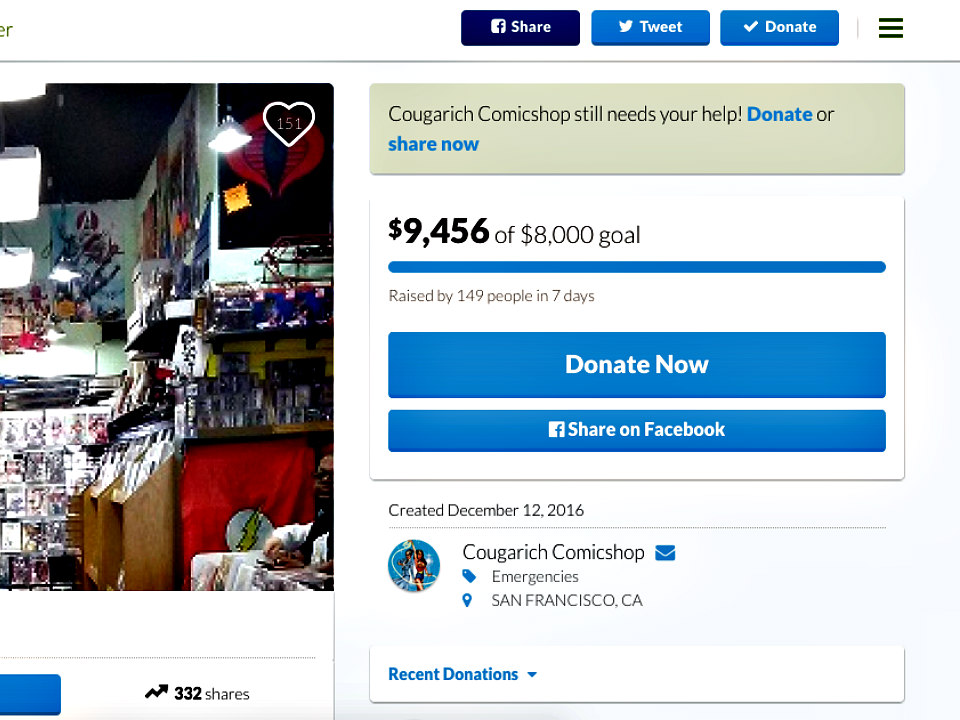 "We really just need people to come down into the Castro," said Rich. "I'm just one of [the business owners] that admitted what was wrong. If you want stores and you want a community, you have to support the stores in your community."
Rich admitted that online e-commerce sites like Amazon provide added competition, but Whatever isn't unique in that struggle. "We need more foot traffic," he said.
However, come January, Rich and his partner Cougar plan to make some improvements to Whatever's operations, including adding an online shopping component to the store's website.
Additional ideas are in the works, Rich said, and he's hoping that by the end of January, "everything will be in place." He wasn't willing to elaborate on what "everything" means at this time.

"I thank everyone," said Rich for what he referred to as a "Christmas miracle" on the store's GoFundMe page.
"Knowing that people support you in anything you do, whether it's your career or a dream or a hobbyis nice."
"I'm not willing to give up on the Castro," Rich said. "I wanted my store to be here, it's been here for 10 years, and we're going to fight all we can to keep it here."
Although Whatever's GoFundMe page will be taken down soon, you can still make donations to the store's PayPal account, which is listed on its Facebook page and on its soon-to-be website.