From the the vibrant glow of the Balboa Theater to the bubbling martini glass outside the 500 Club, neon signs are beacons for some of the city's most beloved neighborhood establishments. And while some have been lovingly restored, others run the risk of going dark.
That's why one local couple has taken to the streets—not in protest, but in celebration. 
Al Barna and Randall Ann Homan, co-authors of San Francisco Neon: Survivors and Lost Icons, offer monthly walking tours aimed at showing San Franciscans the unique art form all around them.
"A neon sign can make a street corner feel like a scene from a movie," says Homan, with the enthusiasm of someone who has, in fact, compiled a video of neon signage in classic film noirs, using footage meticulously researched by Barna. "It really makes the city come alive."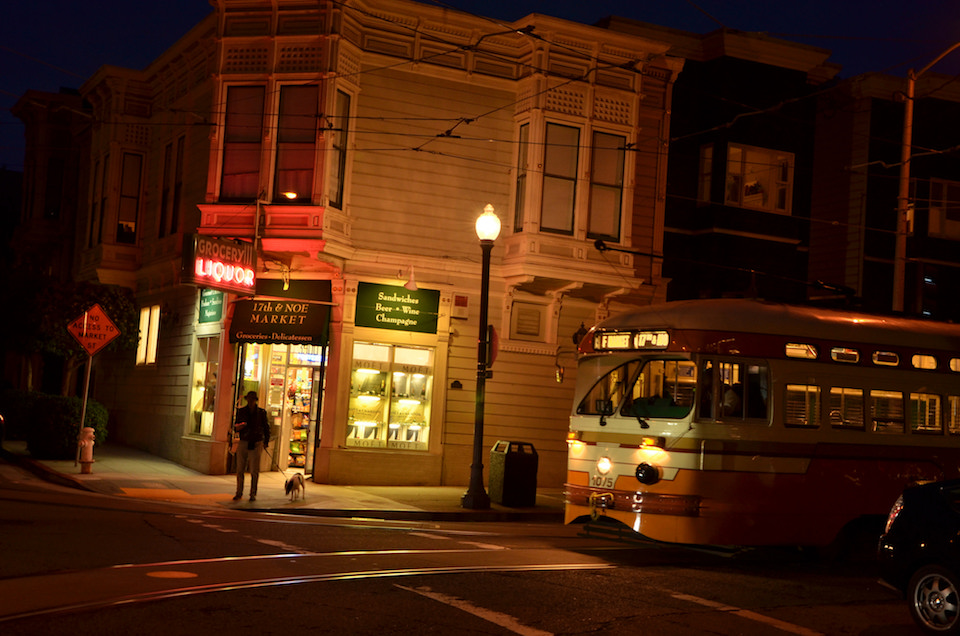 Barna, originally from Pennsylvania, and Homan, from Arizona, met at Lone Mountain College (before it became the University of San Francisco's Lone Mountain campus) as art students. Now celebrating their 30th anniversary, the husband-wife team has made a name for themselves as local neon aficionados.
As a professional photographer, Barna had been capturing images of San Francisco's urban landscape since the mid-1970s. However, the idea to focus on neon came much later, when he and Homan realized that many of the city's signs were in danger of going dark.
"The risk is that these signs are disappearing," the couple wrote on the Kickstarter page for their San Francisco Neon project. "[They] need recognition to be preserved, as well as the small businesses they represent."
The book San Francisco Neon: Survivors and Lost Icons was published in 2014, after an outpouring of support from Bay Area natives and neon enthusiasts from around the world. It is now in its third printing.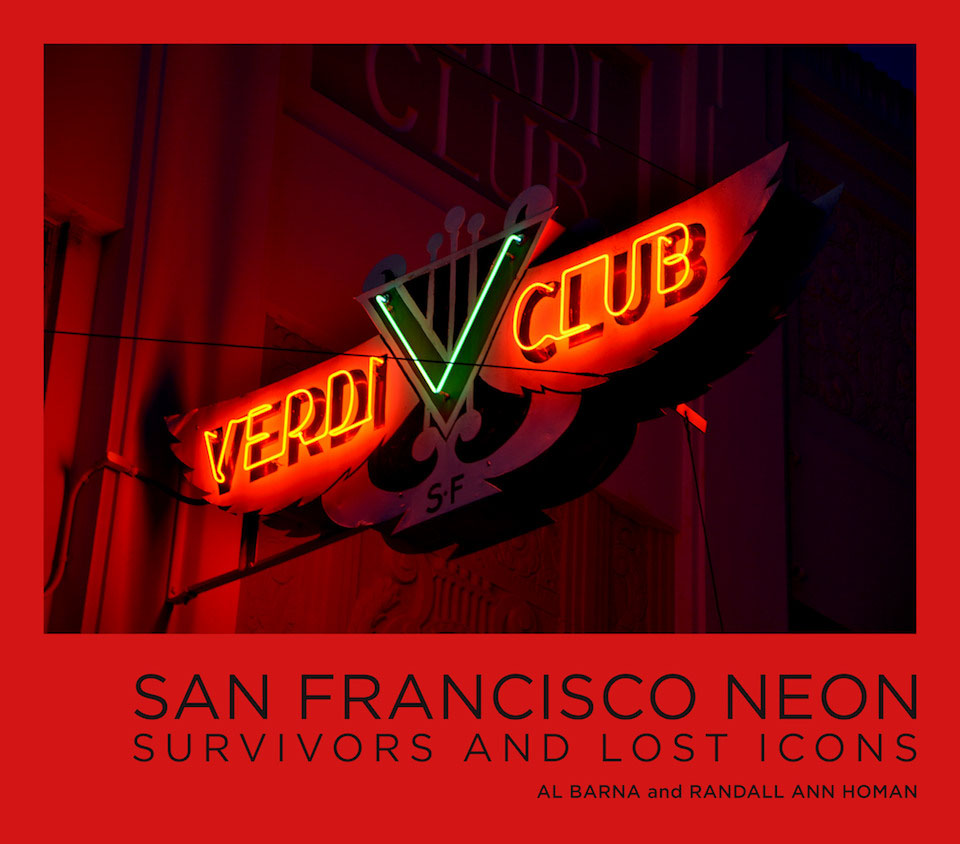 Following the success of San Francisco Neon, Barna and Homan hosted their first neon walking tour for the Society for Experiential Graphic Design (SEGD), putting in motion their next endeavor: an interactive way to bring neon appreciation to the public.
Over a year's worth of planning went into the tours, with Barna conducting in-depth research on individual signs, and Homan mapping out the routes in detail, "all the way down to which crosswalk to take!"

Since their start in 2015, the duo has hosted 26 tours. Currently, there are four different options to choose from: Chinatown-Union Square, Market-Mission-Castro, Cow Hollow and Tender-Nob. Each tour is unique to its neighborhood, a visual lesson in the history, design and alchemy of neon.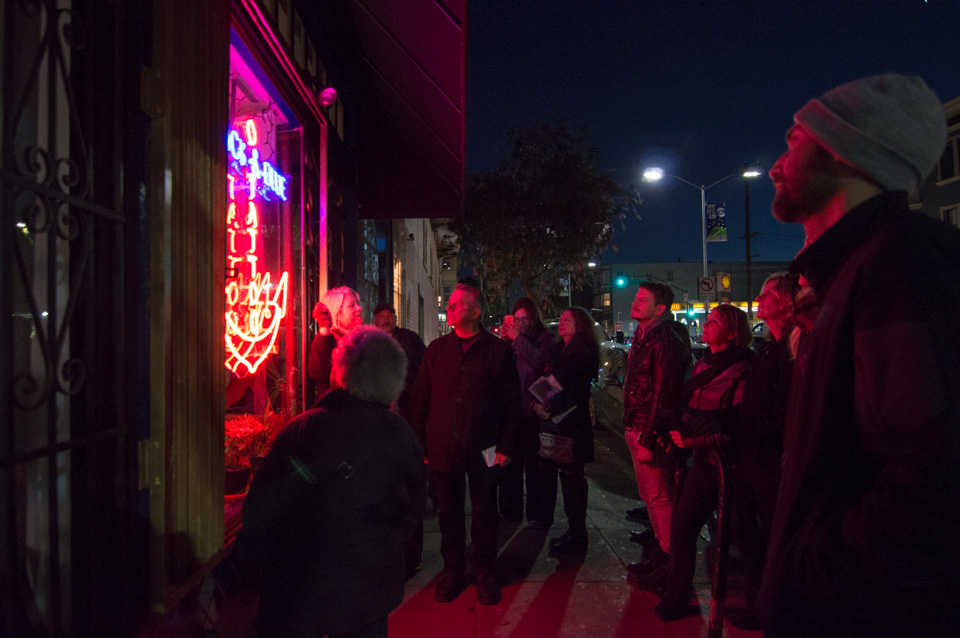 Guests meet at twilight, just as the first glow of neon starts spilling onto the sidewalks. From there, they're guided through the streets of San Francisco by Barna and Homan, stopping frequently under an illuminated sign to learn more about its history and creation. Most groups average around 15 people, allowing for plenty of questions and photo-ops. 
In addition to appreciating the city's surviving neon signs, the tours also pay tribute to those that haven't survived the test of time. Once such "lost icon," the 13-foot-tall neon glass of beer atop Hamm's Brewery at 1550 Bryant St., best seen from the Central Freeway, was the largest commercial sign on the west coast when it was built, only to be taken down after two decades and never seen again.
Participants of the Market-Mission-Castro walking tour can see where the Hamm's sign once stood, imagining its golden rings of neon with the help of historic photos provided by Homan.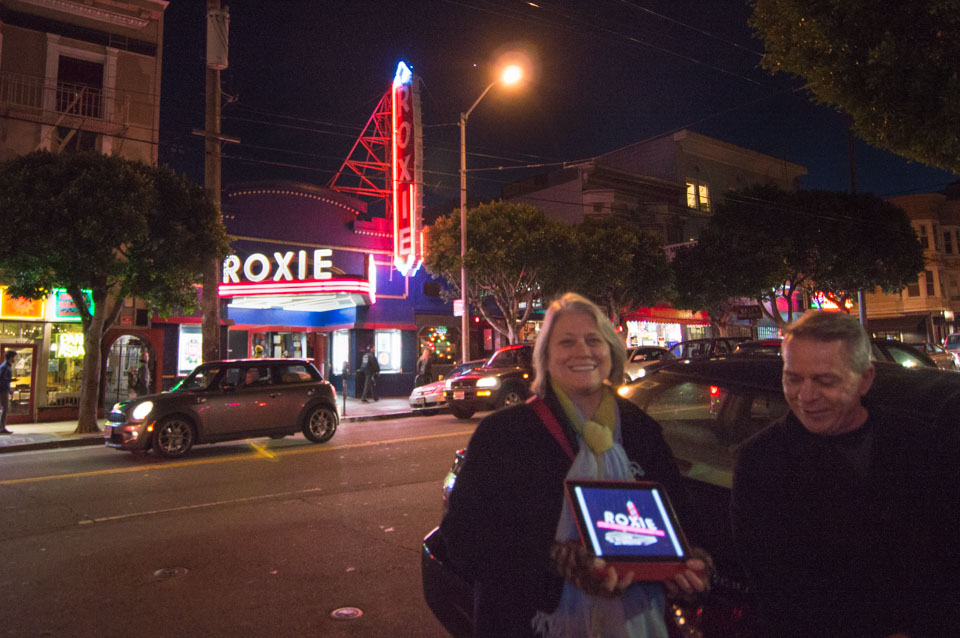 To Barna and Homan, neon signs are not only works of art, but markers of the city's many unique institutions. Many are instantly recognizable San Francisco icons: the bright red script of Gaspare's pizzeria, the glowing backlit display of Bi-Rite, the majestic blade and marquee of the Castro Theater.
Others may not be as famous, but still succeed in attracting passersby to a corner store or local watering hole. As Homan points out to tour guests, there are a few corporations with well-known neon signs in San Francisco—the Coca Cola billboard and Safeway sign at Market and Church, for example—but for the most part, local neon signs "represent family-owned, mom and pop businesses."
In areas like the Tenderloin, recent neon sign restorations have helped revitalize the neighborhood. Practically speaking, the light provides a safer environment on some of the city's rougher streets, but more importantly, "It gives residents a sense of pride in where they live," says Homan.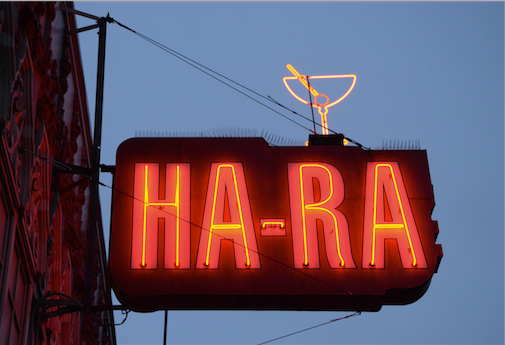 Along with a community of devoted historians, preservationists and community organizations, Barna and Homan are active advocates for the restoration of the city's many neon signs in disrepair. And their efforts have not gone unnoticed: since San Francisco Neon was published, more than 30 neon signs have been restored in San Francisco.
The pair plans to host one tour a month in 2017, offering discounted rates for students and teachers. "We'll keep doing tours as long as there's interest," Barna says. "So far, every tour has sold out."
A full list of upcoming tours is available here.