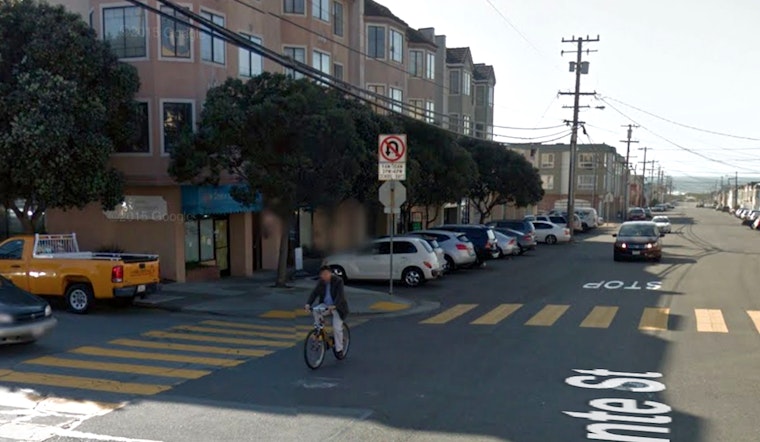 Published on April 19, 2017
With the goal of making Parkside's Vicente Street safer for cyclists and pedestrians, the SFMTA is proposing conversions of parking spaces and painted bike lanes running from 17th Avenue to the Great Highway.
While Vicente Street already includes bike sharrows that designate the street as a shared lane for cars and cyclists, the SFMTA's Sustainable Streets division is considering installing painted bike lanes on both sides of the street (east and westbound) and re-aligning parking spaces.
Compared to dedicated bike lanes, studies have shown that sharrows have a higher rate of cyclist collisions—worse than streets without sharrows or lanes.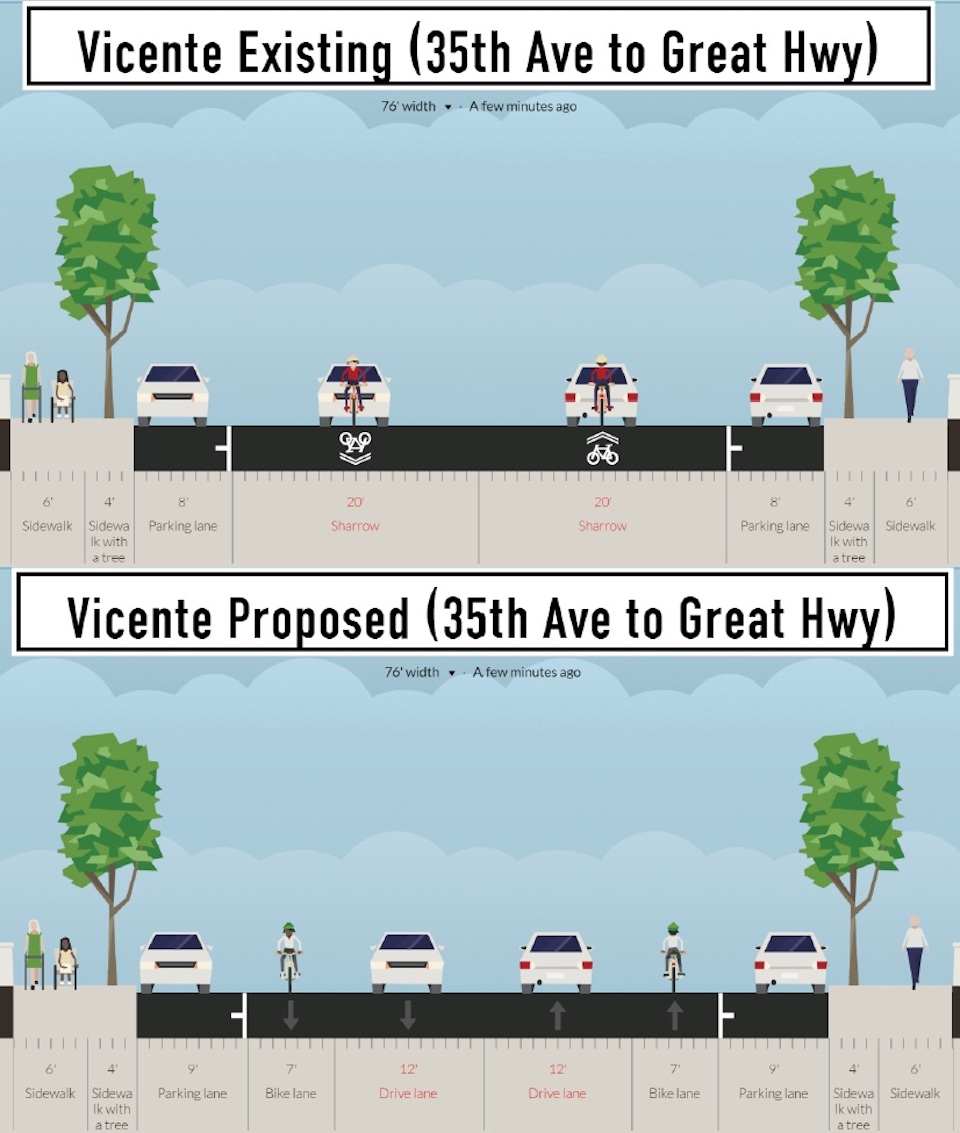 The new bike lanes would look similar to those on Ortega and Cabrillo streets, the agency says.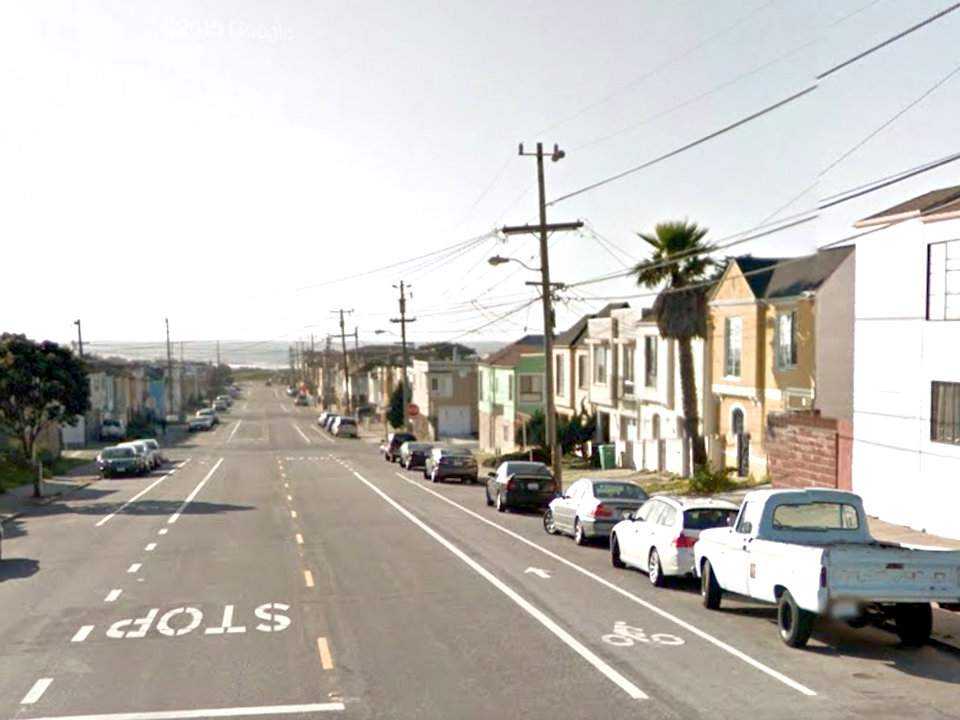 Another change coming to Vicente Street would involve re-aligning parking spaces and improving visibility in two sections. Neighbors in the area have previously petitioned the agency to convert parallel parking spaces to perpendicular ones on the south side of Vicente between 44th and 46th avenues, which would add five parking spaces to the area.
Other changes for parking involve converting "front-in" angled parking spaces into "back-in" angled spaces on the southern side of Vicente between 39th and 40th avenues. The SFMTA says that this will make it easier for drivers to see oncoming traffic.
The conversion to "front-in" parking spaces would take place near a heavily trafficked section of Vicente, which includes the Sunset Supermarket (between 39th and 40th avenues), the South Sunset Playground at 41st Avenue, and Ulloa Elementary at 42nd Avenue.
A final proposal for visibility includes "daylighting" at school intersections, which would see parking spaces removed so that people crossing are more easily seen as they start making their way across the street.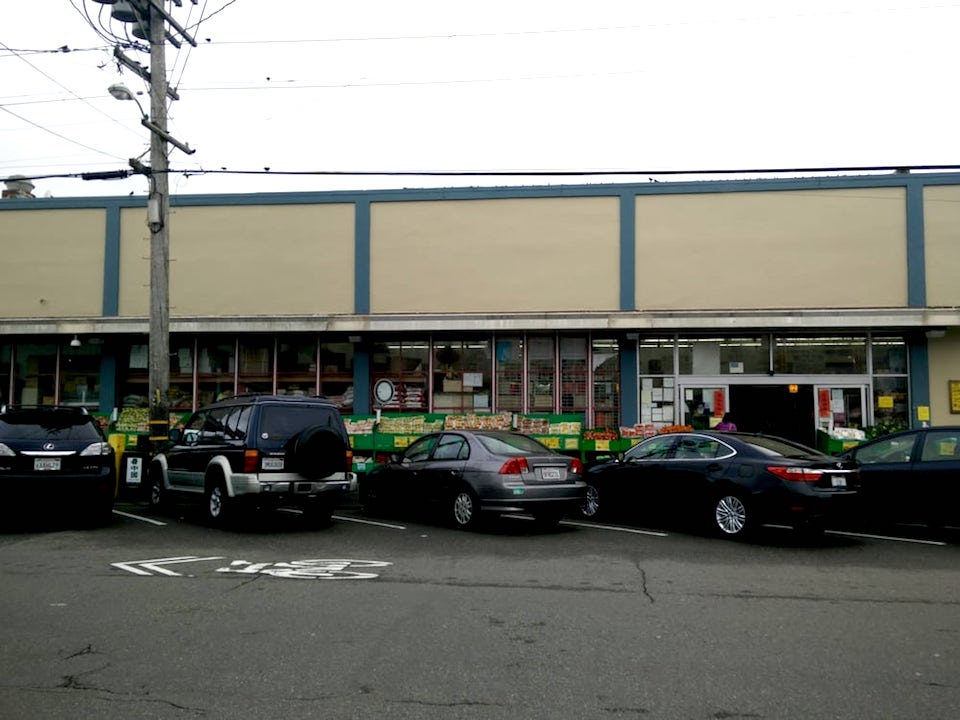 Advocacy groups say that the changes are much-needed.
"The SFMTA's plans for Vicente would improve safety for everyone using this street," Chris Cassidy, the communications director for the San Francisco Bicycle Coalition, told us via email.
"The schools and playgrounds on Vicente—and the families they attract—make it particularly unacceptable to let known dangerous conditions persist."
A public hearing about the proposed changes is being planned, but has not yet been scheduled yet. The responses will be taken into account before the agency proceeds.
We'll keep you posted on the hearing date, but if you have feedback on the proposed changes, email the SFMTA [email protected].