First painted between 2003 and 2004 at 300 Church Street (and 15th), the Market Street Railway Mural is now suffering from years of decay that threaten to permanently damage the artwork.
To save the mural, a fundraiser launched on Monday aims to raise nearly $12,000 to enable a team of professional conservators to come together with artist Mona Caron to repair the artwork, which depicts a 180-degree bird's eye view of Market Street through different historical eras, and its imaginary future.
Over the years, the mural has been damaged by cracks caused by building settlement and water infiltration. The cracks have lifted the paint to lift from the surface and flake off, damaging the delicate detail that Caron painted into the mural.
The money raised will go towards "greatly reduced labor fees" for three professional conservators working three to six weeks and Caron's partial repainting to restore lost detail.
"A lot of figures in the mural are based on real people," Caron told us back in February. She says that the mural is a record of the past, present, and future of Market Street, documenting the stories of many different neighbors.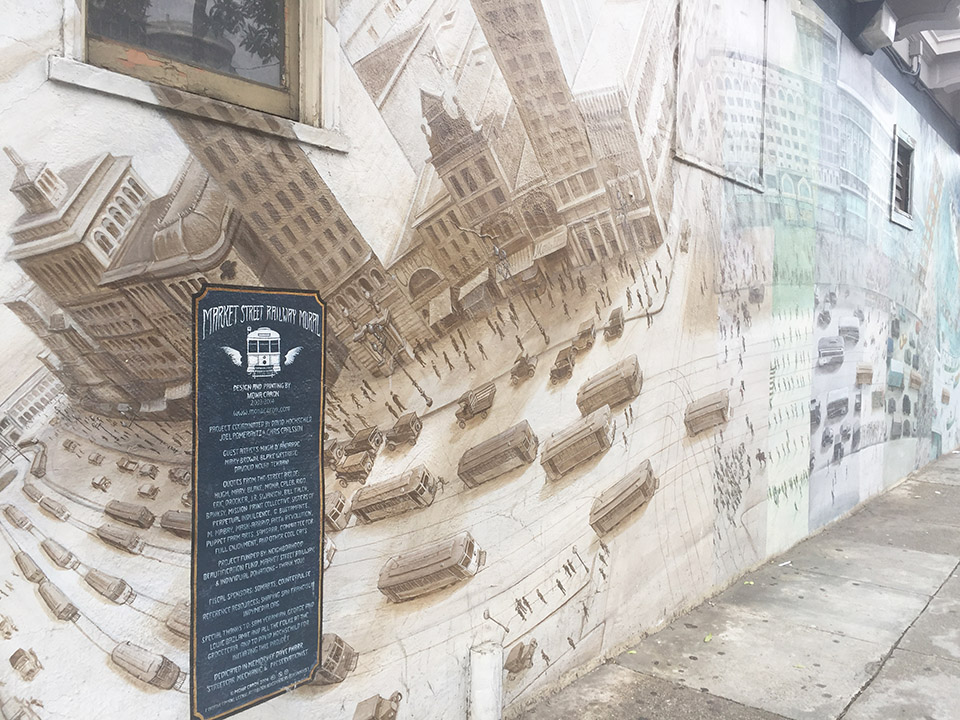 Caron, who also painted the Duboce Triangle Bikeway Mural, relocated to San Francisco from Switzerland decades ago. Today, she lives around the corner from the Market Street Railway piece.

"At a time when so many changes are happening in San Francisco," she told us, "I love the idea of a mural like this suggesting what was here before they came."

Along with Caron, the team behind the fundraiser includes the Yeremian family, who has owned the building that hosts the mural for three generations.
Another important partner on the team is Shaping San Francisco, a local history organization. When the mural was created, the organization's history archives at FoundSF.org were an important source of historical reference material for Caron. Now, they will support the artist with a tour and a public talk to showcase the repair process.
Caron also wants to use this opportunity to reconnect with the community. The fundraiser states:
We aim to refresh this time-traveling mural both physically and within community awareness, connecting a professional preservation effort with a series of accompanying public events hosted by the participatory community history project Shaping San Francisco, reflecting on the histories and imaginaries this trans-temporal mural depicts.

We are planning a series of fun events with the guest participation of many of the actual players represented in the mural to introduce recently-arrived San Franciscans and old timers alike to the details of this mural and the stories behind them.
A detailed description of the different sections of the mural can be found on the artist's website. Supporter of the fundraiser also have the option of selecting rewards, including an original artwork by Caron.