As soon as October, Sutter Health California Pacific Medical Center will close its remaining San Francisco's subacute beds at St. Luke's Hospital (3555 Cesar Chavez St.), which offers long-term specialized health services to acutely sick patients.
In the wake of a 2013 agreement made by the Board of Supervisors, patients requiring advanced care will be moved to facilities in neighboring counties.
Four Supervisors are now demanding that the hospital keep its doors open and subacute beds operable, however.
Supervisors Hillary Ronen, Jeff Sheehy, Sandra Lee Fewer and Ahsha Safai recently convened with patients and their families, CPMC representatives, and the Department of Public Health to discuss a solution.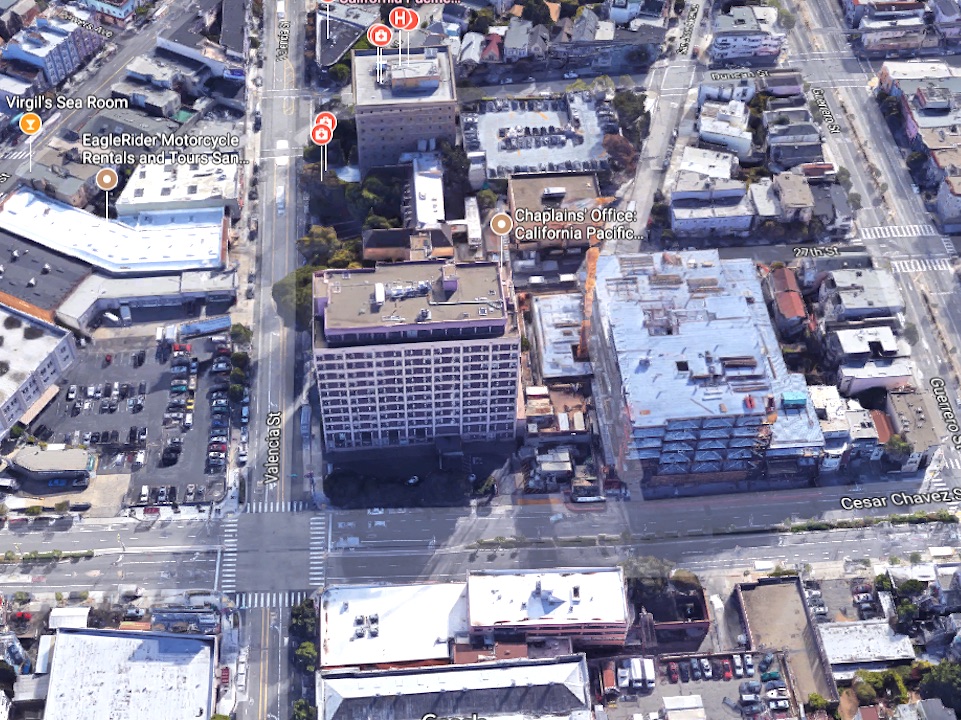 "[The hearing] highlighted a disturbing fact," said Safai in a statement to Hoodline. "CPMC, although it has billions of dollars in reserves and is an extraordinarily lucrative institution, is still demanding that the [subacute] patients leave St. Luke's Hospital by October 31, 2017."
Designed for short-term or long-term stays, subacute and skilled nursing beds are available in facilities like hospitals and nursing homes for patients recovering from surgery, suffering from mental illnesses, or in need of assistance to perform basic functions like bathing or dressing.
Safai, who called the hearing, says this is unacceptable. "Each patient deserves to know where she or he will go next and be guaranteed that the quality of care they are accustomed to will not be decreased."
Via phone, Supervisor Ronen said she and her colleagues are "very upset."
"Not only are they closing the unit much faster than the city anticipated, but they're doing it without any counseling for families, help for transition of loved ones that could literally die if they are moved from the subacute unit and out of the hospital," said Ronen. "It makes no sense from a health perspective."
"There is a trend in the region to take [subacute beds] out of hospitals," Ronen said. "But it's not because those units are not the best for their health; it's because they're not profitable. I have a fundamental issue with that."

Only ten percent of the state's subacute beds are located in the Bay Area. The 25 beds housed at St. Luke's Hospital are the only subacute berths for the entire City and County of San Francisco.
Two new hospitals will be built in Sutter's CPMC network, one replacing St. Luke's Hospital, the other at Van Ness Avenue and Geary Boulevard. Slated for October, the closure of St. Luke's will displace 44 patients, 25 of whom rely on the skilled nursing care.
Sutter Health spokesperson Stacey Wells said the two new medical centers are being built under a development agreement approved by the Board of Supervisors in 2013 that includes which type of beds will be built.
"The city has known about this issue for many years," Wells said via email. "CPMC is building two brand-new hospitals in San Francisco to ensure that essential, safe and quality health care continues to be provided for generations."
Wells added that CPMC is a nonprofit that invests all earnings back into the community.
"We need to put patients over profits," Safai said. "The only thing that CPMC responds to is public shaming, and we at the Board of Supervisors are committed one-hundred percent to keeping these beds in San Francisco."
Like Wells at Sutter Health, Director of Policy and Planning at the Department of Public Health Colleen Chawla said the process has been transparent all along.
"When they entered into the development agreement with the city they knew the new hospital wouldn't have skilled nursing facility beds," said Chawla. "The hospital will be done quicker than we thought and the beds are being closed earlier than we thought."
But Ronen is still hopeful for an alternate plan.
"[I hope they] withdraw their plan to close the subacute unit. Whether those beds can stay at St Luke's or move to another [San Francisco] campus, were open to different models," she said.
"But to close those bed without replacing them, without a plan in place to have any subacute beds anywhere in San Francisco is not responsible and not what we'd like to see from a major hospital and player in the healthcare industry in our city."
Fewer said this is a citywide issue, not CPMC's alone.
"It's heartbreaking to hear the story of people whose loved ones have to be moved by October," she said. "There are hardly any [beds] left, which is a real concern. From 2013 to 2017, it went from 218 license skilled nursing beds to 38. That's alarming."
There are 21 beds for every 1000 city residents over the age of 65, according to the Department of Public Health and Chawla says she doesn't know that there is a plan to save the subacute beds. "The bulk of beds are by private providers and freestanding facilities. It's not something that is the government would do alone," she says.
Sutter will demolish the old St. Luke's Hospital once the renamed Bernal Campus opens next year. The building at Van Ness and Geary will follow in 2019. According to the Chronicle, both new campuses are only licensed to have regular beds, which are expected to fill up daily with surgery patients, mothers delivering babies and other people with medical emergencies.
"As we watch Congress attempt to repeal Affordable Care Act, and what's happening with the subacute … it's a system based on profit, not on health and it's fundamentally flawed," Ronen adds. "I hope we regain some rationality in our healthcare system and move away from a profit-centered model."