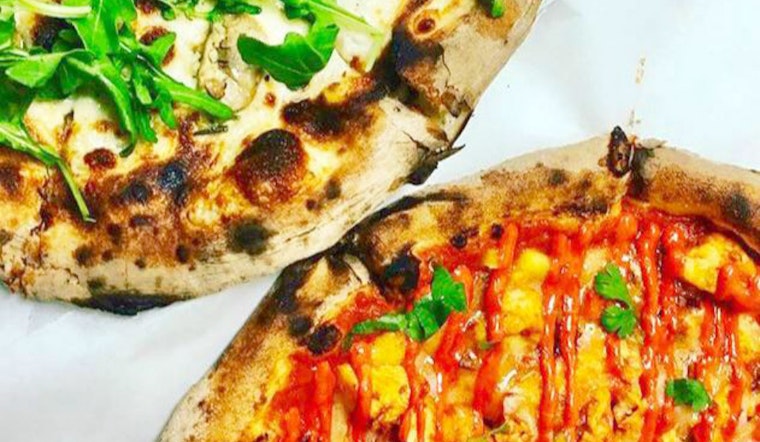 Published on August 01, 2017
Whether you prefer it deep-dish or thin-crust, hot-from-the-oven or leftover-out-of-the fridge, there are few things better in life than a quality slice of pizza. And when it comes to top-notch pizza, Los Angeles serves it up in all kinds of shapes, sizes and styles.
But how do LA's pizza joints compare to the truly standout establishments across the country?
To find out, we turned to Yelp, combining the company's user ratings with our own secret (pizza) sauce to find the 50 most popular pizzerias in America.
Los Angeles may not have as many top pizza places as the Bay Area (13) and New York City (8), but with five eateries, LA's pizza scene is anything but lacking. As a matter of fact, Los Angeles has the nation's highest-rated pizza joint.
Landing at #1 on our list is 786 Degrees, in Sun Valley, which boasts a creative menu of wood-fired gourmet pizzas, like the "Fungi Lama" (wild mushrooms with truffle oil, Parmesan, romano, mozzarella, fresh arugula and Himalayan sea salt) and the "Bombay Tikka Masala" (San Marzano tomatoes, saffron tikka masala sauce, tandoor chicken kabob, mango chutney, burrata, paneer, roasted sweet peppers, cilantro, olive oil and makrut lime). And you can forget about classic pizza delivery: 786 has a mobile Italian pizza oven that it uses for catering events around LA.
Also representing Los Angeles at this elite level of pizza is upscale downtown bistro Bestia, which, with its robust menu of Italian cuisine, came in at #12. Next, at #23, is Hancock Park's Pizzeria Mozza, which also offers a large offering of Italian food. During select hours at the bar, diners can get a pizza, a dessert and a glass of wine for $30.
Rounding out LA's top pizzerias are Masa of Echo Park, whose following of Chicago deep-dish lovers landed it on our list at #32, and North Hollywood's Uncle Tony's Pizzeria, which squeaked onto the list at #50.
Want to know where to grab America's best pizza? Here's our roundup of the country's top 50 pizzerias: