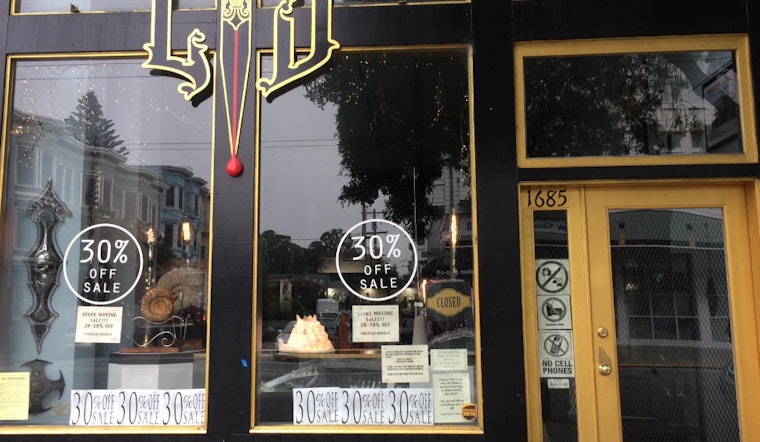 Published on September 05, 2017
Three years after opening at 1685 Haight St., LTD—the Loved To Death gallery spinoff—is closed for business. The main shop will continue to operate at 1681 Haight.
Owner Audra Kunkle said the voluntary closure was an opportunity for her to take the business in a new direction she's been eager to explore for a while.
Kunkle began selling taxidermy in the space in 2008 after vending her taxidermy, jewels, and art on Etsy. Loved To Death, with its preserved animals, strange artifacts and creepy Victoriana, quickly grew to be a well-known anchor in the street's destination retail mix, and was even the subject of a TV show.
But Kunkle said it's time for a new chapter.
"It has been a fun three years with no regrets and I look forward to sharing Act three of Loved To Death with the Haight," Kunkle said. "This neighborhood has become my home, and I love the people and businesses in it. I look forward to evolving with the times and keeping things new and interesting."
But "long story short," she said, "it's time to pick up where I left off in the jewelry and art world. Consolidation was the best way for me to free up some of my time to do so." 

Rather than shut down the LTD concept entirely, she said, "I will definitely be melding the two concepts together a bit and revamping the Loved To Death collection of offerings."
Kunkle said she's beginning to wind down business on taxidermy. "Things in the world have changed" since starting the business, she said. "With the current concerns regarding the laws that protect wildlife, this is something I personally feel needs to happen."
But, "We will still be creepy," she said. "Don't worry."

Loved To Death (1681 Haight St.) is open every day from noon to 7pm.