SoMa has a new specialty coffee shop: Pentacle Coffee (64 6th St. at Jessie) is now serving customers. To learn more about the spot, we spoke to owner and manager Bobby Valentino Sanchez. 
Sanchez, who's worked in coffee for more than 20 years, started his career in Oakland at a now-closed Peaberry Coffee location.
"That was my intro to fancy specialty coffee," he told Hoodline. "I got to know freshly roasted coffee, the purchasing of green beans, roasting in-house and all that good stuff."
More recently, he worked at Four Barrel Coffee since its debut on Valencia St. in the Mission nine years ago, but opening his own café "has been a dream of mine for a while," he said.
"I just never knew if it could be something I could do."
After signing a lease on the space in August 2015, Sanchez began making extensive renovations to the building, which was built in 1910.
"We had to do structural stuff to do to the space," he said. "The beams had dry rot, so we had to do a lot of work, and the space needed a lot of attention."
Financial help from Four Barrel and a $30,000 grant helped Pentacle become a reality. The grant was in part given for restoration work Sanchez and his team did on the the space, formerly San Francisco Barber College.
In addition to installing a new counter and upgrading the restroom to ADA standards, Sanchez demolished interior walls, overhauled the lighting, plumbing and electrical systems, and built new transom windows patterned after the former facade.
"There were two windows and a door that were completely covered. We did a lot of restoration to get the building back to the way it was built to function," he said.

Given SoMa's diversity, Sanchez said he wants Pentacle "to be very welcoming to a wide demographic. As a Mexican Queer person, I want to be a part of that welcoming."  
Inside the newly bright café, a vibrant mural created by local artist Nathan Rapport is displayed prominently. Sanchez said the artwork defies most expectations of a coffee shop. "I think the mural kind of serves a disarming purpose to make you feel comfortable and welcome."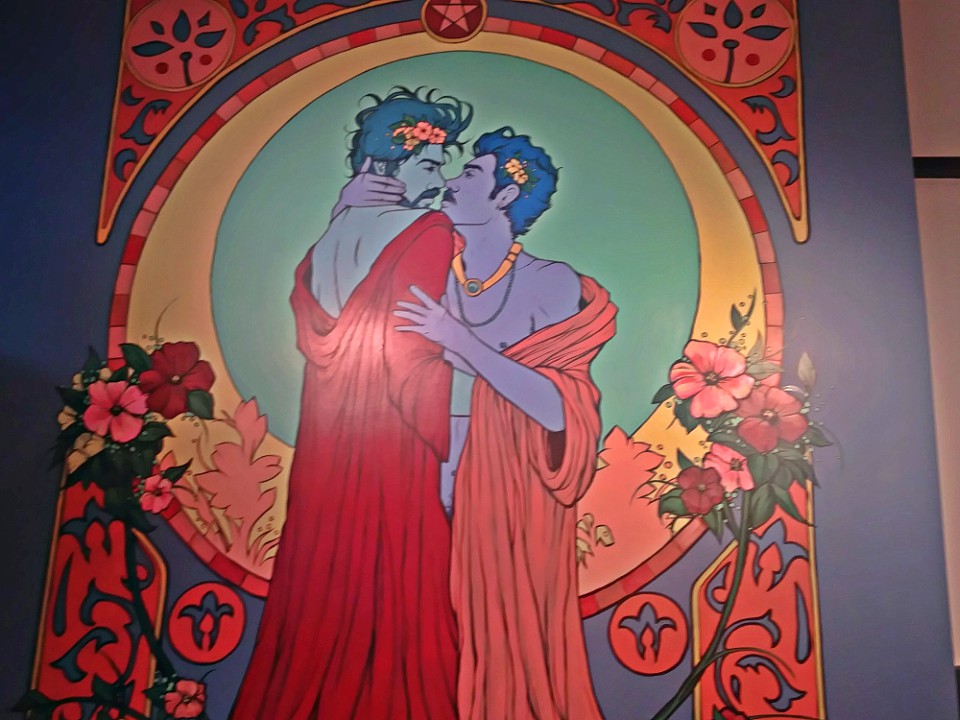 Pentacle will have a similar ethical standard as Four Barrel; Sanchez said he's focusing on Central American coffees so he can forge working relationships with farmers to help them improve the quality of their beans.
A coffee's market price is determined by the score it receives before it's processed, as well as its cup quality, "so we try to help farmers if we see some things that they could change in their practice so they can improve their score," said Sanchez.
Sanchez describes his coffee as "beautifully sourced single origin" and will be offering specialty coffee drinks, which will run between $3 and $6. 
Desserts and pastries will be sourced from Neighbor Bakehouse and Dave and Mauro's Famous Farms.
"Mauro is Brazilian and he does a bunch of great Brazilian desserts," said Sanchez. "I want to give attention to his Latin flavors. I'm trying to incorporate that into as many aspects of the café as possible." 
He also plans to expand his food program, noting that there were "a lot of people who work around this neighborhood who want not only coffee, but food on their breaks."
This afternoon, a tipster confirmed that Pentacle Coffee has had its soft opening; according to Sanchez, the official grand opening is on Monday, November 27th, and the café will be open daily from 7–7.