After fifteen years of disuse, a familiar parcel in Temescal may find new life as a pedestrian plaza.
The Temescal Telegraph Business Improvement District (TTBID) and architectural firm Groundworks Design are considering options to remake a triangular plot at the confluence of Shattuck and Telegraph avenues that was once home to a Kasper's Hot Dogs.
If approved, the new community space would close Shattuck Avenue from 45th to 46th streets and 46th Street between Shattuck and Telegraph.
Reinventing the space a has been a long-term goal for TTBID since the business closed in 2003. Currently, the plaza hosts a Ford GoBike station and a tree with an unsanctioned swing, but project backers hope the redesign can do for Temescal what Latham Square has done for Downtown.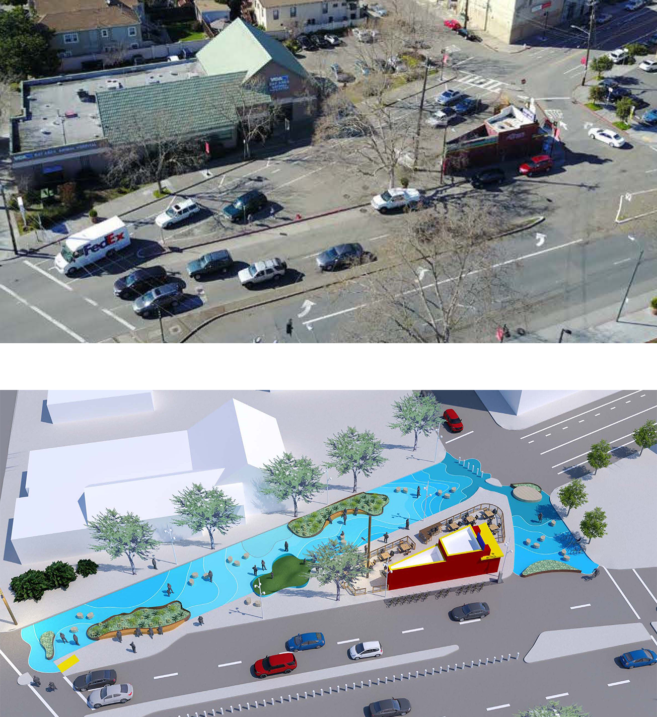 The TTBID and Temescal Neighborhood Council held their first community meeting on April 3rd at Hawk and Pony, with another meeting scheduled for Wednesday, April 18th at Faith Presbyterian Church.
"We're looking to get thorough community feedback on our concepts for a pedestrian plaza," said Shifra de Benedictis-Kessner, executive director of TTBID.
The TTBID aims to improve traffic, promote bicycle and pedestrian safety and encourage people to use the space as a gathering spot. As they consider design proposals organizers are striving to ensure a space that will be "functional, safe, beautiful," said de Benedictis-Kessner.
"The intersection of 45th & Telegraph has been a site of a lot of pedestrian incidents," they said, citing the flashing yellow traffic lights and unusual street grid as safety concerns.
As part of the permitting process, the TTBID piloted a street closure earlier this year to test neighborhood response and traffic patterns. The city found no significant impact to business, residencies, or access to the nearby Benioff Children's Hospital.
Once the plaza is established, the Kasper's building will remain. "We can't really touch that," said de Benedictis-Kessner.
The flatiron-style building is privately owned by Harry S. Yaglijian, who reportedly had several plans to reopen over the years after his closure in 2003, or to sell the property.  According to de Benedictis-Kessner, Yaglijian had hoped to sell to Kingfish Pub, but a deal was never brokered and as of publication, he has no further plans for the property,
Kasper's or no, de Benedictis-Kessner said refitting the surrounding space with seating, tables, artwork, plants and a play area would be a great community benefit. The three redesigns put forward by Groundworks also include bike lanes and space for food trucks and movie nights. 
The TTBID aims for redesigns that will be successful with or without an open business adjacent. "We'd love for there to be an open business," said de Benedictis-Kessner. "The hope is the plaza will give more incentive to make that a vibrant open business," she said.