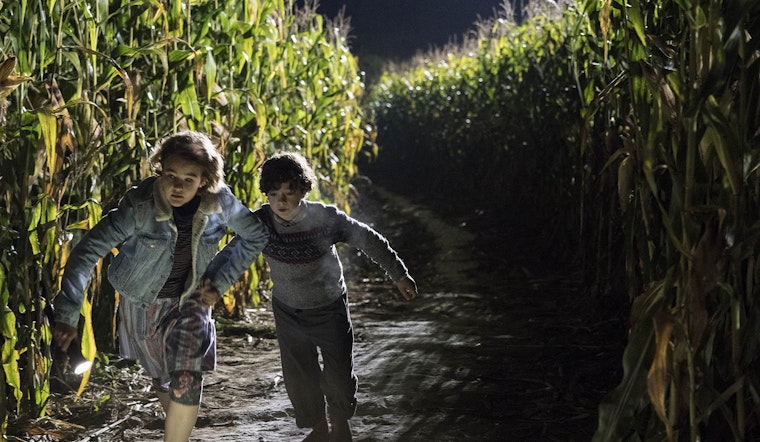 Published on April 30, 2018
If you're looking to forgo the latest franchise mega-blockbuster in favor of the best-reviewed movies in theaters, this week presents a handful of top options in Fresno.
From an edge-of-your seat horror flick to a razor-sharp comedy about motherhood, here are the movies to see in and around Fresno this week, based on critical scores sourced from review aggregator Rotten Tomatoes.
[Hoodline offers data-driven analysis of local happenings and trends across cities. Links included in this article may earn Hoodline a commission on clicks and transactions.]
A Quiet Place
In the modern horror thriller A Quiet Place, a family of four must navigate their lives in silence after mysterious creatures that hunt by sound threaten their survival. If they hear you, they hunt you.
With a current critical score of 95 percent, positive feedback for the new horror film has been anything but muted. It's playing at Regal Manchester Stadium 16 (2055 E. Shields Ave.), UA Broadway Faire Stadium 10 (3351 W. Shaw Ave.), Maya Fresno 16 (3090 E. Campus Pointe Dr.) and Edwards Fresno Stadium 22 (250 Paseo del Centro). Get tickets here.
Tully
A new comedy from Academy Award-nominated director Jason Reitman [Up in the Air] and Academy Award-winning screenwriter Diablo Cody [Juno]. Marlo [Academy Award winner Charlize Theron], a mother of three including a newborn, is gifted a night nanny by her brother [Mark Duplass]. Hesitant to the extravagance at first, Marlo comes to form a unique bond with the thoughtful, surprising, and sometimes challenging young nanny named Tully [Mackenzie Davis].
Though its official release is May 4, "Tully" already holds a 91 percent positive score on Rotten Tomatoes. It's playing at Maya Fresno 16 (3090 E. Campus Pointe Dr.) and Edwards Fresno Stadium 22 (250 Paseo del Centro) starting May 3. Get tickets here.
Isle of Dogs
Isle of Dogs tells the story of ATARI KOBAYASHI, 12-year-old ward to corrupt Mayor Kobayashi. When, by Executive Decree, all the canine pets of Megasaki City are exiled to a vast garbage-dump, Atari sets off alone in a miniature Junior-Turbo Prop and flies to Trash Island in search of his bodyguard-dog, Spots. There, with the assistance of a pack of newly-found mongrel friends, he begins an epic journey that will decide the fate and future of the entire Prefecture.
This quirky, canine-centric Wes Anderson film has a 90 percent critical score; it's playing at Edwards Fresno Stadium 22 (250 Paseo del Centro) through Thursday, May 3. Get tickets here.