By
Hoodline
- Published on June 05, 2018.
Looking for a better start to your day?
Hoodline crunched the numbers to find the top breakfast and brunch restaurants around Pittsburgh, using both Yelp data and our own secret sauce to produce a ranked list of the best spots to satisfy your cravings.
1. P&G's Pamela's Diner
Topping the list is P&G's Pamela's Diner. Located at 60 21st St. in Strip District, the diner offering breakfast and brunch is the highest rated restaurant in Pittsburgh, boasting 4.5 stars out of 479 reviews on Yelp.
Established in 1980, P&G's offers traditional American fare. Try the popular crêpe-style pancakes, or opt for other classic breakfast options like steak and eggs or the Western omelet. Homemade hash is served with two eggs and toast or tortilla and is a diner specialty. (The full menu can be seen here).
Lunch options include chicken, burgers, sandwiches, soups and salads. Beverages include coffee, soft drinks, juice and tea.
2. Waffallonia
Next up is Squirrel Hill South's Waffallonia, situated at 1709 Murray Ave. With 4.5 stars out of 273 reviews on Yelp, it has proven to be a local favorite for those looking for a sweet start to the day.
Waffallonia dubs itself as an authentic Liège waffle station, giving the people of Pittsburgh a traditional Belgian experience. The yeasted dough makes for an any-time-of-day snack and even Waffallonia's sugar is imported from Belgium, according to the business' website. 
3. The Pub Chip Shop
South Side Flats's The Pub Chip Shop, located at 1830 E. Carson St., is another top choice. Yelpers give the British breakfast and brunch spot, which offers fish and chips and more, 4.5 stars out of 212 reviews.
Offering an assortment of breakfast, lunch and dinner options, The Pub Chip Shop is primarily a takeout spot that also does catering. Breakfast is served 6 a.m.-3 p.m. and includes a healthy dose of variety, from freshly-baked donuts to fried chicken and honey butter.
Stop by for dinner and see different menu options like shrimp and chips, Thai chili chicken tacos or a Fried Cheese Bap (panko-breaded provolone, pesto mayo, baby greens and tomato on a soft, buttery sandwich roll). Beverages include beer, tea, soft drinks and coffee.
4. Deluca's Diner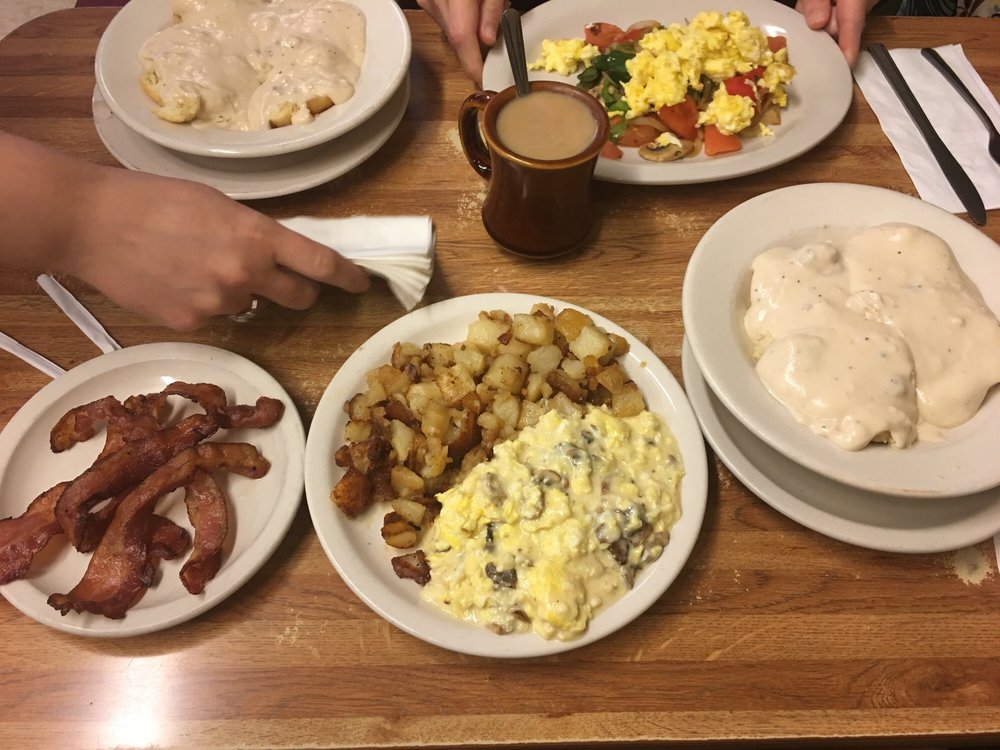 Deluca's Diner, a diner offering traditional American breakfast and brunch in Strip District, is another go-to, with four stars out of 518 Yelp reviews. Head over to 2015 Penn Ave. to see for yourself.
Established in 1950, Deluca's Diner is an old-school, cash-only spot with traditional American breakfast and lunch dishes. The extensive breakfast menu includes omelettes, breakfast burritos, mixed meat plates, Benedicts, waffles, french toast, egg sandwiches, pancakes and crepes.
Sandwiches, clubs, burgers, subs, wraps, soups and salads all appear on the lunch menu, and Deluca's also has ice cream and other frozen treats on its seasonal summer menu. Try out a cool strawberry shortcake milkshake with fresh strawberries, ice cream and crushed cookies topped with whip cream.
5. The Commoner
Over in Central Business District, check out The Commoner, which has earned four stars out of 443 reviews on Yelp. You can find the restaurant and cocktail bar's breakfast and brunch menu at 458 Strawberry Way.
The Commoner's name is a nod to the Steel City's industrial past and the people who worked in Pittsburgh during the era, according to the business' website. Executive chef Wyatt Lash grew up in the Pennsylvanian Amish countryside where he honed his appreciation for locally-sourced ingredients. 
The Commoner has extensive menu options for breakfast, brunch, lunch, and dinner. Expect a twist to traditional American fare. Try the Commoner Breakfast (house-made granola bar, cranberry blood orange muffin and fruit with coffee or juice); the vegetarian-friendly Graze menu with options like tikka masala or quiche; or large dinner plates like the Scottish salmon or ribeye steak.
6. Geppetto Cafe
Last but not least, there's Geppetto Cafe, a Central Lawrenceville favorite with 4.5 stars out of 132 reviews. Stop by 4121 Butler St. to hit up the crêperie, breakfast and brunch spot next time you're looking to satisfy your cravings.
Geppetto Cafe touts its sweet and savory crêpes, and also has opportunity for visitors to make their own. Check out savory crêpes like the Italian Job (mozzarella, cherry tomatoes, baby spinach and pesto) or the Love Hate Thing (turkey, goat cheese, avocado and béchamel sauce). Add egg ($2) or bacon ($3). There are 10 different sweet crêpes, like the Geppetto Signature (carmelized apples, cream cheese glaze, cinnamon and caramel) or the Cheap Date (brown sugar, cinnamon, butter).
You can create your own crêpe or waffle with over 50 different ingredients to satiate your individualistic taste buds. Not into crepes? Geppetto also has French toast, paninis and salads.