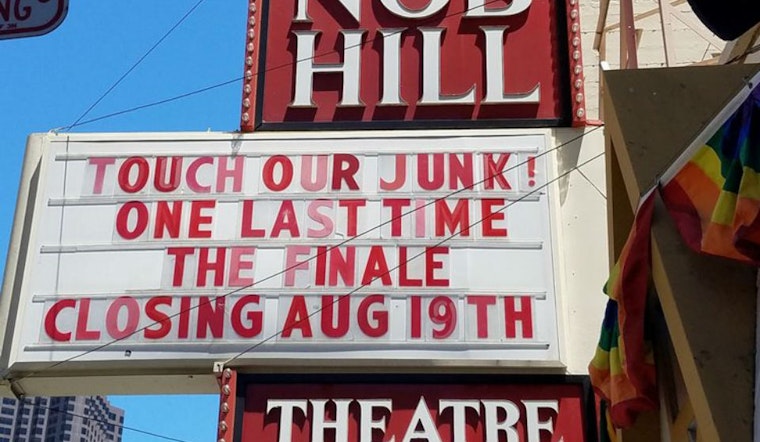 Published on August 02, 2018
This month marks the end of the road for the Nob Hill Theatre (729 Bush St.), which has been in operation for the past 50 years as an adult entertainment theater and—remarkably—the only regular male strip revue in San Francisco.
The Nob Hill, which is set to close on August 19, has occupied a distinct niche in San Francisco's nightlife, not only as the city's only male strip show but for the breadth of its clientele and its old-school, low-key atmosphere.
Owner Gary Luce, who is retiring this year with his husband and co-owner Larry Hoover, said they would miss the theater.
The couple purchased the business six years ago. As reported earlier this summer by the Bay Area Reporter, Luce and Hoover listed the business for sale last fall, in the hopes of keeping it as an adult theater. But faced with a lack of demand, they sold it this summer to another party who wasn't interested in the business's legacy.
Luce said the building was slated to become a podiatry and surgery center, though he declined to identify the exact purchaser.
"Quite a change," he said, laughing. "I hope none of our regulars come back and get a surprise."
In addition to all the regular daily and nightly shows in the theater, video arcade and basement maze, patrons can send the Nob Hill off at a handful of final events.
On Friday, August 17, porn studio NakedSword will be filming a four-scene DVD to celebrate the last days of the theater, featuring performers Tim Valenti, Sister Roma, Mr. Pam, and Leo Forte. Tickets ($30 general admission, $50 premium reserved seating) are available here.
On Saturday, August 18, the Nob Hill will be open all day long, with a special day of farewell festivities.
And over Labor Day weekend, September 1 and 2, an estate sale will liquidate the remainder of the business's belongings, including memorabilia.